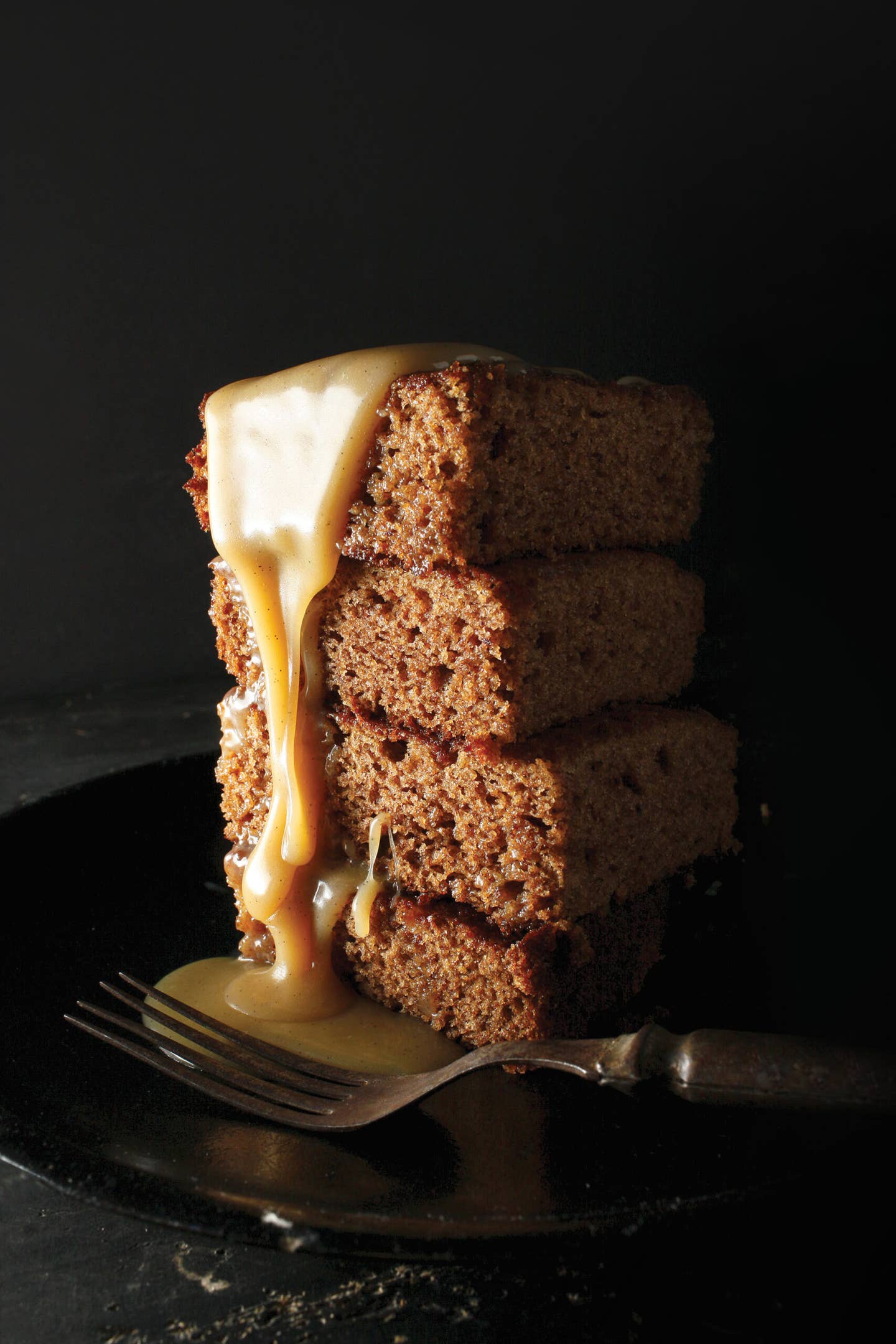 Travel
England's Sticky Toffee Pudding Trail
In a bucolic corner of the country, sweetness awaits at every turn
One spoonful of sticky toffee pudding at a café in northwestern England, and we were euphoric. Surely, this was the last word in extravagance. The pudding before us was warm and spicy, an impossibly moist gingerbread cake larded with chopped dates and sopped with buttery caramel syrup. But when we oohed and aahed, the waitress deflated our culinary egos by admitting that the kitchen secured its pudding from McClure, a big-box restaurant provisions vendor across the road. A clerk at McClure frankly told us, "Our sticky toffee is fine, but if you want the best, you must go to Cartmel. There is none richer."
We set off, heading toward that 12th-century hamlet to hunt for exemplary renditions of the signature dessert of Cumbria County. The landscape there, rolling pastures where fat sheep graze, begs to be traversed on horseback behind a pack of yodeling hounds, but our transportation—a borrowed indigo and silver twin-turbocharged Rolls-Royce V12 Ghost—was quite alright, too.
As we glided into Cartmel, we espied in the window of the Cartmel Village Shop a sign that read The Home of Sticky Toffee. One in a long line of cakelike "puddings" that dates to the arrival of French cooks after the Norman Conquest, the dessert was not actually invented here. Its parentage is claimed by two Scottish hotels, the Udny Arms and the Saplinbrae House, while a competing theory traces its roots to southern England.
The dessert took particular hold, however, in the northwest. Indeed, Cartmel is to sticky toffee pudding devotees what Memphis is to Elvis fans. Cartmel Village Shop serves neat little rounds that are rich, dense, and vividly spiced. As in most locations, the date-stippled batter is steamed in a mold until set and then turned out onto a plate and smothered in caramel sauce.
We puzzled over Cartmel Village Shop's seeming variations: sticky banana, chocolate, and ginger puddings. Yet as we motored through the Lake District, we noticed that "sticky" is a favorite adjective for any caramel-soaked dessert. A couple of places were out of sticky toffee pudding, so we comforted ourselves with sticky cake (which we'd have a hard time differentiating from the pudding), sticky tarts, sticky ice cream, and sticky toffee scones.
Taking the M6 highway north, we approached the town of Carlisle. Farmland here is occupied by dairy cattle, which helps to explain the goodness of the local toppings: whipped cream, custard, and, especially, ice cream. Against the warm pudding, a frozen scoop turns to cool rivulets that swirl into the amber sauce. We had the best ice cream of the trip at Cumbrian Cottage Farm Shop and Tea Room, just east of Carlisle in Hayton. Banana-flavored, it was a righteous match for a pudding that was intensely spicy, floating in a toffee sauce so dark it was nearly black.
Back south, in Staveley, we found the fireplace-cozy pub Eagle & Child Inn. It was here, after an echt Cumbrian dinner of steak and kidney suet-crust pie and sausage with creamy mashed potatoes, that we discovered the alpha and omega of our quest: a golden-sauced fluffy cake that yielded to the lightest pressure of a spoon.
"Texture is so important," chef Lorna James told us. "My mother's recipe calls for cream, and by that she meant top cream." Top cream, also known as double cream, is the especially luscious, high-butterfat stuff that floats to the top of the cream pot.
How good is James' sticky toffee pudding? As we ensconced ourselves in the car after supper at Eagle & Child Inn, an old gent strolled over. He looked from the Flying Lady hood ornament to the pub's glowing window and informed us that we had just eaten "the Rolls-Royce of stickies."