Still Cooking
QUEENS, NEW YORK
07:04PM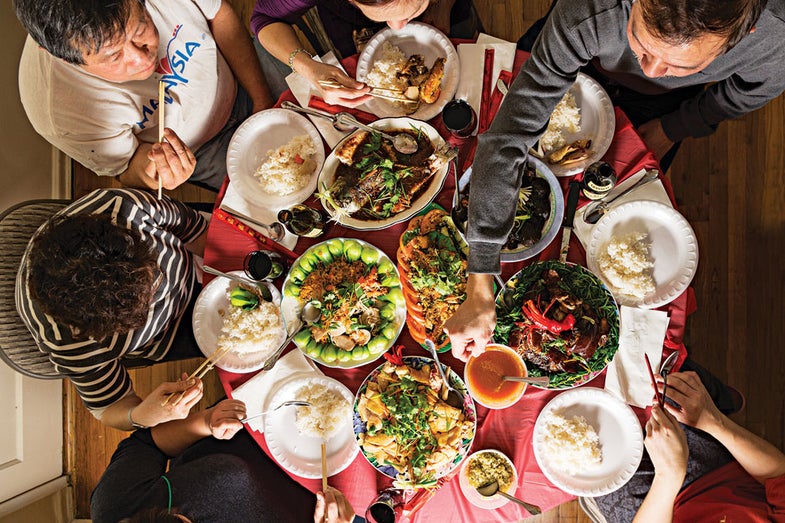 My husband, Kokkiang, and I are Cantonese, but we both grew up in Malaysia, where we met. For years we owned a Malaysian-Chinese restaurant in Queens. But now that we're retired, we have more time to cook for family and friends. Tonight we are making a feast for our daughter Elaine and some of those friends. The dishes we like to cook are similar to the ones people eat in southern China but often with a Malaysian, Thai, or Indian twist. We try to make sour, spicy, sweet, and salty flavors harmonize. Kokkiang has prepared succulent braised pork flavored with ginger, star anise, aromatic cloves, and cumin. The dish is often called wang choy chow sau, which translates to "windfall of cash within arm's reach." He's also made a steamed whole sea bass with a silky brown bean sauce that gets an extra dose of flavor from a red chile paste called sambal oelek. We always try to make our dishes look as beautiful as possible. For tonight's vegetable dish, we arranged bright green baby bok choy around the edge of a plate of enoki and shiitake mushrooms cooked in a ginger broth. And to garnish the braised pork, Kokkiang cut a red chile pepper to look like a blooming flower, or maybe a burst of fireworks, to put us in the mood to celebrate.
See the recipe for Wang Choy Chow Sau (Braised Pork Belly with Ginger) »
See the recipe for Nian Nian Nyu Wee (Steamed Bass with Garlic Brown Bean Sauce) »
Helen Thong is a home cook in Queens, New York.