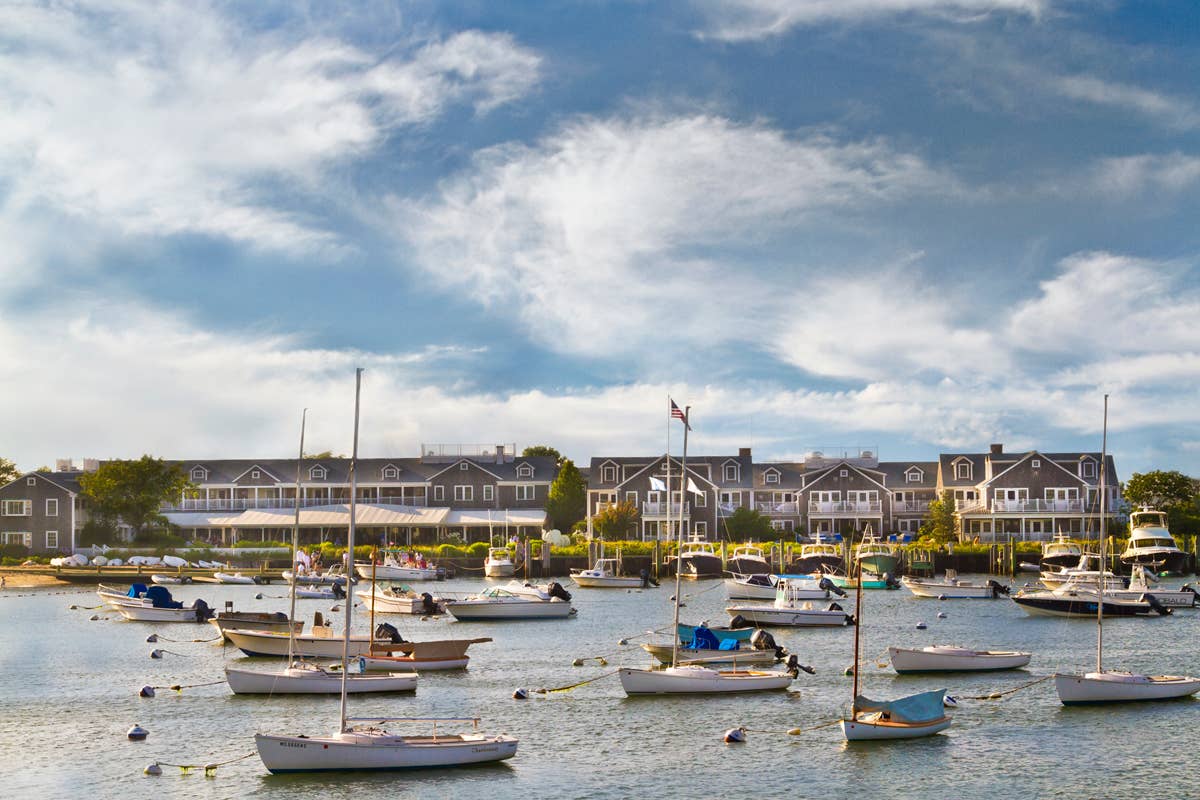 Travel
A Dozen Things to Do in Nantucket
This classic East Coast vacation spot has much to offer, both on- and off-season
In the dialect of the Wampanog Indians, the island's native inhabitants, "Nantucket" means "The Faraway Land"—and in this promise of escape, the sleepy, picturesque island draws nearly 200,000 visitors a year. Just 30 miles south of Cape Cod, Nantucket is near to bursting during the steamy summer months; the modest off-season population of around 11,000 swells to over 60,000 with the arrival of day-trippers and renters, who mix and mingle among the locals at farmers' markets, shops, bars, and restaurants. The high season kicks off on Memorial Day while Labor Day generally marks the close, and while there are plenty of reasons to visit in the off-season, just a few hardy restaurants and shops will remain open for the landlubbers who dwell on the 14 mile island. Here, a selection of my favorites, for the summer season and beyond:
INDULGE IN SEAFOOD AT CRU
On the site of a former fried clam-slinging local dive bar carpeted in AstroTurf now stands the understatedly elegant restaurant Cru, helmed by an intrepid trio: Jane Stoddard, who handles the day-to-day operations and special events, Carlos Hidalgo, handling libations, and the loveliest of chefs, Erin Zircher. While honoring her impressive résumé of globetrotting and classical French training, Erin's menu ebbs and flows with seasonal, locally grown produce, and a bounty of shellfish and seafood from the rich waters surrounding the island. When you finally decide on which masterfully curated cocktail to imbibe, don't forget to order a pile of fresh corn hushpuppies glistening in a sticky Aleppo-spiced honey butter as a preamble to what's sure to be a memorable meal. They may be more sophisticated, but you can still get fried clams; try the fried Ipswich clams with Meyer lemon tartar sauce, unctuous blue crab cocktail with both zesty cocktail and horseradish cream sauces, Nantucket-harvested oysters, exquisitely prepared pork schnitzel, and warm-buttered lobster rolls.
Cru
1 Straight Wharf
Nantucket, MA 02554
508/228-9278
STOCK UP AT ÉPERNAY WINE AND SPIRITS
Sommelier owners Jennie Benzie and Kirk Baker run Épernay, a wine and spirits shop located just minutes from where the Hyannis ferry deposits visitors to the island. If you're staying in a rental, make this place your first stop to load up on everything you need to settle in for your stay, from Nantucket-made Bloody Mary mix to a bottle of Pol Roger's Cuvée Sir Winston Churchill, bottled in, you guessed it, Épernay, France.
Épernay Wine and Spirits
1 N Beach Street
Nantucket, MA 02554
508/228-2755
MEET YOUR FARMER AT BARTLETT FARM
Nantucket's oldest family-run farm has been serving the island meticulously cultivated crops of heirloom produce for seven generations now. A boon to local restaurants and home cooks alike, visit the year-round market for sundries and scrumptious prepared foods including roast leg of lamb, beet and kale salads, and mini strawberry-rhubarb tarts. Pick up a bouquet of summer blossoms, or in the fall, a pumpkin in the garden center. If you are lucky enough to be on the island during "Pick Your Own Tomato" day, the farmers will let you loose in the garden for late-season tomatoes at around a dollar a pound.
Bartlett Farm
33 Bartlett Farm Road
Nantucket, MA 02554
508/228-9403
SIP SUNSET COCKTAILS AT TOPPERS AT THE WAUWINET
Located on the northeast point of Nantucket, head to the Wauwinet Inn to escape the crowds of tourists. Tuck into Topper's lounge for an artfully crafted Nantucket Mule—vodka, ginger beer, lime, and a splash of cranberry—and lounge on the lawn above the pristine, quiet beach, where there'll be nothing between you and the most breathtaking sunset on the east coast but the Atlantic Ocean. Dine at the 25-year-strong Topper's restaurant before collapsing contentedly in one of the property's 32 guest rooms.
The Wauwinet
120 Wauwinet Road
Nantucket, MA 02584
508/228-0145
CHARCUTERIE HEAVEN AT AMERICAN SEASONS
Helmed by husband and wife team Michael LaScola and Orla Murphy-LaScola, a love of butchery and local seasonal produce paired with chef LaScola's playfulness in the kitchen makes the menu at American Seasons sing. Appetizers such as umami-rich kimchi pancakes with gulf shrimp and sesame buttermilk dressing are served alongside ethereally light carrot terrine with burratta and date purée, and entrées including tobacco-rubbed duck breast and wild king salmon with parsnip purée, chanterelles, and maple syrup are supported by a bold selection of wine and beer and desserts like the Flying Elvis, dark chocolate ganache nestled in a peanut butter cookie crust with chocolate and caramelized banana ice cream. But the real star is the restaurant's house-made charcuterie, which is often available in upwards of two dozen different varieties. Can't get enough? Check out their other venture, The Proprietors Bar & Table.
_American Seasons
80 Center Street
Nantucket, MA 02554
508/228-7111
TAKE A WHALE'S TALE OF A BEER FLIGHT AT CISCO BREWERS
When Nantucket Vineyard owners Dean and Melissa Long fortuitously met a couple of cracker-jack home brewers, Randy and Wendy Hudson, in the early '90s, the business grew to include their micro-brewery, Cisco Brewers. The natural next step was distillation. Enter the regions first micro-distillery, Triple Eight Distillery, added in 1997. Visit the brew pub for a pint or a flight of some of the island's favorites, including Whale's Tale Pale Ale and Grey Lady, or sip some Notch ("not scotch"), their 10-year single malt whiskey.
Cisco Brewers
5 Bartlett Farm Road
Nantucket, MA 02554
508/325-5929
GET LOST AT PUMPKIN POND FARM
Visit this wild garden paradise to marvel at the harmony in which cruciferous vegetables such as broccoli and bok choy grow among fragrant herbs including chocolate mint, nasturtium, lovage, and purslane. Before you leave with a basket of mesclun greens and a bunch of French fingerling radishes, rub your fingers through the lemon balm—it smells like heaven!
Pumpkin Pond Farm
25 Millbrook Road
Nantucket, MA 02554
508/332-4750
The loveliest way to see the island of Nantucket is by bike. Nantucket Bike Tours owner Jason Bridges is not only passionate about anything on two wheels, but also about the history of the island; schedule Jason or one of his expert guides to help you pedal around town.
Nantucket Bike Tours
31 Washington Street
Nantucket, MA 02554
508/825-5362
BILLIONAIRE'S BENEDICT AT BRANT POINT GRILL
It's no secret that Nantucket, like its northern neighbor Cape Cod, has a reputation for attracting the rich and famous. The ultimate way to experience the grandeur without all the taxes is to indulge in Brant Point Grill's Billionaire's Benedict, a mind-blowing feast of lobster claws and filet mignon atop toasted English muffins with champagne poached eggs, potato pancakes with crème fraîche, and a healthy dollop of sturgeon caviar. After you polish off the richest breakfast of your life, you can either lounge on your own yacht or go admire someone else's in the harbor right outside.
Brant Point Grill
50 Easton Street
Nantucket, MA 02554
508/228-2500
AMERICA'S OLDEST WORKING WINDMILL
Ever wonder where the expression "three sheets to the wind" came from? Visit America's oldest working windmill at the trisection of Prospect, South Mill, and York Streets to find out. This is the last surviving of five original "smock mills" (meaning the mill had a fixed base with a cap that can be rotated to face the wind) that once overlooked Nantucket. The site has had a tumultuous past, but this historical relic can still can grind some corn!
The Old Mill
50 Prospect Street
Nantucket, MA 02554
Visit nha.org for tour information
If all that eating, sightseeing, and shopping has you worn out, indulge in some R&R at Nantucket's oldest salon and spa. Operated since 1970, this is where the locals go for a haircut or an indulgent deep tissue massage.
RJ Miller Salon and Spa
8 Amelia Drive
Nantucket, MA 02554
508/228-3446
CHOCOLATE COVERED CRANBERRIES FROM SWEET INSPIRATION
Cranberries have been farmed for over 200 years on Nantucket. The sweet-tart beauties are given a splendid coming out party each October during the island's annual Cranberry Festival. If your visit isn't timed to see the fanfare, you can still stop by this sweetly-named sweet shop for a box of irresistible chocolate covered cranberries to snack on while bidding the island farewell on the ferry.
Sweet Inspiration
26 North Centre Street
Nantucket, MA 02554
508/228-5814
Kellie Evans is an associate food editor at SAVEUR Magazine.