The Endless Evening
BROOKLYN, NEW YORK
02:05AM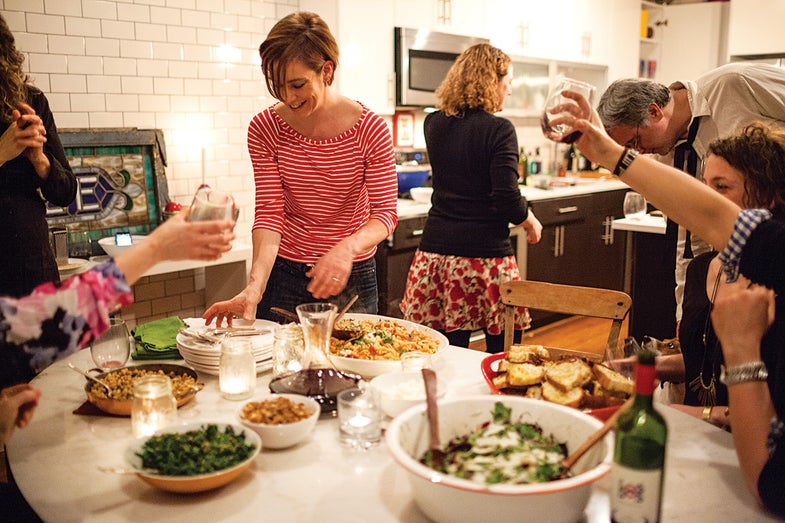 My neighbors must think we're crazy. It's well past midnight and here we are, a bunch of middle-aged professionals, raising a ruckus in my kitchen. I've got pasta water boiling, my husband, Lindsay, is on bruschetta duty, and our pals are swapping increasingly loud stories around the table. We didn't plan on this when we met for a show earlier, but you know that feeling: the band's done but we're loving these people we're with and not ready to call it a night. So I declared a spaghettata. After all, it's nights like these that the Italian spaghettata di mezzanotte—midnight spaghetti—was made for. More than a late-night snack, it's an impromptu dinner party. We first encountered one when we were living in Perugia 20 years ago: Lindsay was working as a bouncer at a bar, and one night, after last call, the bartender invited us over. Bruschetta was made. Candles were lit. And pasta appeared: a spicy tangle, studded with capers and showered with parmesan. I didn't realize this late meal had a name until weeks later, at another pal's house, when somebody shouted "Spaghettata!" and took to the stove. Because it's unplanned, and made with the most flavorful staples on hand, the spaghetti is always some lusty riff on aglio e olio (garlic and oil) with anchovies, capers, chile flakes. I've taken liberties over the years. I often use different noodles or add tomatoes to my sauce. I rub down my bruschetta with garlic and shower it with olive oil and parm; the super-seasoned crumbs go on top of the pasta with loads of parsley. It's the swiftest, most satisfying thing I can make when I'm tired and maybe a bit tipsy but want to enjoy everyone's company as long as I can.
See the recipe for Spaghettata di Mezzanotte »
See the recipe for Broccoli Rabe, Cannellini Bean and Ricotta Crostini »
See the recipe for Tricolore Salad with Grapefruit Saba Vinaigrette »
_Dana Bowen is the executive editor of_Every Day with Rachel Ray.