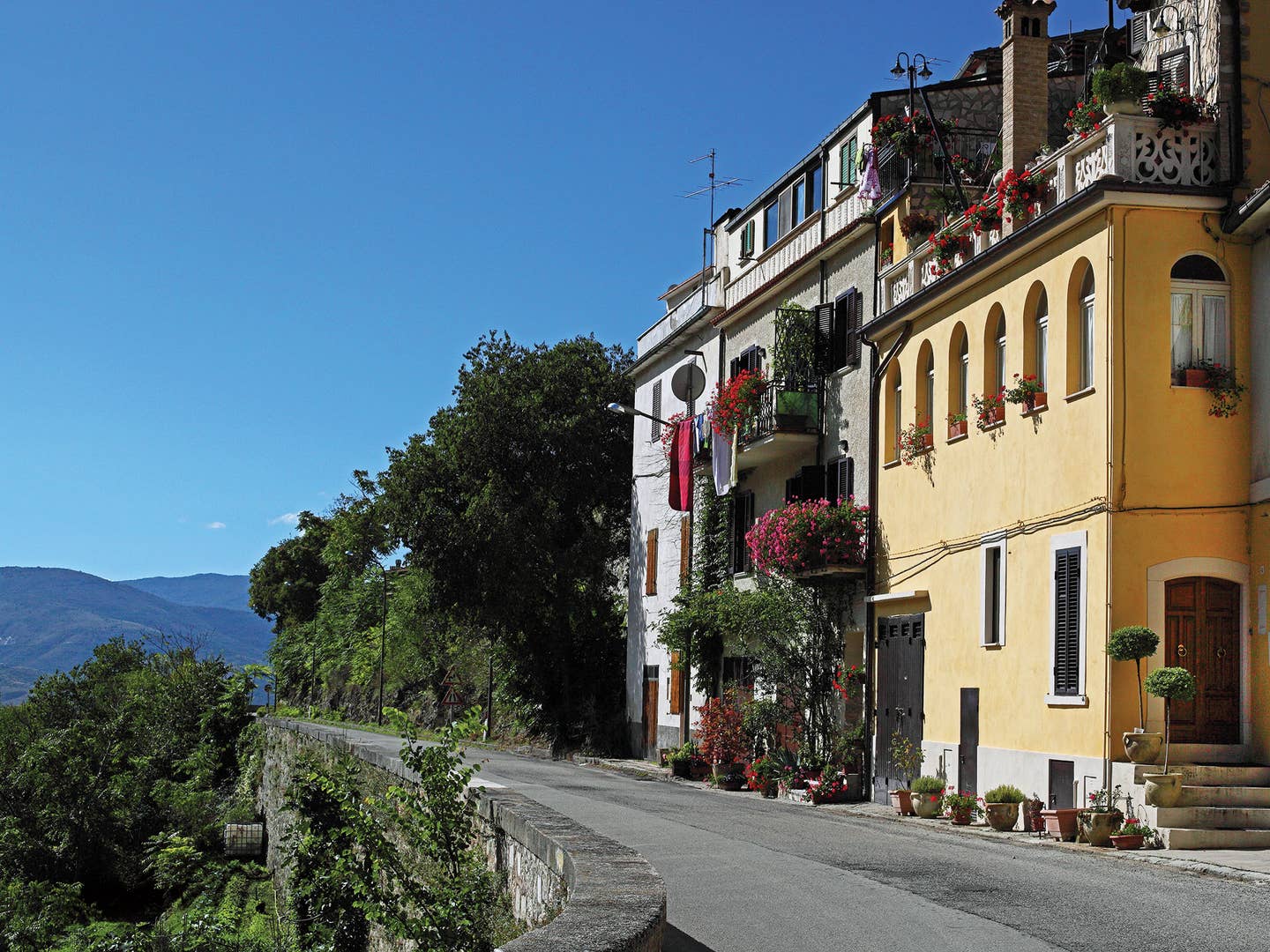 Travel
The Road to Abruzzo
Northeast of Rome, old-world artisans keep feasting at the center of everyday life
Every so often, a car cautiously serpentines down the winding hillside road away from the ancient hamlet of Ofena, in Italy's Abruzzo region. It's not the sort of drive you rush: Every downward curve opens onto yet another vista of superabundant grandeur. The views here in the Gran Sasso e Monti della Laga National Park are of such unrelenting picturesqueness it seems only right that the roadside benches are turned away from the landscape, toward Ofena's unprepossessing buildings. The locals sitting there appear relieved to be resting their eyes from the ceaselessly breathtaking Apennine postcard unfurling behind them.
For at least a thousand years, the local tradition of transumanza—the seasonal movement of flocks of sheep and goats from mountains to grazing pastures and back again—has been practiced up and down these rocky slopes. "Abruzzo is transumanza," baron Luigi Cataldi Madonna tells me, when I meet him at his winery in the valley beneath Ofena. "It's the soul of Abruzzo. Everything comes back to the transumanza: the food we eat, the wine we drink, the lives we lead."
Cataldi Madonna is a legendary figure in these parts. A winemaker, a professor of philosophy at the Università dell'Aquila, and a passionate history buff, he makes sure to point out that the road that brought me here is very much like the pathways that shepherds have walked for centuries. Winemaking is the other ancient tradition. Here, in the amphitheater-like valley known as "the oven of Abruzzo," air from the Adriatic Sea blows in over the hills, bringing with it a coating of salinity that seems to impregnate Cataldi Madonna's grapes with oceanic freshness.
Cataldi Madonna is largely responsible for rescuing a previously unheralded grape variety called pecorino that is now in vogue across Italy. (The name derives from the Italian word for "sheep," a nod to the shepherds—and their flocks—who ate the grapes while traveling through the region.) His bright, lemony wines are ideal with food, as I learn when he brings out some pasta cresciuta—puffy disks of fried pizza dough—as well as platters of cheese, homemade cold cuts, offal sausages, salads, and olives. I make an aside about this being a panarda, a traditional feast in the region, but Cataldi Madonna waves off my suggestion.
"The panarda is not just a meal," he says, "it's a celebration. It starts early in the evening and finishes the morning after. There are dozens of dishes—always an odd number, that's very important." According to Cataldi Madonna, soups, lamb dishes, ravioli, and a ton of fava beans are integral to the feast, which honors St. Anthony, the patron saint of farmers and shepherds. "The panarda is a ritual of excess here in the countryside," he says. "And the dishes of the panarda are all dependent on the transumanza."
This place is defined by a still-evident link to the tradition of moving around to find and grow food. The sheep move to eat. The people of Abruzzo eat to celebrate. And I, a visitor in a rental car, plan to drive up and down these hills and honor the precedent they set.
Nobody I knew had ever been to Abruzzo before. When I told Roman friends where I was headed, they said things like, "That's the deep, deep countryside." They couldn't understand the appeal, which seemed surprising, given its proximity to Rome (L'Aquila, the capital, is an hour and a half away by car) and the fact that many Roman recipes, starting with spaghetti alla carbonara and bucatini all'amatriciana, are purportedly from Abruzzo. The existence of a still-hidden region in such an overrun corner of the world clearly merited deeper investigation.
Leaving Rome, my rental car bobbed its way through a sea of Fiats and Alfa Romeos, but after a while I bore right onto the A24 and all the other cars stayed to the left. I breezed along with barely anyone else on the road, past medieval castles perched on rocky hillsides, undulating valleys rolling out to infinity, and Himalayan-high mountains with snowy shoulders.
When I arrive in the port of Pescara, a bustling urban center on the Adriatic's golden coast, my first stop is Taverna 58, a bastion of traditional Abruzzan cooking. The owner is a dapper, white-haired gentleman named Giovanni Marrone, who greets customers with a friendly, reserved demeanor. He assures me that the best way to sample various facets of la tradizione is by getting a tasting menu. He starts by sending out arrosticini, a local specialty of flame-grilled mutton skewers, followed by charcuteries and terrines, all of which pair splendidly with a Montepulciano d'Abruzzo by the legendary winemaker Emidio Pepe. Older vintages of Pepe's wines are the ones more likely to make their way to the U.S., fetching hundreds of dollars per bottle, but one of the joys of coming to Italy is that Pepe sells young vintages of his earthy, bold, untamed wine in abundance here, and at much lower prices.
With the stage set, the main course arrives, Taverna 58's chicken "in porchetta style." The recipe begins with chicken marinated in olive oil, honey, fresh rosemary, salt, and white wine. When it's ready, the chef ties it up like a porchetta, using raffia to wrap it around bamboo rods, and grills it. As good as it is, juicy with crackling skin, the pièce de résistance for me comes at the end of the meal, when Marrone wheels a cart to the table and whips up some fresh zabaglione with marsala—"con grande passione," as he puts it.
The next day, crossing more regi tratturi (centuries-old transumanza pathways), I drive southwest to meet Nunzio Marcelli, president of the Abruzzo Shepherds Association. I've never met a shepherd before, let alone an alpha shepherd president.
I suppose I'd been visualizing a man leaning on a wizened hazelnut crook wearing a long gray cloak, but when Marcelli comes out to greet me, he strolls over in a simple polo shirt and jeans. Even shepherds have Casual Fridays, it seems—although Marcelli assures me that many traditions remain intact here. "Just wait until you try our cheeses," says Marcelli, a bearded, tanned, potato-fingered outdoorsman.
After we amble around his rustic agriturismo—filled with sheep, goats, chickens, dogs, and children—we join a colleague of Marcelli's bringing a herd of goats down the hill. The shepherd's job is to keep his flocks healthy and protect them from predators (these woods are still home to bears, wolves, and wild boars). Historically, the region was known for wool, but today, sheep and goats are mainly used for culinary purposes, as I learn over dinner with Marcelli and his family. We try juniper-smoked ricottas, goat yogurt pecorinos, and award-winning caciocavallos made with pezzata rossa cow's milk. Marcelli's daughter Viola prepares homemade gnocchi in a saffron-ricotta sauce, and we end with a local gentian root digestivo and Aurum, an orange liqueur produced in Pescara since 1925.
Dinner confirms something I've sensed while traveling throughout Abruzzo. Since so many people harvest their own fruit here and folks like Marcelli age their own cheeses, grow their own vegetables, and make their own pastas and olive oils, I realize that if some form of global economic meltdown were to come, not only would Abruzzans be fine, but life would continue pretty much just as it is.
I forge onward, into the Apennine mountains and over to Vasto, the birthplace of brodetto alla vastese, a celebrated local fish soup that is bursting with Mediterranean seafood and shellfish. A trip up the golden coast is one of the most beautiful drives in all of Italy, especially if it ends at the Emidio Pepe winery.
I arrive in the middle of harvest time, so Pepe himself brings me straight to the vineyards, where his workers are picking dazzling gold bunches of ripe trebbiano grapes. Now 82 years old, Pepe is a chiseled, strong-backed, handsome man who radiates calm and focus. He is famously quiet, but his pretty 22-year-old granddaughter, Chiara, couldn't be more outgoing, and she shows me around as Emidio busies himself in the field.
"We have a lot of biodiversity here," Chiara says, pointing out the sunflower plantings and fruit trees surrounding us. She draws my attention to the little clumps of wild herbs growing at our feet: parsley, mint, thyme. "We didn't plant these," she clarifies. "They just showed up here. We often find 'spontaneous vegetables' growing in the vineyard, things like swiss chard and fennel." As she speaks, happy little lizards scamper around in the vines and butterflies flit through the honeyed light. Being there immediately makes me understand the slogan on the back of their family's wine bottles: "Con il vino PEPE, hai la 'VITA' dentro." It means: "A wine by PEPE has LIFE inside of it." How could their bottles not be full of life when their vineyard feels like a nature preserve?
"These vines are full of fireflies in the evening," Chiara tells me. "That's significant because fireflies are delicate—they avoid anything that has been sprayed with chemicals. We respect nature here."
For dinner, Emidio's wife, Rosa, prepares a number of family specialties. She starts with a tray of grape-studded focaccia; then comes a dish of fried olives (oliva all'ascolana) stuffed with ground beef and pork. "My grandmother says this is one of the three recipes I will need to learn how to make or else I will never get married," Chiara mentions.
Next I sample a classic timbale, in which layers of flat pasta sheets are quickly boiled, then covered with a veal-spinach mixture and tomato sauce with mozzarella, and then stacked. The lasagna-like dish pairs sensationally with Emidio's cerasuolo, as well as with a plate of Rosa's verdure con fagioli, freshly picked borlotti beans with Swiss chard from the garden. The final recipe in the matrimonial trinity is a venerable classic called mazzarelle: it's like dolmas filled with lamb's liver, heart, and lung. Rosa braises them for a few hours in white wine, to an entirely alchemical result.
As we eat, we try some of Emidio's older vintages. His 2001 is leathery, spicy, full of vitality. "This wine is at the service of conquering eternity," Emidio declares, taking a sip. Then we have the 1983. When he vinified it, Emidio considered it such a terrible vintage that he didn't sell it. Yet today, 32 years later, it has blossomed. "The horse that is hard to break wins the race," Emidio says of the bottle.
Around the dining room table are three generations of Pepes, from kids to grandparents. Someone runs into the kitchen singing "That's Amore" (really). At times the conversation breaks into passionate fireworks, with everyone hollering about the economy, or politics, or the proper way of preparing a certain dish. Rosa keeps looking over at me and telling me that I haven't eaten enough, even though I certainly have.
I say goodnight to the Pepes and head to my room at their agriturismo. Before going to bed, I open my window and look out into the night, filling my lungs with the purity of it all. The temperature has dropped but the crickets are still chirping away. Pulsing lights in the distance catch my eye. It takes me a moment to figure out what they are, but then I see—the vineyard is full of fireflies, twinkling away faintly, like stars.