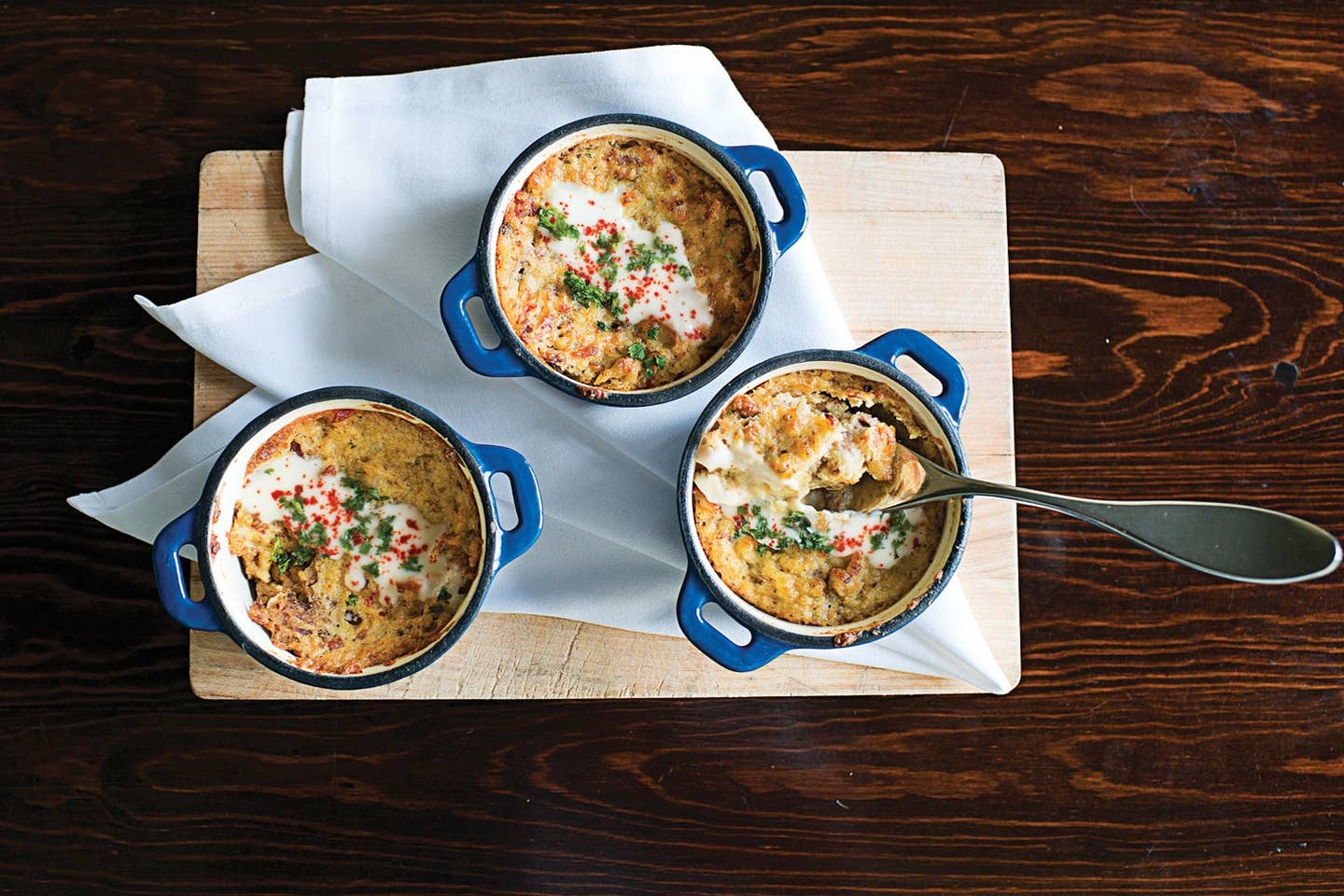 Travel
The Guide: Oklahoma
Oklahoma's culinary charms include sun-ripened melons, savory spoon-puddings, and pies that'll knock your socks off.
Burn Co. Barbecue
3208 E. 11th Street, Tulsa (918/574-2777). At this barbecue mecca, everything from the "Fatty" (a hot link encased in ground sausage and wrapped in bacon) to whole hams, ribs, mac and cheese, and the occasional pot of gumbo is made on a fleet of Hasty-Bake charcoal grills.
Ludivine
805 N. Hudson Avenue, Oklahoma City (405/778-6800). The menu here, which changes nightly, is a celebration of all things Oklahoma, with items such as bison and smoked oyster mushroom tartare with grilled corn purée. A backroom bar offers bracing, well-balanced house cocktails.
The Meers Store
26005 Oklahoma State Highway 115 near Lawton (580/429-8051). Built in a former gold mining town, this burger joint still attracts large crowds who come for the Meersburger, a seven-inch-wide patty oozing with American cheese and piled high with fixings.
Pete's Place
120 SW Eighth Street, Krebs (918/423-2042). In the 1870s, a surge of Italian immigrants came seeking work in the coalmines of southeastern Oklahoma, leading to a fusion of Old World Italian food and prairie sensibilities. While the coal ran out, the locals' passion for ravioli, spaghetti, and meatballs, not to mention lamb fries and steak, lives on at Pete's, which opened in 1925 and still serves its original menu, family-style.
Pho Lien Hoa
901 NW 23rd Street, Oklahoma City (405/521-8087). Thanks to an influx of Vietnamese refugees to Oklahoma City in the early 1970s, there's nearly as much jockeying for best pho here as best barbecue. As far at the latter's concerned, family-run Pho Lien Hoa is tops. The pho tai, fresh noodles in a broth made from soup bones slow-cooked overnight, topped with thin slices of beef, and chockfull of fresh basil, is one of Oklahoma City's most beloved comfort foods.
The Polo Grill
2038 Utica Square, Tulsa (918/744-4280). At Tulsa's most celebrated fine-dining restaurant, James Beard–nominated chef Robert Merrifield offers a playful take on chophouse classics (think: rack of lamb with pistachio jalapeño apple mint relish) matched by a killer wine list.
The Canebrake
33241 E. 732nd Road, Wagoner (918/485-1810). $139 for a double. Located an hour from Tulsa, this secluded boutique resort, spa, and restaurant is owned by chef Sam Bracken and his wife, Lisa. Their Sunday brunch is an elegant (and delicious) succession of fish, eggs, baked goods, and more.
The Skirvin Hilton
One Park Avenue, Oklahoma City (405/272-3040). $180 for a double. First opened in 1911, this luxury hotel is known as the grandest in the city. At its restaurant, Park Avenue Grill, chef Christopher Pope offers a chop- and steak-centric New American–style menu.
Lovera's Italian Grocery and Meat Market
95 West 6th Street Krebs (800/854-1417). Specializing in housemade Italian sausage and caciocavallo cheese, Lovera's opened in 1946. Today, it features classic Italian deli and imports. It's also at the heart of Oklahoma's Little Italy, where folks have feasted on a micro-cuisine of old world Italian, old-school prairie fare and homemade beer since 1870. The four restaurants there, owned by two families, have operated for more than two centuries combined; Lovera's is the part of Krebs you can take home.
Dave Cathey is food editor of The Oklahoman