Travel Guide: Abruzzo, Italy
Just an hour and a half northeast of Rome, in the lightly touristed, barely touched region of Abruzzo, modern-day shepherds follow ancient roads, winemakers prefer unheralded grapes, and feasting is at the center of everyday life.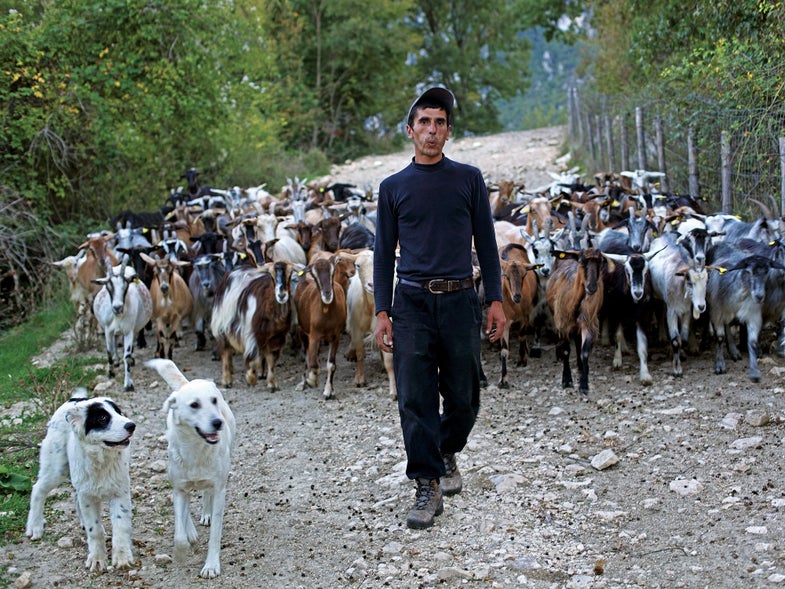 Where to Stay
Emidio Pepe Agriturismo
Opened two years ago, the seven double rooms and two little apartments here at the legendary Emidio Pepe winery are all furnished in modern continental and classic styles. Wine tastings, cellar visits, and dinners with wine pairings are by reservation. Via Chiesi, 10, Torano Nuovo; emidiopepe.com
La Bandiera
It seems that everyone in Abruzzo knows about La Bandiera, widely considered to be the best "fancy" place in the province. The food downstairs is contemporary and stylish, yet rooted in Abruzzan traditions and narrative. The rooms for rent upstairs are nice, clean, and—best of all—more affordable than those in most suitable hotels you'll find in Italy. Contrada Pastini 4, Civitella Casanova; labandiera.it
Where to Eat
Sapori di Campagna
Just up the hill from Luigi Cataldi Madonna's vineyards is this family-run country inn. It focuses on homestyle cucina d'Abruzzo, using historically important ingredients like saffron from the nearby Navelli plain and lentils from across the valley in Santo Stefano di Sessanio. Contrada Colonia Frasca, KM. 7800, Ofena; saporidicampagna.com
Taverna 58
Located on the cobblestone street where poet Gabriele D'Annunzio was born (his casa natale is a museum open to the public), Taverna 58 is the old-school, tradition-obsessed trattoria we all dream of one day finding. Let the maître d'hôtel, Giovanni Marrone, guide you to whatever he selects. He knows his stuff, growing much of the raw materials in his own vegetable garden. Corso Gabriele Manthonè, 46, Pescara; taverna58.it
Where to Shop
Valle Scannese
Crossing the Escher-esque gorge from shepherd Nunzio Marcelli's farm in Anversa, you come to the ancient town of Scanno. It is eminently worth the detour. Stop in to dine, sleep, or simply buy some of the best formaggi in Abruzzo at bioagriturismo Valle Scannese. Cheesemaker Gregorio Rotolo is known for a soft, magnificent pecorino-style cheese called Gregoriano, as well as fresh ricottas and other raw dairy specialties you'll never find anywhere else. Località Le Prata, Scanno; vallescannese.com
Read more about this Italian hideaway in Adam Leith Gollner's story The Road to Abruzzo.