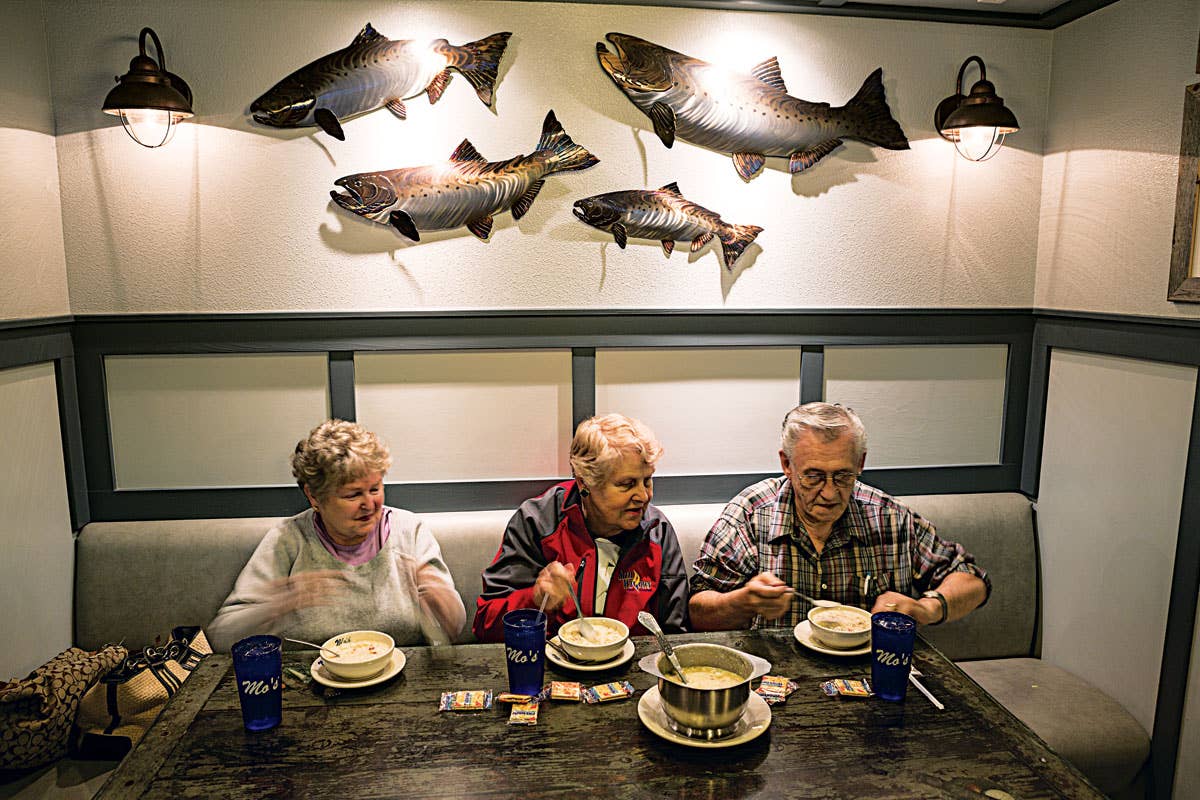 Travel
Travel Guide: Oregon Coast
Drive down Highway 101 along the Oregon coast for some of the best seafood in the country. For help planning your journey, contact the Oregon Coast Visitors Association. Read more about the Oregon coast in Jane and Michael Stern's story From Western Waters, from our April 2014 issue.
Dinner for two with drinks and tip
Inexpensive Under $25 Moderate $25–$75 Expensive Over $75
WHERE TO EAT
Bowpicker Fish & Chips
1636 Duane Street, Astoria (503/791-2942). Inexpensive. Known for its beer-battered albacore tuna and fluffy steak fries, this take-out joint is in a dry-docked fishing boat.
Local Ocean Seafoods
213 SE Bay Boulevard, Newport (541/574-7959). Moderate. Slurp down a bowl of Dungeness crab soup while gazing at fishing boats on the Yaquina Bay at this eatery attached to a seafood market.
Ocean Bleu @ Gino's
808 SW Bay Boulevard, Newport (541/265-2424). Moderate. This restaurant serves sustainable dishes like pan-fried crab cakes and clam risotto with grilled shrimp.
622 SW Bay Boulevard, Newport (541/265-2979). Moderate. Mo's has drawn everyone from Robert F. Kennedy to George W. Bush for its rib-sticking clam chowder.
Pacific Way Bakery & Cafe
601 Pacific Way, Gearhart (503/738-0245) Moderate. This popular breakfast spot also offers comfort-food dinners like parmesan-crusted halibut.
South Beach Seafood
3640 South Coast Highway, South Beach (541/867-6800). Inexpensive. This fish market and restaurant sells impeccable smoked salmon, Dungeness crabs, and raw oysters.
Pelican Pub & Brewery
33180 Cape Kiwanda Drive, Pacific City (503/965-7007). Moderate. Make a pit stop at this oceanfront pub in the town of Pacific City an hour north of South Beach. Here excellent craft beer matches beautifully with elevated pub fare such as pan-fried oysters.
Otis Café
1259 Highway 18, Otis (541/994-2813). Inexpensive. This diminutive diner a mile east of Highway 101 on Highway 18 has been in operation since the 1920s. The café has just four booths, one table, and a handful of seats at the counter. Try the German hash browns, marionberry pie, and freshly baked molasses bread.
The Ocean Lodge
2864 Pacific Street, Cannon Beach (888/777-4077). The family- and pet-friendly lodge in Cannon Beach is steps from famous Haystack Rock. The lodge library has a large selection of reading material and movies suitable for all ages. Special-occasion packages include the "Northwest Picnic To Go" and the "Beach Bag of Family Fun," complete with games and fixings for 'smores.
Salishan Spa and Golf Resort
7760 Highway 101 North, Gleneden Beach (541/764-3600). An ideal home base for an Oregon coast journey, its luxurious rooms feature gas fireplaces, natural stone walls, and views of the Pacific.
WHAT TO DO
Chowder Cook-Off
Taste chowders prepared by some of the best chefs in the Pacific Northwest or take your own to the chowder competition in Lincoln City, November 8–9. In addition to the contest, enjoy live music and local beers and wines.
Flying Dutchman Winery
915 First Street, Otter Rock (541/765-2553). Family-run since 1997, this winery sits on a bluff high above the Pacific just outside Newport. Notable as Oregon's first micro-winery, the producer has become famous for its salt-air-fermented pinot noir.
Secret Beach
Located in the Samuel H. Boardman Scenic Corridor, this coastal area features nine miles of pristine beach lined with cliffs, giant spruce, and natural black stone bridges. The beach is on the northern end of the corridor and can be accessed from the Oregon Coast Trail (entry on shoulder of road near Thunder Rock Cove lookout). It's about a third of a mile hike north on the trail to a short path down to the beach. Parking is available in an unmarked area between Mill Creek and Miner Creek.