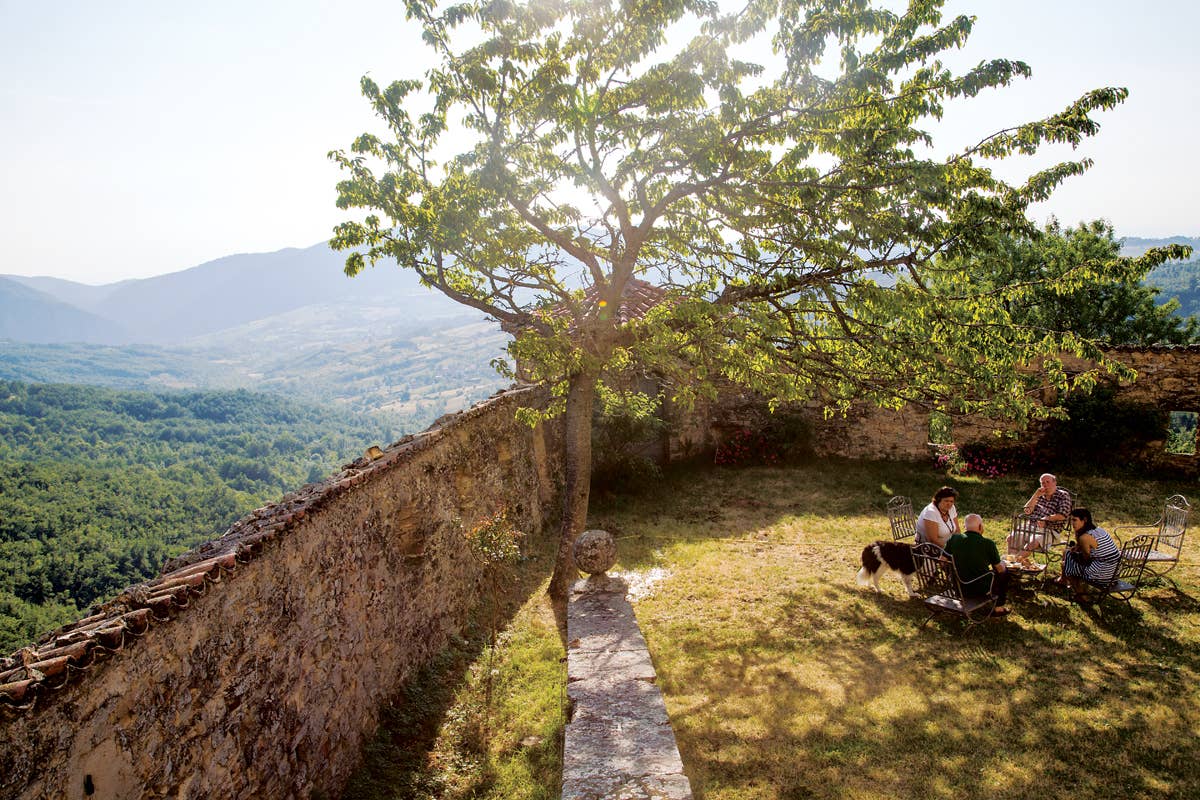 Travel
Travel Guide: Piedmont, Italy
Where to stay, what to do, and where to eat in Piedmont, Italy
Located between the Alps and the Ligurian Apennines, Piedmont made its modern culinary mark in 1986, when, in response to a McDonald's opening in Rome, Carlo Petrini, a resident of the Piedmont town of Bra and now the head of Italy's Slow Food organization, balked and started a campaign to reclaim "the Italian way of life"—food grown from nearby farms, chemical-free harvesting practices, and traditional cooking. But Piedmont's culinary timbre was formed centuries ago. The region changed hands between the French and Italians numerous times after the 1500s, and many historians point out that, because of this, the cuisine here is heavily influenced by the French. It's peasant food, yes, but refined, and not shy about butter, cream, and cheese (see "The Cheeses of Piedmont"). It helps that the geography, a combination of flat plains and mountainous terrain, has plenty of pastures for grazing cattle, sheep, and goats. —Sophie Brickman, from the story "Feast of Life" in Issue #166
Dinner for two with drinks and tip Inexpensive Under $50 Moderate $50–$75 Expensive Over $75
Ristorante Belvedere 1919 (Frazione Pessinate 53, 15060 Cantalupo Ligure Alessandria, 39/01/4393-138; belvedere1919.it) Expensive. Opened in 1919 as a snack cantina for farmers, this restaurant is helmed by skilled chefs Fabrizio and Serena Rebollini. Enjoy agnolotti al plin stuffed with braised meat.
Albergo L' Ostelliere Villa Sparina Resort (Frazione Monterotondo 56, 15066 Gavi Alessandria; 39/01/4360-7801; ostelliere.it). Set amid vineyards on an 18th-century farm, this four-star hotel is noteworthy for the white wine made on-site. The restaurant, La Gallina, offers upscale takes on Piemontese cuisine from chef Massimo Mentasti: tender plin and massive charred rib eye. Doubles start at $175.
Il Boscareto Resort and Spa (Via Roddino 21, 12050 Serralunga d'Alba, Cuneo; 39/01/7361-3036; ilboscaretoresort.it). This modern hotel in the heart of the wine region boasts extensive spa facilities, including an indoor pool that overlooks the vineyards. Two-Michelin-starred chef Antonio Cannavacciuolo took over the restaurant, La Rei, last year. Try his signature tuna vitellato—a riff on the local dish vitello tonnato in which the chef pours veal stock over thinly sliced tuna. Doubles start at $550.
La Traversina (Cascina La Traversina 109, 15060 Stazzano Alessandria; 39/01/ 4361-377; latraversina.com). This charming family-run agriturismo offers clean, homey rooms and a pool. Doubles start at $130 and include breakfast.
Castello di Verduno (S.S.A. Via Umberto I 9, 12060 Verduno, Cuneo; 39/01/7247-0125; castellodiverduno.com). In an 18th-century castle, this hotel should be on every food-obsessed traveler's list. Alessandra Buglioni di Monale offers intimate cooking classes where you can learn how to cook simple but delicious local foods such as handmade pasta with fresh tomato sauce, and then enjoy it in the courtyard. Doubles start at $195.