When the Work is Done
MEXICO CITY
06:32PM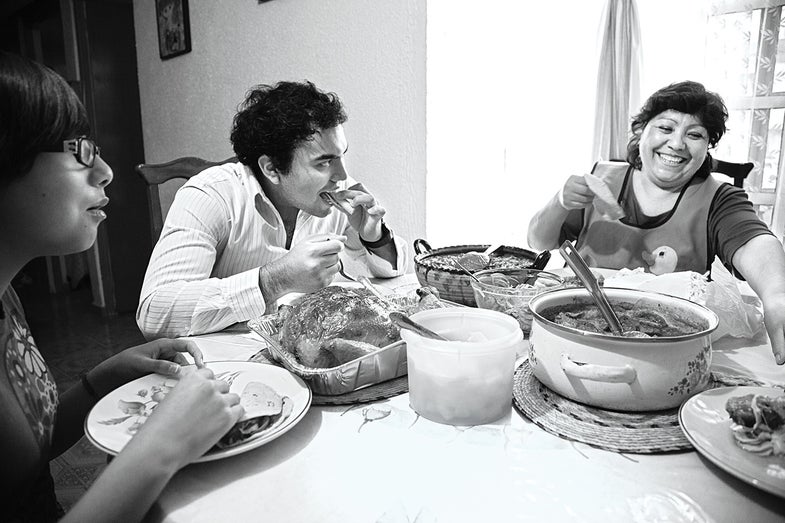 The pressure cooker rattles ominously on the stove. And I can't help wincing as 13-year-old Ana Laura blithely jams a butter knife under the lid to release a hiss of steam. The pork loin simmering inside is destined for one of her favorite dishes:_ cochinita pibil_, the pulled pork of Mexico's Yucatán Peninsula that is marinated in the juice of bitter oranges. This being an apartment in the middle of the biggest public housing complex in Mexico City, doing the dish the traditional way—slow-roasting the pork in a pit in the ground—isn't an option. So Ana Laura's mother, Susana Rangel Gutierrez, a youthful woman with boundless energy, has developed a quicker stovetop version. Cooking is Susana's livelihood. She works as a caterer and street vendor, selling tamales on a busy corner to passersby each morning as they head out to work. But now, as the day winds down, she is cooking for her family—and she's invited me to join them. Gerardo, her 22-year-old son, arrives with his girlfriend, Mariana, followed by his sister Monserrat, 23. Everyone gathers at a table in the living room. There's the cochinita pibil, tinted a vivid crimson by the spice achiote; sopa de nopal, a tangy green stew of tomatillos, potatoes, and strips of cactus paddle, garnished with crunchy shards of pork rind; and the centerpiece of the meal, a whole chicken stuffed with spinach, mushrooms, and Manchego cheese and roasted to a deep golden brown. There are warm tortillas and velvety black beans laced with avocado leaf, which lends a mild anise flavor, plus a freshly made salsa. Susana's husband, a security guard, won't get home for hours. When he does arrive, there will be plenty of great leftovers waiting for him.
See the recipe for Sopa de Nopal (Nopales and Tomatillo Stew) »
See the recipe for Pollo Relleno (Chicken Stuffed with Manchego, Mushrooms, and Spinach) »
Beth Kracklauer is the food editor of_The Wall Street Journal's_"Off Duty" Section.