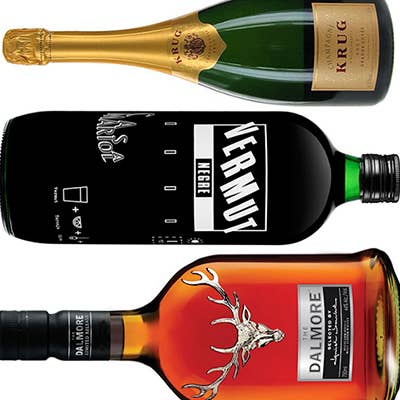 Drinks
Nine Good Bottles
This holiday season, our favorite spirits for giving—or getting!—range from a quirky herbal liqueur to a chef-approved single malt to an utterly timeless Champagne.
Genepy is the primary herb in the flavor of Chartreuse, so fans of complex, herbaceous cocktails will be thrilled to add this to their bar. $28.99
As far as we're concerned, this is the ideal cold-weather Champagne, thanks to its notes of allspice and winter fruits, and an utterly celebratory effervescence. $135
Straight from Barcelona, this nut-brown vermouth makes a great Manhattan, but it's even better over ice with a splash of soda, allowing its complex, fruity-floral-woodsy flavor to really shine. $22.99
The Dalmore Selected by Daniel Boulud
The name on the label's no marketing gimmick: The legendary chef himself was involved in the blending of this ultra-smooth, gorgeously balanced single-malt. $229.99
Soft, subtle, creamy, and floral—what more could you ask for in a cognac? Especially one at this price: The bang for buck cannot be beat. $44.99
Jack Daniels Sinatra Select
Frank was always a big fan of Jack—the singer was famously buried with a bottle of his favorite whiskey. In his honor, they've released an ultra-premium bottle with his name on it. $199
Crisp, bright, terrifically citrusy, and not overly sweet, this orange liqueur is the secret weapon for a magical margarita. $12.99
Smooth Ambler Greenbrier Gin
Distilled in West Virginia's lush Greenbrier valley, this is a gin-drinker's gin, with spicy, savory notes and a full, round flavor. $38.99
Okay, this wonderfully strange tonic-flavored cordial from Hendrick's Gin isn't commercially available. Made in a limited run of 4,000 bottles and distributed to just two dozen top bartenders in New York, Austin, San Francisco, and Chicago, it's behind the bar at some of our favorite spots. Maybe if you ask your bartender nicely, she'll let you run off with a sample.