Many Shades of Gin
With so many options, bartenders pick and choose a gin with an eye towards its mixability. This story first appeared in our June/July 2014 issue with Camper English's story, "Miracle Cure."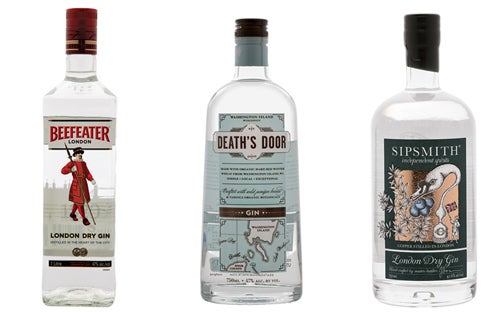 London Dry
These traditional-style gins are dry enough to take a sweeter tonic. Beef-eater, launched in 1863, is steeped with juniper and other botanicals for a lengthy 24 hours. Death's Door is savory with fennel and coriander. Micro-batch Sipsmith is spicy with juniper and tart with lemon.
Fruity and Bright
Use a drier tonic, such as Fever Tree or Schweppes, for these fruit-flavored gins. Dutch-made Nolet's is juicy with raspberries and peaches, while loads of citrus peels flavor Bluecoat. The abundant coriander spice in Tanqueray No. Ten can also register as fruity.
Floral and Aromatic
Herb and flower garnishes complement fragrant gins like Hendrick's, which is infused with cucumbers and damask rose. Douglas fir, bay laurel, and coastal sage bring the flavors of California's maritime forests to St. George Terroir Gin. Scotland's Old Raj is boosted with saffron.
Navy-Strength
These potent gins stand out in drinks, but they also help other flavors pop. Named for the 19th-century sailors who favored it, the style includes Plymouth Navy Strength, dating from 1793, Brooklyn-based Perry's Tot, and the slightly less powerful Martin Miller's Westbourne Strength.