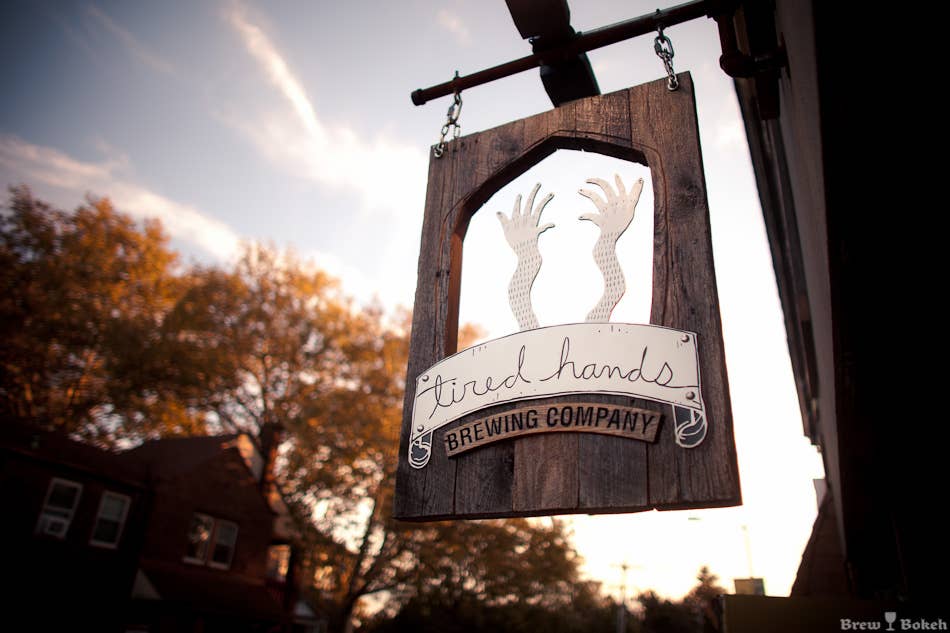 Drinks
The Brew: Tired Hands Brewery
A cult brewpub in the Philly suburbs makes some of the most flavorful and artistic beers in the mid-Atlantic
My friend Daniel and I were sitting at a bar in Brooklyn one Wednesday a few months ago, when the conversation turned to an obscure little brewpub that he had recently visited on the outskirts of Philly. "It's called Tired Hands," he said, "and they make some really crazy stuff. You should check it out."
A few days later, I did just that. I couldn't stop thinking about the offbeat, unusual beers Daniel had described, and so I canceled my plans, rented a car, and trekked the eighty-odd miles down the Jersey Turnpike to Ardmore, Pennsylvania, to meet Tired Hands owner and brewer, Jean Broillet IV. I wanted to see firsthand and find out more about what he was doing at this place in the suburbs. "My focus is on very simple, expressive beers," Broillet explained. "Hop-forward ales and really refreshing, dry saisons. But sometimes we get a little carried away."
Broillet's philosophy at Tired Hands is to make "beautiful, forward-thinking, and strange beers," which include his two standard house brews, HopHands, an aromatic hoppy pale ale brewed with oats, and SaisonHands, a crisp, cool farmhouse-style ale with notes of tropical fruit and citrus. Right away I noticed that Tired Hands had peculiar names for their beer. At one point they had a clementine IPA called The Light That Spills Out of the Hole in Your Head and on another occasion, a hoppy ale called Emerald Skeletons Listening to Your Footsteps, which Broillet said came to him in a dream the night before he brewed it. In fact, many of the names come from musical references, random stories, and bad puns. "Sometime we'll bat a name around for a while and make bad jokes about it," says Broillet, "and eventually it will tickle its way into my brain."
Brewing over 200 different beers since opening in 2012, Broillet takes what he calls a circumstantial approach to his craft: "I'm not entirely focused on creating a consistent product, per se, so long as everything we do is consistently excellent." In addition to draft beers, Tired Hands releases about one bottled beer per month. All are super-limited and sell out within minutes of being released. Broillet told me that he would make more if he could—"We can barely keep up with demand at the brewpub!"—but there just isn't space at the moment.
That should change soon, though, when they open a new 20-barrel off-site brewing facility. "Based around the work that we've done in the brewpub over the last couple years," he said, "we now have a great arsenal of beers that we want to brew on a much larger scale." That will include beers like one of my favorites, the robust porter I See a Darkness, named after a song and album by Broillet's friend Will Oldham (through a mutual farmer friend, Broillet became friends with the musician, who has a reputation of being a bit of a beer guy), a wheat IPA called We Are All Infinite Energy Vibrating at the Same Frequency, and HandFarm, the sublime house saison fermented and conditioned in white wine barrels.
I've revisited the brewpub several times over the last few months and every time I find a fresh batch of offbeat beers, which are only available on-site, one of the many reasons I keep coming back for more. Recently the selection included Lord Ladybug, a black Berliner Weisse drenched with tart cherry flavors, and BrainHands, a sour German-style gose made in collaboration with Philly pizza weirdoes Pizza Brain. Both were bracing and invigorating and each nicely complemented the pub's satisfying menu of house-baked bread, local meats, and farmstead cheeses.
Broillet, who earned a degree in special education before following his love of brewing, credits his father for turning him on to craft beer. "When I was a kid, rather than stealing Coors or Budweiser out of my parents' fridge, I was getting Victory Hop Devil and Sierra Nevada Pale Ale." After college, he landed jobs at Weyerbacher and Iron Hill before branching out on his own.
When opening the brewpub, Broillet and his wife looked for real estate within the Philly city limits, "but after a few months of back-and-forth with the local government, and trying to wrap our heads around the tax situation there, it didn't seem like the best place for us." The very first place they saw outside the city was the space they're in now: A redesigned doctor's office that has the ambiance of a rustic ski lodge crossed with a backwoods Wiccan retreat. The first time I visited was just before Christmas and little branches of evergreen garland were strewn above the bar. In one corner, some deer antlers had been loosely stacked on top of a wooden barrel, and spooky little bouquets of dried flowers and herbs were hung along the walls. The effect was something more aligned with a pagan solstice celebration than an American vanilla Christmas, but the sentiment felt genuine and warm.
Broillet told me that being in the suburbs isn't a liability for him. "So far, business has far surpassed our expectations," he said. "I firmly believe that if you create something awesome, people are going to find you."
Tired Hands is available only at the brewpub, 16 Ardmore Ave., Ardmore, Pennsylvania. Open Tuesday through Sunday.