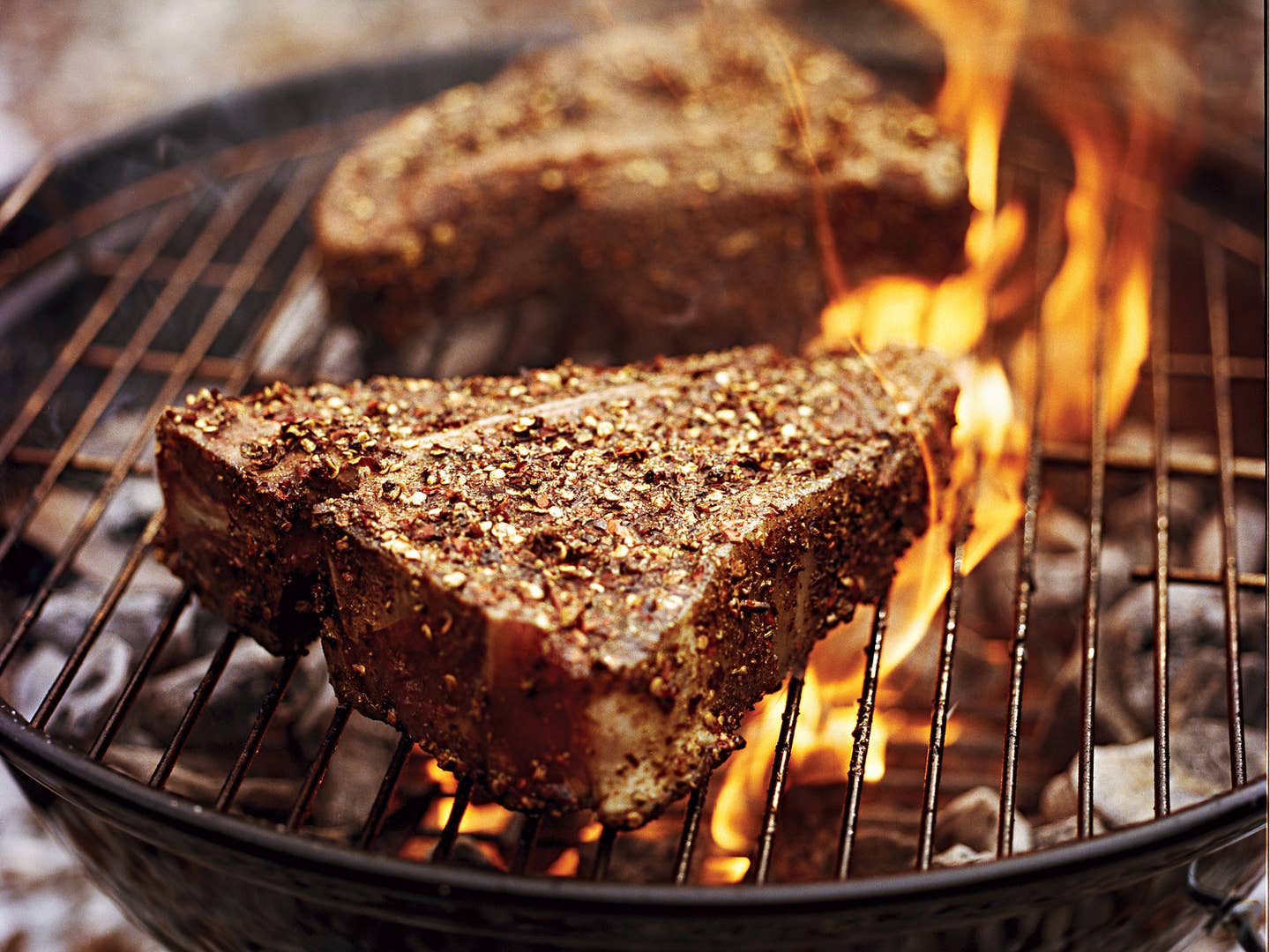 Techniques
Ask the Test Kitchen: Grilling
You don't need an outdoor grill to get the char you want
In Ask The Test Kitchen, food editor Ben Mims provides solutions to your pesky cooking problems. In this installment, he offers indoor grilling wisdom for those apartment-dwelling types who don't have the luxury of a charcoal grill out back.
What is the best way to grill indoors?
So, here's a secret: Even in the SAVEUR test kitchen, we don't have a grill! Because the building that houses our test kitchen won't allow an open flame indoors, we have to get pretty crafty when it comes to testing our grilling recipes. Once we grilled on the roof of our building (shh…that's our secret). But often times we invade an editor's backyard in Brooklyn during the spring, armed with sheet pans of pork ribs and spatchcocked chickens, our trusty Weber grill, and a bag of charcoal. We'll hole up and test recipes for a couple of days, the grill keeping us warm when's it's still freezing out. We'll even end the day with a six-pack of beer just to convince ourselves that summer is around the corner.
But once our main tests are finished, it's a necessity for our test kitchen cooks to re-test recipes indoors on grill pans. And especially for small-batch grilled recipes, like a couple chiles for salsa or a few peaches for an ice cream sundae, we've grown to love cooking on our trusty cast iron grill pans. Le Creuset, Staub, and Lodge all make trusty models and all largely cook just as well as the others. Square or round versions fit easily over one "eye" of a stove, a boon to the cooks in our test kitchen who have to cook on a range with eyes set far apart from each other. Larger, rectangular versions are great on stoves with eyes set close together, and they have the added bonus of not having sides, which promotes easy access to your food.
Whatever model you choose, go for deep, diagonal grooves that imprint whatever you grill with beautiful grill marks. The heavy cast iron will create a crusty char on the outside—a novice wouldn't know it was cooked without coals. Vegetables, seafood, and small cuts of meat all cook well on grill pans, and since the lack of elevated grates means you don't have to worry about your food falling into the fire below, I actually prefer them in those instances.
The only drawback to grilling indoors is the smoke it creates, so unless you want your whole apartment or house to smell like a barbecue smoke shack, you want to make sure you have a good ventilation system. I could recommend disarming your smoke detector and waving a towel in front of an open window, but I think the fire department is already peeved at me for that roof-grilling advice.
If you have any cooking conundrums that you want answered, send them to us here at the SAVEUR test kitchen at testkitchen@saveur.com.