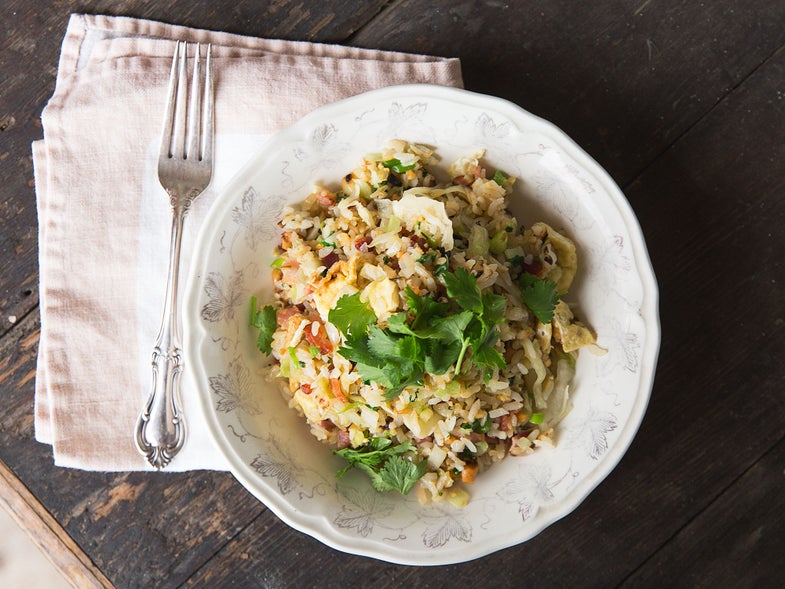 This simple fried rice is as good for breakfast as it is for dinner. Thick-cut bacon will make for more meaty, chewy bits. Cookbook writer Amy Thielen often adds a little sauerkraut for a further Midwestern touch.
Featured in: Put Bacon in Your Fried Rice
Bacon and Egg Fried Rice
Give fried rice a Midwest spin with a handful of bacon.
Time: 30 minutes
Ingredients
3 eggs
2 tsp. plus 1 Tbsp. seasame oil
Kosher salt
8 oz. thick cut bacon, sliced 1/4-inch thick
4 garlic cloves, thinly sliced
2 bunches scallions, trimmed and thinly sliced
1 (1-inch) piece ginger, peeled and minced
1 1⁄2 cups diced cabbage
5 cups leftover cooked white rice, cooled
1⁄2 bunch cilantro and stems, minced, plus more for garnish
3⁄4 tsp. sugar
1 1⁄2 tbsp. soy sauce
Crushed peanuts, to garnish
Instructions
Whisk eggs with 2 teaspoons sesame oil and salt.
Heat a large wok over high. Add the bacon and cook, stirring until crisp, 2-3 minutes. Pour bacon and fat into a sieve, reserving both.
Return the wok to the heat and add 2 tablespoons bacon fat. Add half of the eggs and cook until lightly set in the center and the edges are bubbling, about 1 minute. Gently slide the egg pancake onto a cutting board and slice into 1⁄4-inch side strips.
Pour the remaining 2 tablespoons of bacon fat into the wok along with the garlic, scallions, and ginger and cook until fragrant, about 1 minute, Add the cabbage and cook until tender, about 2 minutes. Add the rice, cilantro stems, and the sugar and cook, breaking up the rice with your spatula, until the rice is warmed through, about 2 minutes.
Make a well in the center of the rice and add the remaining egg. Cook the egg, stirring, until the eggs are cooked and scrambled, about 1 minute. Stir in the rice to combine, along with the remaining 1 tablespoon of soy sauce, the minced cilantro, and half the scallion greens. Transfer to a platter and garnish with reserved bacon, the strips of egg, the remaining scallion greens, and the minced cilantro.