Recipes
Bacon and Egg Fried Rice
Amy Thielen gives this simple dish a mighty, Midwestern touch.
Serves

serves 4-6

Cook

30 minutes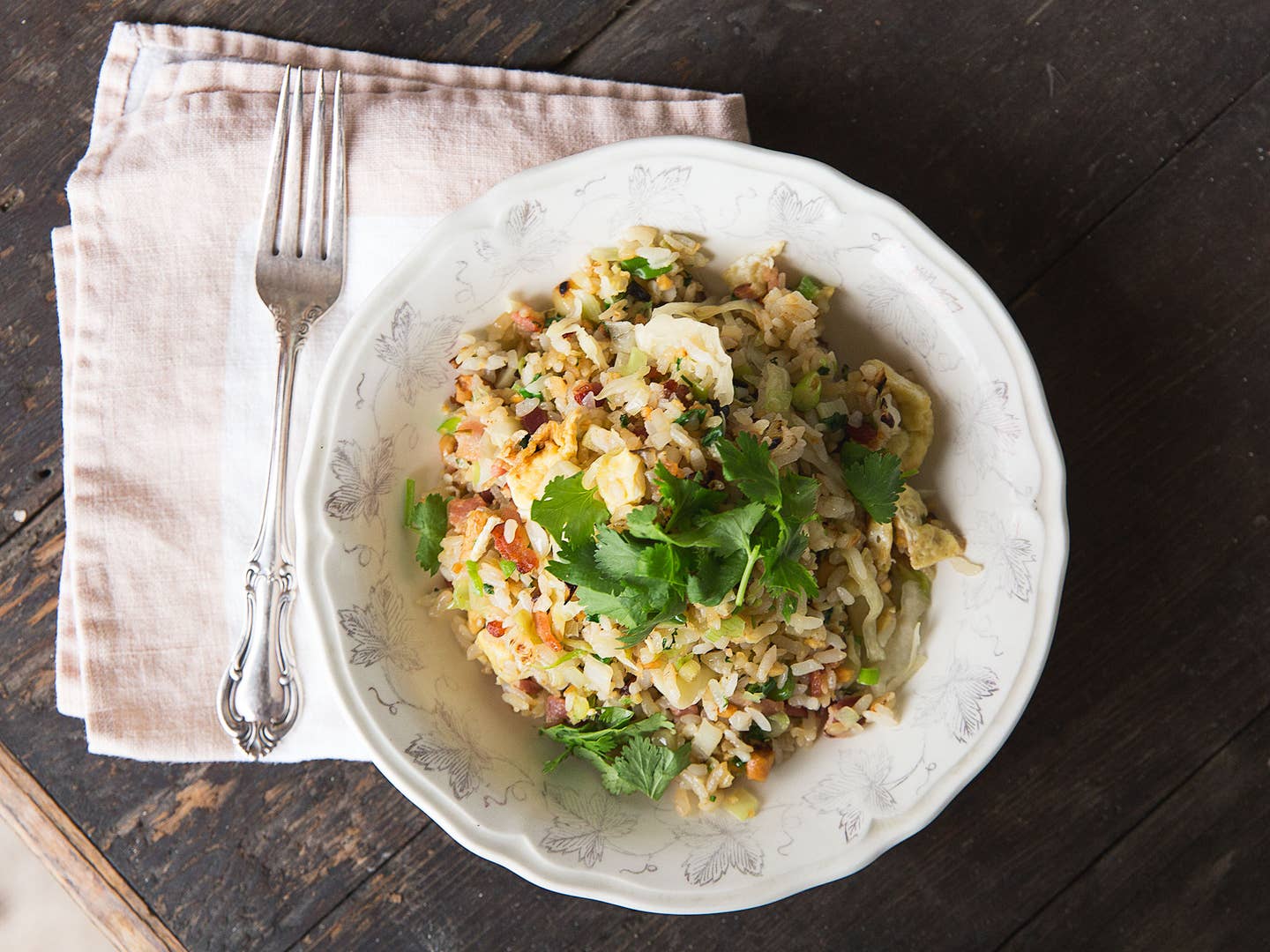 Cookbook author Amy Thielen often adds a little sauerkraut to this simple fried rice for a Midwestern touch. Thick-cut bacon will add more meaty, chewy notes.
Ingredients
3 large eggs
2 tsp. plus 2 tsp. sesame oil, divided
Kosher salt
8 oz. thick-cut bacon, sliced into ¼-inch-thick strips
4 garlic cloves, thinly sliced
14 scallions, dark green parts removed, thinly sliced
One 1-in. piece ginger, peeled and finely chopped
1½ cups shredded white cabbage
5 cups day-old cooked white rice
⅔ coarsely chopped cilantro, plus torn leaves for garnish
¾ tsp. sugar
1½ tbsp. soy sauce
Coarsely chopped peanuts, for garnish
Instructions
Step 1
In a small bowl, beat the eggs with 2 teaspoons of the sesame oil and salt to taste until combined; set aside.
Step 2
To a wok set over medium-high heat, add the bacon and fry, stirring frequently, until crisp, 2–3 minutes. Place a sieve over a small heatproof bowl and strain the bacon, reserving the fat.
Step 3
To the empty wok, add 2 tablespoons of the bacon fat. When it's hot and shimmering, add half of the egg mixture and cook without stirring until just set in the center and bubbling at the edges, about 1 minute. Gently slide the omelet onto a cutting board and, when cool enough to handle, slice into ¼-inch-thick strips.
Step 4
To the empty wok, add the remaining bacon fat, garlic, scallions, and ginger and fry until fragrant, about 1 minute. Add the cabbage and cook until tender, about 2 minutes. Add the rice, cilantro, and sugar and cook, using a metal spatula to break up any clumps as you stir, until warmed through, about 2 minutes.
Step 5
Make a well in the center of the rice and add the remaining egg. Cook the egg, stirring continuously, until scrambled but not dry, about 1 minute. Stir into the rice, then stir in the soy sauce and half of the scallions.
Step 6
To serve, scrape the fried rice onto a platter and garnish with the peanuts, omelet strips, cilantro leaves, reserved bacon, and remaining scallions.