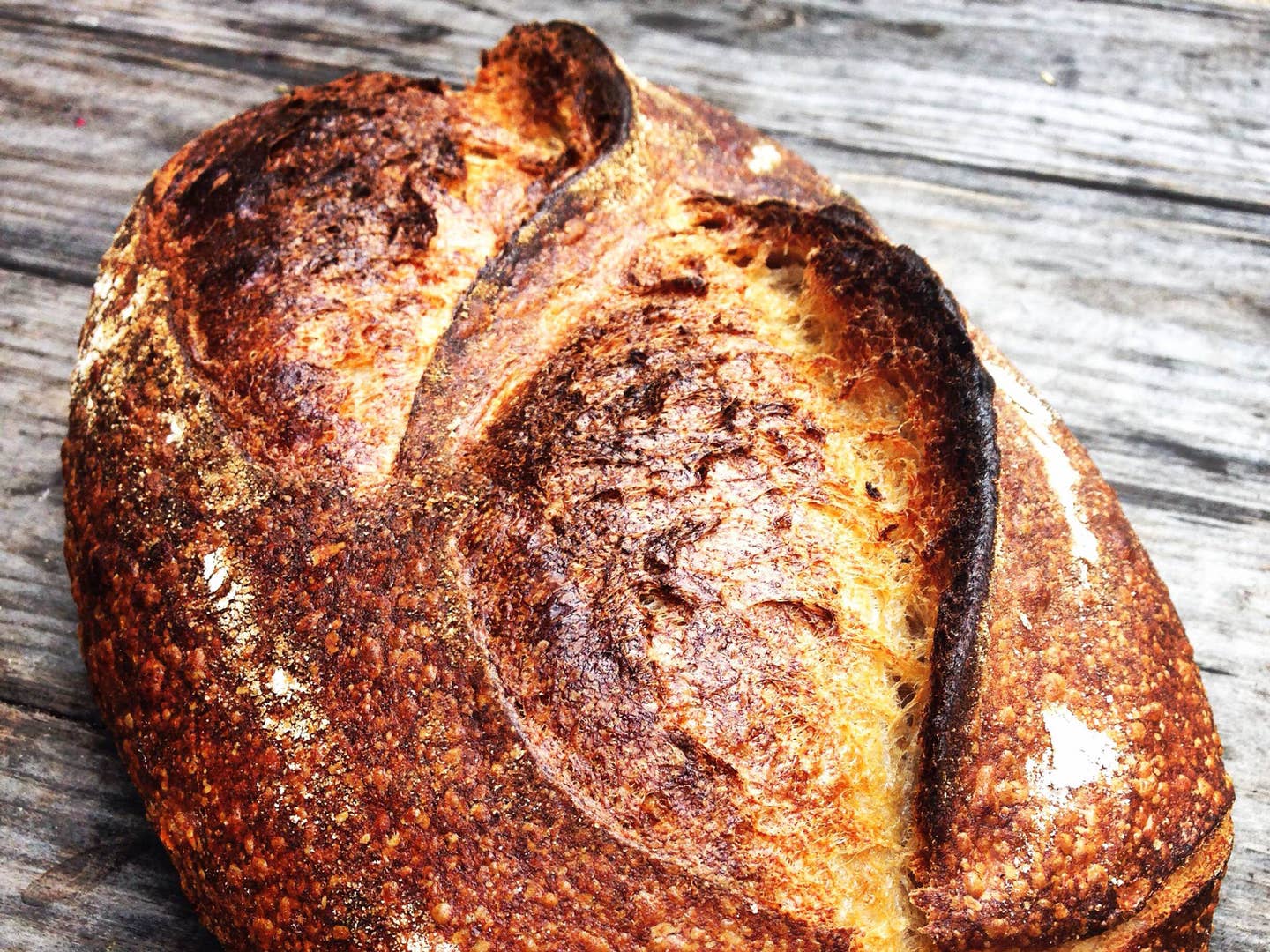 Techniques
Meet the Millers: Three Bakers Revolutionizing Artisan Bread
Three independent bread makers who are milling their own flour—and changing the way we eat bread
It is heirloom wheat, growing tall and wild in an endless field. By day's end, it will be a loaf of bread. If this sounds like a scene out of Portlandia, think again. A clutch of intrepid artisan bakers is taking up the challenge of milling their own wheat, baking with flour that's just a few hours old, and giving new meaning to the words fresh bread.
"Wheat has terroir. It has aroma," says Dave Miller, who opened Chicago's Baker Miller with his wife Megan in October 2014. "It's like grapes, coffee, fine wine. When you buy bread in the grocery store, it's made from wheat that's been treated and has been sitting around. It's been chemically processed and has no nutrients left." The Millers (can't beat the name, right?) are on a mission to educate the bread-eating public about the beauty of freshly milled wheat. "Who cares where your meat and your vegetables are from, if your flour is just from a big bag in the basement? We wanted people to see the grain and the flour and think about it as an artisan ingredient, just like other things," says Miller.
While the Millers had a clear vision—bake bread from flour just a few hours old—they had neither a mill nor milling experience. Undeterred, they sold their impossibly popular pie shop, Bang Bang Pie, purchased two mills on local farms, and built one for the bakery. Along the way, they taught themselves how to mill by reading and corresponding via email with the milling experts of Hayden Flour Mills in Arizona and Getreidemuehlen in Austria. After three intense months of trial and error, they were ready to open.
These days, their freshly milled flour is either bagged for sale online or kneaded into loaves of Chicago Sourdough, Ancho Chili Cocoa Nib, Sunflower Rye, or Sparrow Onion Rye. The difference in aroma, texture, and flavor is remarkable: It's like you've been eating bread in black and white and someone's just turned on the color.
"We want to change the way people eat and help create a movement behind artisan flour," says Miller. To that end, they are in the process of opening a demonstration kitchen and mill in Chicago that will be open to the public and serve as a place for education, baking, and events. "We want everyone to understand the beauty of freshly milled flour."
At Josey Baker Bread in San Francisco, an Ostiroller mill—a horizontal stone mill built in Austria from a centuries-old design—grinds an average of 350 pounds of heirloom wheat daily, as well as rye, spelt, cornmeal, Einkorn, and buckwheat for hearty loaves like California Heirloom bread, Einkorn, Dark Mountain Rye, and Black Pepper Parmesan, one of the bakery's best sellers.
Josey Baker (yes, that's his real last name) was designing kids' science curricula for University of California at Berkley when he took a liking to baking bread. When friends were lining up outside his apartment to buy up to 60 loaves a day, he realized he had a business on his hands. He decided he'd mill his own flour after tasting a loaf made with freshly milled flour by David Miller (a different David Miller than the one in Chicago) at Miller's Bakehouse. "The aroma, flavor, and texture was so vibrant and unlike anything I had ever eaten," Baker says. "I thought, 'I need to figure out a way to do this'." Baker had never milled flour before, but Miller taught him the nuances of the grind. Today, flour that's just a few hours old is the bedrock of his artisan bread business. "Flour is the main ingredient of bread, so having control over the transformation of that grain into flour seems pretty integral to get deeper into the process of bread making," says Baker.
Naturally, the mill-your-own movement has also reached Portland, Oregon. At Tissa Stein's Tabor Bread, head baker Brad Holderfield starts milling about 4 a.m. when he gets to the bakery. His Ostiroller mill runs for about 10 or 11 hours straight, grinding about 200 pounds of local wheat daily for standards like white and wheat batards, spelt loaves, and seeded red wheat bread fired in an Alan Scott oven. Holderfield favors freshly milled flour for the same reasons Baker and Miller do: flavor, freshness, nutritional value, and aroma. But he's also keen on the cost. "Instead of paying $45–50 per pound for organic flour, we are paying 20–25 bucks. It's pretty cheap, it's not labor intensive, and three hours later we have 50 pounds of flour."
Fresh flour does have one drawback—and it's the thing that makes it so special in the first place. The fact that it's unprocessed and free of stabilizers makes working with it rather unpredictable; sometimes it needs more water, sometimes it ferments too fast. "Fresh flour is more alive and responds less consistently," explains David Miller. "Every day is different. One day it will absorb water quickly and the yeasts will be really active. The next day, the complete opposite. It really takes a lot more attention to detail and patience." Josey Baker agrees. "It's complicated working with fresh flour, but what it does is give you the potential to make better bread."
Milling your own also supports small local grain farmers who don't have the infrastructure to mill themselves. "We buy Sonora (an heirloom grain) from a farmer two hours away who doesn't have a mill, so the only way to use her wheat is if we mill it ourselves," says Baker. "Otherwise she'd have no one to sell to."
Miller had a similar experience. To find high-quality grain, he searched for organic, non-GMO, heirloom wheat and finally found Brian Severson Farms through the farmer he buys pork products from. "Severson was going to stop growing the wheat because no one was buying it," Miller says. "He dropped some samples off, we ground them up, and we were like, holy crap. These are amazing. You can smell it. You can feel it."