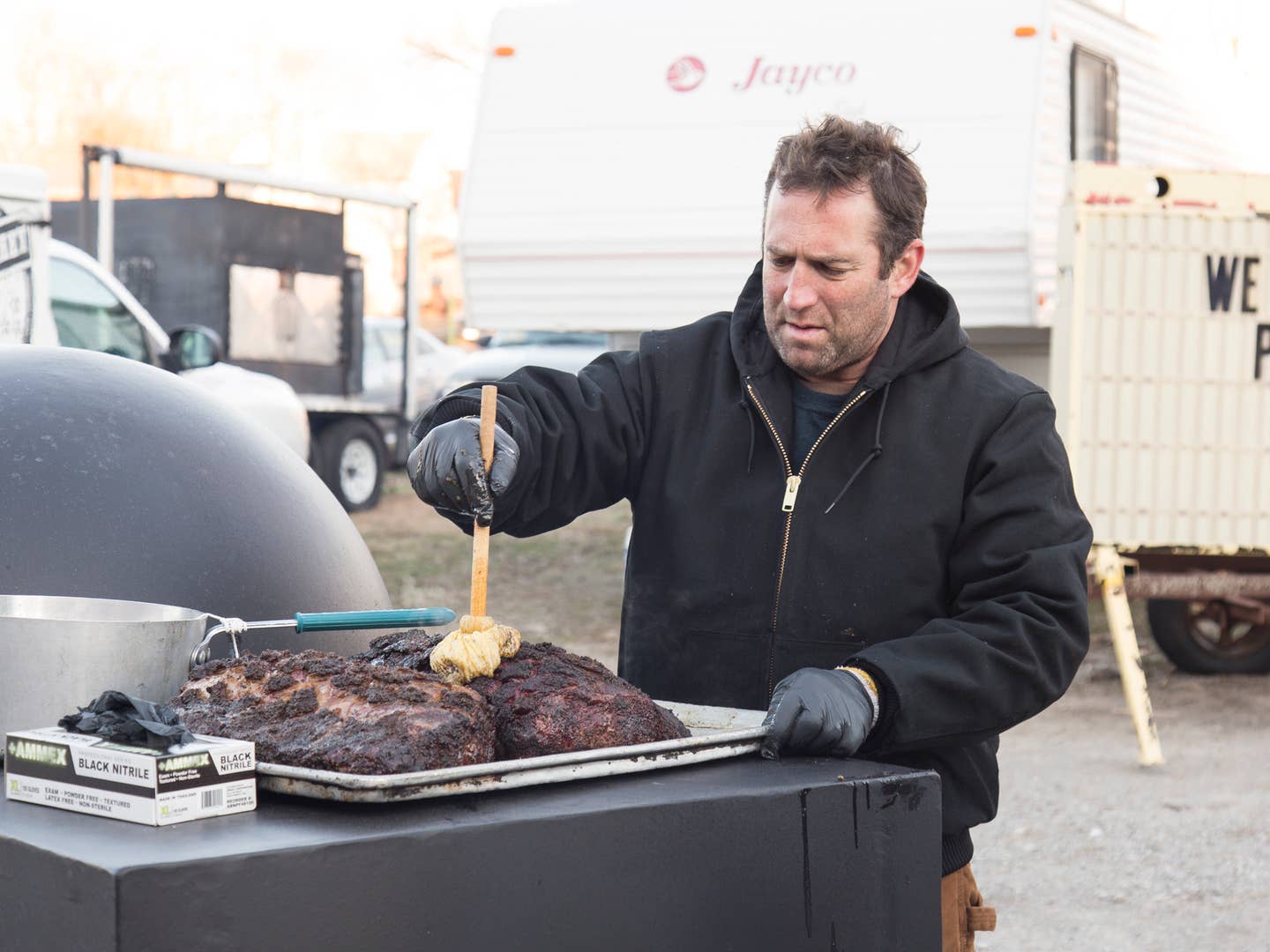 Techniques
What We Learned from a Trip to Barbecue University
On a frigid winter weekend in Murphysboro, IL (pop: 8,000), some of the biggest names in barbecue gathered to discuss the most pressing issues in today's world of smoked hog
On a recent Monday morning, about 40 people sat in a makeshift classroom in Murphysboro, IL, population 8,000. The temperature gauge read 10 degrees outside, and the room smelled of pork fat, emanating from tiny buckets of pork rinds that dotted the room for snacking. A dressed 170-pound whole hog lay on a metal rack with wheels, stage left, awaiting its demonstration.
"The juiciness is found within you," Adam Perry Lang was saying at the head of the room, a mic clipped onto his camouflaged shirt. Students scribbled down notes. The chef and pit master, who trained at French stalwarts like Guy Savoy in Paris and Le Cirque and Daniel in New York City before turning his sights to the smoker, gestured passionately with his hands, occasionally slapping the 22-pound rib roast that sat on a cutting board in front of him for emphasis.
"All I have to do is put salt on this meat right before it hits your table, then you'll take a bite, you'll start salivating, and We. Are. On."
Earlier that day, Amy Mills and her father and business partner, Mike, had welcomed the students to their fifth annual "BBQ MBA," a three-day immersion program on all things barbecue, for everyone from professionals looking to up their game to mere enthusiasts seeking wisdom straight from the mouths of world-renowned experts. All you have to do to reap said wisdom is pay the $1,050 entry fee and schlep yourself to southern Illinois during the coldest season of the year. The Mills gathered a selection of barbecue's most acclaimed and noteworthy pit masters to teach classes on porchetta prep, brisket trimming, and how to open a restaurant, who agreed, partially, because they also got to worship at the altar of barbecue royalty.
For the non-porcine obsessed: Mike Mills is the legendary pit master of Murphysboro's 17th Street Barbecue, and four-time World Champion and three-time Grand World Champion of barbecue's Super Bowl, Memphis in May. (He's also the only barbecuer, according to his website, with the top-security clearance needed to board Air Force One, should our Commander in Chief find himself in need of presidential-worthy ribs at 30,000 feet. This honor came about after President Clinton visited nearby Carbondale to give a speech at Southern Illinois University but didn't have time to eat at the restaurant afterwards. His security detail arranged for Mike to deliver barbecue to Air Force One before the President flew back to Washington to handle an escalating situation in Bosnia.)
His guests could boast their share of accomplishments, too, such as third-generation pit master Sam Jones of Skylight Inn BBQ, which has been hawking pork sandwiches in Ayden, NC since 1947; or Wayne Mueller (also third-generation) of Louie Mueller Barbecue in Taylor, Texas; or Pat Martin of West Tennessee's Martin's Bar-B-Que Joint, who specializes in whole hog cooking and makes everything, from the meat to the fixings, from scratch every single day.
Lang, a relative newcomer to the art of the smoker, at times seemed as awestruck as the students he was teaching. "The fact that I'm here, rubbing elbows with these guys, with Mike himself? It's reason enough for me to leave my wife and kids behind in L.A. for a few days," he said.
The overarching theme of this year's gathering was whole hog cooking, a demanding and time-consuming art even by the standards of old school barbecue.
"Whole hog cooking is the most financially irresponsible thing you can do," said Jones during his presentation, as he straddled the face of a hog that was splayed open on the demonstration table, and cut it up the belly. "The margins are bad. There are more fuel costs. You're getting beat like a pure grass fire right out of the gate," he said as he knife cut through the breastbone, employing a simile perhaps more understandable to Ayden residents than urbanites. The yield on a whole hog is about 45%, way lower than from individual cuts.
When it comes to pork, Jones exclusively cooks whole hogs at Skylight, and his customers will only pay $4.50 for his pulled pork sandwich, which is why he's not cooking with grass-raised—or as he put it, "dirt-raised"—pigs.
"There comes a fine line between practicality and economics," he said. "We should get some sort of subsidy, like the farmers do."
"It simply speaks to a more romantic version of barbecue," said Pat Martin. "We have a moral obligation to our culture as southerners to keep it alive."
For centuries, before the Syscos of the world started butchering up hogs and selling them in parts—giving pitmasters faster, cheaper ways to cook larger quantities of meat—whole hog was the way it was done. And despite the fact that a whole hog takes upwards of 24 hours to make, start to finish, Martin and his fellow romantics are going to keep that tradition going, price concerns be damned.
And for Mills at least, whole hog cooking is about the challenge. "It shows skill, to get it tender here, perfectly cooked there, and have it all be ready at the same time," he said, gesturing to the ham, the loin/belly region, and the shoulder on a nearby hog, each of which cooks at a different rate. A bitter wind slapped audibly against the warehouse's brick wall behind him, but he didn't seem to mind standing in shirtsleeves. (Later on that evening, as the mercury dipped to six degrees, he could be found in his office taking spoonfuls of a Dairy Queen blizzard.)
Nearby, clustered in little groups and stamping their feet to keep warm, the students had come out to see the masters load hogs onto the smokers, where they'd cook, slowly, until lunchtime the next day. Jones freely seasoned his hog with what looked to be a full container of Morton's sea salt, delicately picking up each pig ear and sprinkling underneath, à la a dab of eau de toilette.
Mike Knight of Park City Utah peered on, focused. At that morning's introductions, he'd told the group that he'd been a geologist for seven years and a dentist for 28, and was only now transitioning out of general practice. "I had a heart attack and am now a vegan," he announced, to a mostly stunned room. ("I do believe you are the first vegan pit master we've ever had here," Amy replied.) Now, the scent of smoldering pork flesh literally surrounding him from five smokers, he shrugged off six million years of human evolution. "The smell doesn't bother me—I'm just fine with my vegetables—and back at home my wife is my taster, so it works out okay," he said. "This is more rewarding than dental work. My patients rarely leap out of the chair and say, 'Boy, that was one great dental appointment.'"
That evening's meal was cooked largely by the pitmasters themselves. John Lewis—wirey, bespectacled, soft-spoken—had just left La BBQ in Austin to open up his own joint in Charleston, and was serving oxtails, turned almost black and unctuously sticky after five or so hours on the smoker. "Everyone is long on beef ribs," he said, "But I say these blow them out of the water." Nearby, John Delpha, of Rosebud American Kitchen & Bar in Boston, was busy slicing his perfectly bronzed, snout-still-on porchetta.
The night before, during an impromptu demo of hot butchery, Delpha had gestured to the base of his neck to indicate where to stop slicing on the pig.
"Whaddya call this on a human, the uh, the cervix?" he'd asked. A long beat. Delpha tried again. "The cervical spine. I meant the cervical spine. It's been a long day."
He'd gotten up at 4 a.m. to prep the driveway for his wife, in case it snowed in his absence, then missed a flight connection and encountered difficulty with checked baggage. ("You put knives and Korean chile paste in your bag and the TSA guys really perk up.") But his porchetta was pristine: tender, layered with an herb mixture, and so juicy that a cut with a fork flooded the plate with fat and drippings.
At the end of the table, Lang sliced into his rib roast, crusted black with his signature blend of salt, pepper, cayenne, and garlic salt, a fat cap shimmering above pink, perfectly tender meat. A bain marie of béarnaise sauce with a ladle sat in front of the cutting board, evidence of his French background. A moment earlier, he'd been in the kitchen, pouring a gallon pitcher of smoked butter into the emulsification and buzzing it together with a hand blender, as he grinned and crowed, "I think the natives will like it!"