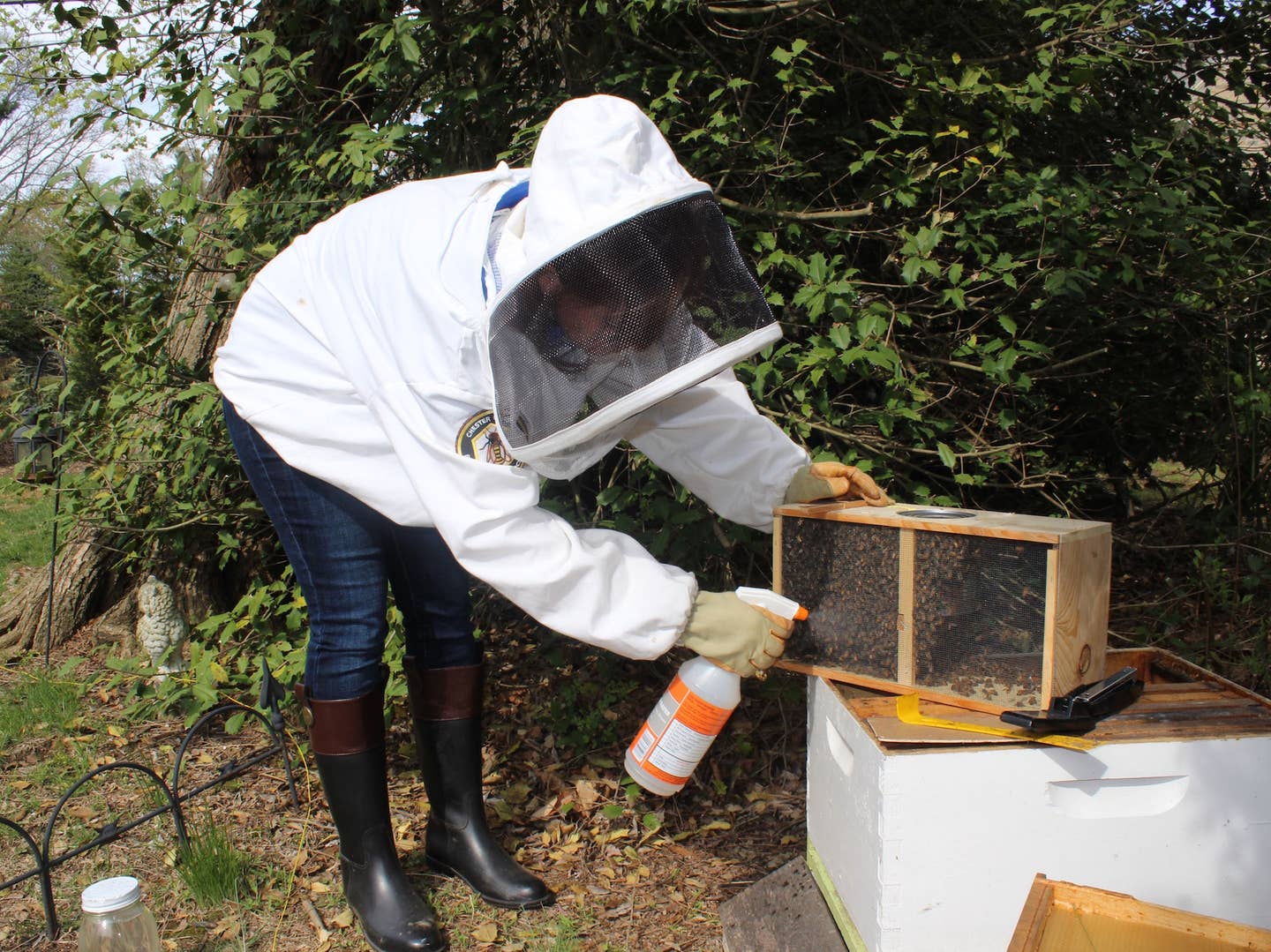 Culture
Diary of an Accidental Beekeeper
Or, what happens when a blood relative gifts you thousands of bees
Three years ago my twin boys turned eight, and like any good uncle would, my darling brother showed up with a ridiculous and ostensibly dangerous gift. As he pulled in the driveway, the back of his truck brimming with white boxes, I thought, "Oh hell no!" My brother is a beekeeper, so I knew what was coming. In his cavalier and enchanting way, he was, as usual, able to assuage the situation as he belly-laughed and hugged us all hello, all while slyly handing us three sets of beekeeper suits. He was gifting the boys their own hives. Immediately, we were swept up in the excitement and adventure. It took all of two hours for that to fade and for the kids to lose interest. And thus, I became the keeper of the bees. My husband and I joke around about our semi-homestead here in Bucks County, PA. With our chickens and bountiful gardens we keep, bees didn't seem that strange a venture. Little did I know my husband didn't really dig bees, and that was just the first bump in my beekeeping road.
Those little white boxes transformed from housing a couple thousand bees to almost 100,000 in just a few weeks. (Thanks, brother.) Parents quickly became concerned about sending their kids here to play, and the guy who cut our lawn quit. Amid all the rumblings from others, I found the hum of the hive soothing. Morning hive checks became my daily dose of Zen, and those impressive little bees were filling the comb with honey faster than I could stack the supers (the additional boxes for them to fill).
Our first harvest yielded five gallons of honey, but it was black as molasses. We were perplexed and feared something was wrong. But that fear was for naught, as our honey turned out to be something of wonder. Even the veteran beekeepers who advised us were envious of our haul. It turned out this thick black honey was probably from nearby buckwheat or bamboo and its alluring looks were matched by the sweetest, most amazing honey to ever touch our lips. We were so flush with the stuff that I thought my hive had super powers or something. We set out to share it with everyone.
Then old man winter laughed at me and in a blink, or more like a blizzard, all my bees were gone. I literally walked through piles of dead bees. It was like getting punched right in the gut; I was surprised how sad I felt. I didn't even know they could die—not all of them. But never fear: My brother, my bee mentor, held my hand and promised we'd start again next spring.
So we did. As soon as April rolled around we picked up our bee packages (a wooden box with a screen containing a couple hundred worker bees and a separate, smaller box housing a queen) from Jim Bob, the bee guy who drives to Georgia to pick them up for us. That same night, I installed the bees. Four days later when I went to check on them, the queen was dead. It happens, they say, but I felt like a failure.
Immediately, I ordered another queen, and a full four weeks later she arrived. By now my bees' numbers had dwindled and the hum of the hive was more like a sad little whizz. Hopefully, I introduced the new queen and soon the bees were buzzing again, happy. All looked to be going well.
And then one morning as I neared the hive, I heard it. The silence was deafening. I opened the hive to find some sort of horror movie massacre scene, but for bees. It was dark, and tons of strange black bugs were creepily crawling in through the honeycomb. It was eerie; there were no bees, none at all. My colony had disappeared and left me with a sinister hive and a heavy heart. I couldn't bring myself to go through it again. I needed some distance. Not to mention I didn't want to spend any more money, and the bounty of spring's pollen had passed. I was bee-less. All I could think was: Why did I give away all that honey?
A year has passed since our installation failure and I'm thrilled to report our new hive is thriving. Like all the others, this one has been interesting, to say the least. We've survived a few more hiccups—like my husband being swarmed (I had asked him to move the hive to a sunnier spot, bad idea) and my elderly neighbor forgetting we were keeping bees and hiring some second-rate company to come and spray for her "bee problem." (We've since learned it's a $1500 fine for killing a honeybee hive.) While beekeeping is not all smooth sailing, my husband has come around to enjoying their addition to our pantry, and the neighborhood kids understand more now about bees than most adults. It's a process. And like all other beekeepers, we're committed to doing our part in the pursuit of pollination—hopefully in the end, the sweet will continue to outweigh the sorrow.
The good news is: This year's harvest is already looking promising, with combs loaded with lightly golden, crystal clear honey. It's nothing like our first harvest; go figure. These bees keep us on our toes.
Maureen Petrosky writes what she knows: food, booze and parties. Author of The Wine Club, The Cocktail Club, and makerlifestyle.com, she's a regular chef and Lifestyle Expert on The TODAY show, where she shares her vices (and advice) with the world.