Mussels with Pale Ale and Spicy Aïoli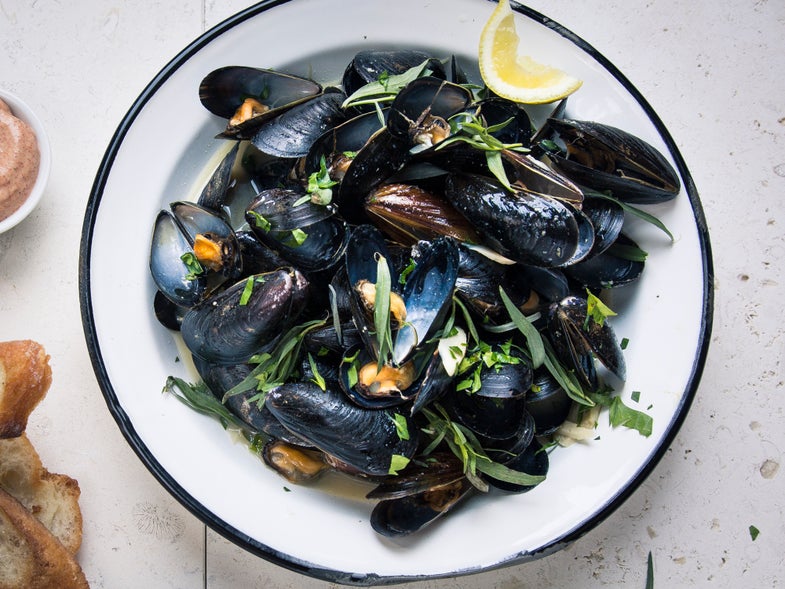 While we highly recommend sourcing Montauk Brewing Co.'s Driftwood Ale, any English-style pale ale will work for these herb-y steamed mussles from Eli Sussman. Don't forget plenty of crusty bread—as anyone who loves mussels will tell you, the best part of enjoying the dish is sopping up the heady, aromatic jus that collects at the bottom of the bowl.
Featured in: Dispatches from Montauk: Discovering New York's Easternmost Brewery
Mussels with Pale Ale and Spicy Aïoli
The well-balanced malt and hops of pale ale combine with mussel jus, parsley, and tarragon for an aromatic sauce—soak it up with plenty of crusty bread.
Time: 25 minutes
Ingredients
1⁄4 cup mayonnaise
5 tbsp. fresh lemon juice
2 tsp. kosher salt
1 tsp. cayenne
1 tsp. Spanish paprika
1⁄2 tsp. freshly ground black pepper
2 tbsp. olive oil
2 shallots, thinly sliced
2 cloves garlic, thinly sliced
1 cup pale ale
1 1⁄2 tbsp. Dijon mustard
2 lb. mussels, cleaned and debearded
1⁄2 cup finely chopped parsley
1⁄2 cup lighly-packed tarragon leaves
Toasted bread, for serving
Instructions
In a small bowl, stir the mayonnaise with 1 tablespoon lemon juice, 1 teaspoon salt, the cayenne, paprika, and pepper to make an aïoli. Refrigerate the aïoli until ready to use.
In a large saucepan, heat the olive oil over medium-high. Add the shallots and garlic, and cook, stirring, until soft, about 3 minutes. Add the pale ale, and bring to a boil. Stir in the remaining 4 tablespoons lemon juice and 1 teaspoon salt along with the mustard until smooth. Add the mussels, cover, and cook, undisturbed, until the mussels open, about 5 minutes.
Uncover and using a slotted spoon, transfer the mussels to a serving bowl and then pour the cooking liquid over top. Sprinkle with the parsley and tarragon, and serve hot with the aïoli and bread on the side.