The Best Blenders Makes Smooth Work of Your Stickiest Recipes
From nut butters to smoothies, our favorite models can handle it all.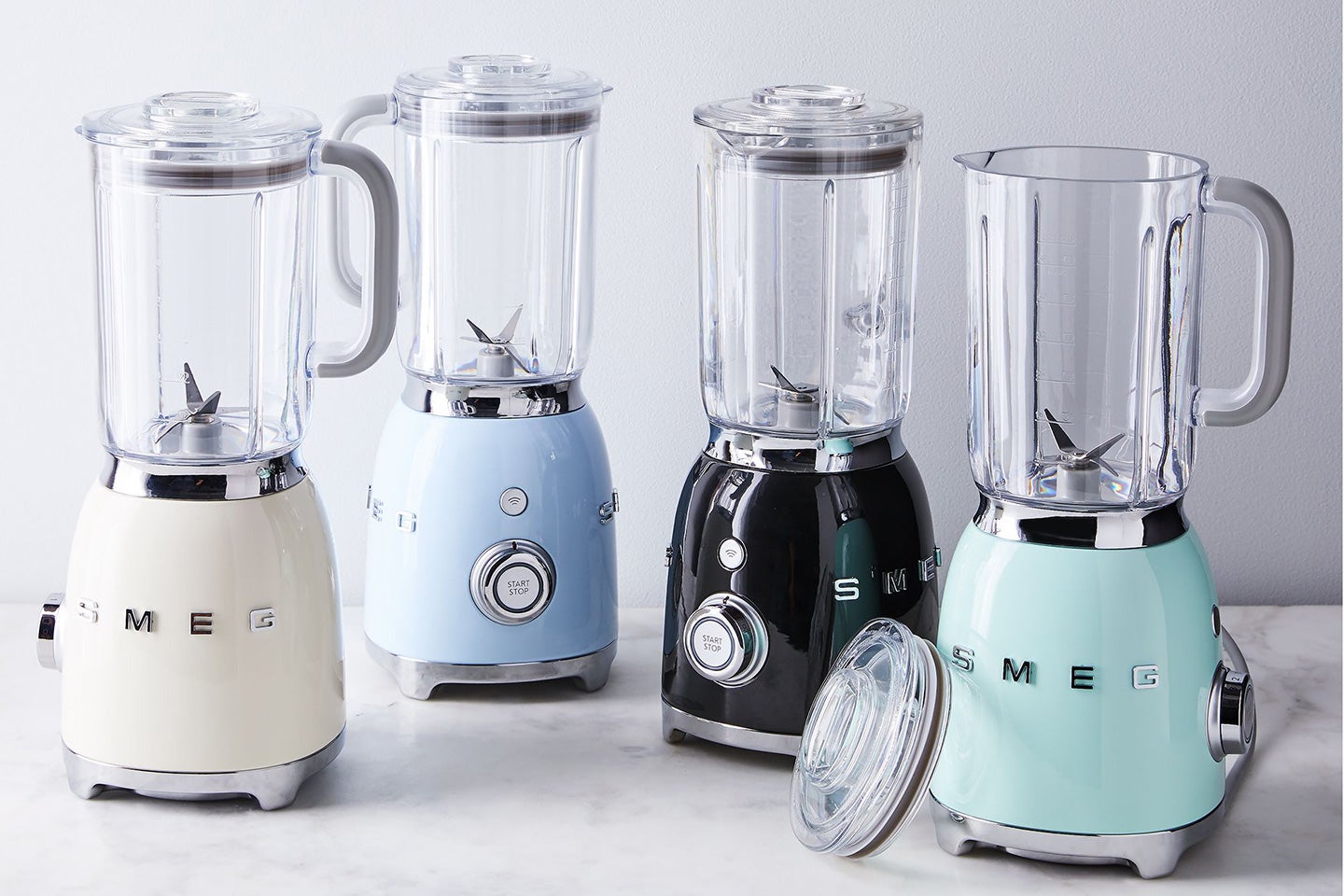 We may earn revenue from the products available on this page and participate in affiliate programs.
What's the first blender recipe that comes to mind for you? A smoothie? Maybe a frozen margarita if you're feeling more frisky? While the best blenders can certainly handle those sorts of pureed drinks with ease, these kitchen workhorses can crush way more than frozen fruit and ice. They're ideal for everything from making nut butters from scratch to emulsifying salad dressings and even blitzing your own grains for flour. 
But of course, not all machines are created equal: a subpar blender that does a shoddy job of blending a dressing or soup may put you off using it all together. Luckily, avoiding that scenario is easy: we've rigorously tested all kinds of models to find our favorites. Read on to get the scoop on the best blenders for every type of home cook.
Our Top Picks
Size: 20.5 x 8.75 x 7.25 in | Capacity: 64 oz | Weight: 10.5 lbs  | Wattage: 1380 | Accessories: Tamper
Pros
---
Can pulverize even small seeds
Spins fast enough to make hot purees from cold ingredients
Large container size
Why we chose it: The gold standard for chefs and home cooks alike.
If you've ever spent any time in a commercial kitchen, you've seen that the Vitamix is ubiquitous. Simply put, there is no other brand that purees, pulverizes, and crushes ingredients the way that these machines do. The secret is in the laser-cut, stainless-steel hammermill (a type of mill that breaks down food) and cutting blades, which together are powerful enough to crush anything from ice to nuts. The 5200 model is also incredibly simple to use—no extraneous dials or settings—and easy to clean by just blitzing some warm water and soap inside. And while the price tag is higher than most, Vitamixes are built to last: overload protection for the motor keeps it running smoothly for years, and the machines are also equipped with a 10-year warranty. 
Size: 9.7 x 9.1 x 19.3 in | Capacity: 64 oz | Weight: 9.3 lbs  | Wattage: 1500 | Accessories: Tamper
Pros
---
High wattage
Large canister
"Perfect Swirl" technology blends foods evenly
Why we chose it: The performance of a high-end blender with a price that's affordable.
We had to do a double take when we pulled this model out of the box: at first glance, it's almost identical to a Vitamix. And while there are certainly blenders that are cheaper than this one, if you're looking for a dupe for a high end model like the Vitamix 5200, this is absolutely the machine to buy. It pulverized an ice-filled smoothie as well as pricier models, as well as making short work of whole garlic cloves and anchovies for a Caesar dressing. We also liked the large, sturdy container that was wide enough to rinse out easily.
Size: 9.02 x 7.59 x 15.8 in | Capacity: 56 oz | Weight: 16 lbs  | Wattage: 1200 | Accessories: None 
Pros
---
Intuitive, easy-to-use design
Comes in many colors
Intelli-Speed Motor Control maintains ideal speed through different ingredients
Cons
---
Does not come with accessories
Heavy
Why we chose it: An elegant and intuitive machine without extraneous bells and whistles.
If you're buying your first blender and don't want to be bogged down with too many high-tech features or buttons, the KitchenAid K400 is our pick for the best beginner model. Just one dial controls all functions, from the five variable speeds, to three, pre-set functions for ice crush, icy drink, and smoothie. There's also a setting for cleaning, which takes all the guesswork out for you. When testing this model, we especially liked how the motor revved up slowly at the beginning and end of blending; it helped to incorporate the ingredients fully. And unlike many other models, this one comes in a rainbow of colors, helping to add a cheery pop to your kitchen counter.
Size: 11 x 8 x 17 in | Capacity: 64 oz | Weight: 15 lbs  | Wattage: 1440 | Accessories: Tamper, cookbook
Pros
---
Wifi enabled
Can use multiple types of containers on the same base
Very powerful
Why we chose it: An incredibly powerful blender with thoughtful tech integration.
While we wouldn't recommend this blender as your first model due to the price, if you find you've been using your current blender for everything from homemade cashew butter to attempting a fine-grain oat flour, this is the splurge we wholeheartedly recommend. Like its sister the 5200, the A3500 also features the same durable mill and blade; what sets it apart is the integration of tech features like built-in wireless connectivity, touchscreen controls, and programmable settings (for recipes like hot soups and frozen desserts) that stop automatically when finished blending. This model can also accommodate any size container from the Ascent series, which means you can use this blender as a food processor or purchase special containers specifically for items like dry grains.
Size: 12.01 x 7.72 x 15.94 in | Capacity: 32 oz | Weight: 4.7 lbs  | Wattage: 900 | Accessories: Cups, lids, recipe book
Pros
---
Easy to clean
Blends right in the cup
Available in a rainbow of colors
Why we chose it: A no-frills, powerful mini blender ideal for single use recipes.
While many of us probably first discovered the nutribullet during late-night commercial viewings, there is a reason this portable blender has remained a favorite. While it's not going to be your go-to for large batches of guacamole, this small-but-mighty tool is perfect for single servings of smoothies, salsas, and soups. And the design couldn't be more simple: load your ingredients into the cup, twist on the lid, attach to the base, and push down to start the motor. While there are no variable speeds on this machine, the push-to-activate movement gives you a surprisingly large amount of control, since you can opt to pulse or let it run. We also love that it comes in an unusually large amount of colors; for the price, you could grab a different hue for every member of your family.
Size: 8.2 x 10.6 x 18.1 in | Capacity: 68 oz | Weight: 18 lbs  | Wattage: 1800 | Accessories: Tamper, spatula, personal blender cup, recipe book
Pros
---
Extra-large canister
Very powerful motor
Two different smoothie settings
Cons
---
Larger footprint than most
Why we chose it: Commercial-grade tool for fast, silky smoothies.
This ultra-powerful machine from Breville boasts the highest wattage of any blender on our list. And with blade tips that spin at an impressive 186 miles per hour, even the iciest smoothies pour out uniformly blended with nary a lump in sight. But apart from its mighty motor and blades, the Breville is also our pick for smoothies because it boasts not one, but two presets for the drink: one for the regular variety and one especially for green recipes. Each one uses a combination of speeds to blend ingredients together without any bits getting trapped underneath the blades. And, with an included personal blender cup, taking your breakfast on the go is as easy as popping the container off the base.
Size: 4.92 x 4.92 x 15.75 in | Capacity: 34 oz | Weight: 12 lbs  | Wattage: 1000 | Accessories: Storage and drinking lids
Pros
---
Easy to clean
Beautiful design
Equipped with a carrying lid
Cons
---
Layering in ingredients as recommended was important
No spout, which was inconvenient but not a dealbreaker
Why we chose it: A personal blender so good-looking (and high-performing), that you'll want to leave on the counter.
If you're a smoothie buff, or just one person looking to have a beautiful, useful, and space-saving product, the Beast is truly a delight to use. Its tall, slender profile is one of the best-looking personal blender designs on the market, period, and we loved the sturdy construction and rubberized elements, which make the glass containers easier to handle. You can choose from two sizes of canisters, and the hydration system comes with a beautiful glass bottle you can use for smoothies or infused water. The carrying lid fits all of the canisters, as do included storage tops.
The simplified set-up was appreciated, and the pre-programmed, one-minute cycle or pulse option are all powerful enough for regular kitchen tasks (even if you have to run the cycle a couple of times). It managed to blend a blueberry-banana-ginger smoothie to delicious consistency that was easily drunk through a metal straw without blockage. A beloved dressing recipe zipped up smooth and frothy in the one-minute cycle, with no errant clumps of cheese, anchovies, or garlic to be found. Not having to scrub a huge pitcher afterward was a bonus, too, and storing leftovers right in the canister makes fewer dishes in the end. Take care to follow their guidelines on layering in ingredients so you avoid jams around the blade or on the edges—it's a good idea to give it a shake before blending. Cleaning it is a breeze, as well; the blade base unscrews and the glass material doesn't carry any lingering smells.
Size: 16 x 8 x 7 in | Capacity: 48 oz | Weight: 8 lbs  | Wattage: 800 | Accessories: None
Pros
---
Multiple colors
Measuring cup that doubles as a blade key
Cons
---
No accessories
Smaller container size
Measuring cup can be hard to remove
Why we chose it: A reliable brand with a distinct look, Smeg's blender brings the 1950s vibes with 2020s power at just the right size.
Even with its relatively small footprint and straightforward design, Smeg's blender brings serious functionality. The machine, which features four speeds and two presets for crushed ice and smoothies, is powerful, space-conscious, and easy on the eyes. We love that it looks great on a countertop (no need to tuck it away unless you need the extra space), and that you can pair it up with other similar-looking appliances from the brand for a cohesive cohort. It took on a thick smoothie packed with fresh fruit, frozen fruit, and nut butter with ease—take note, though, to layer your ingredients in with liquid and ice on the bottom for ease of blending. A built-in measuring cup in the lid doubles as a key to remove the blades for cleaning and maintenance, but we found that it could sometimes get stuck and become difficult to remove. It would be great for a household of two or a small family that uses a blender on occasion but not every morning.
How We Chose These Products
To find the best blenders, we used a combination of research, product testing, and interviewing experts like Jenn Mudge, the electrics buyer for Sur La Table. For the initial fact finding phase, we researched dozens of blenders, paying careful attention to customer reviews, durability, special features, and performance. We also tapped the vast knowledge of Saveur staffers to see which models were near and dear to their hearts. Once we whittled down our list, we tested many models to see how they performed with ice crushing, pureeing, and pulverizing large items; as well as how easy they were to use, store, and clean. Mudge provided crucial details on what we should look for in terms of power, blades, and maintenance, among other features.
Features to Keep in Mind When Shopping for a Blender 
Size, Capacity, & Weight 
Blenders are not a one-size-fits-all tool: "You should consider what you are planning to use the blender for most and how often you'll use it," says Mudge. "For example, are you making a daily smoothie for one or occasionally making pureed soups for eight? As for size and weight, decide where you'll be storing it: Will it live on your counter or will you need to put it away after each use?"
Power 
"Like size, optimal power depends on what you are intending to use it for," explains Mudge. "So, you'll want to look for callouts that a blender is good for crushing ice, or making green smoothies, or nut butters if those are specific functions you are looking to use it for."
Blades 
"You should look for high-quality, stainless steel blades," says Mudge. "Many premium brands will list the type of steel or origin (i.e. German forged blades). Blade shapes will vary from brand to brand, but many are specifically designed to prevent the blender contents from falling to the bottom when blending thick foods—so you don't have the issue of food getting stuck and the blade just spinning with no contact."
Presets 
Mudge says that the most common presets are for smoothies, nut butters, and ice crush, along with texture settings like blend or puree, and cleaning. "Presets are helpful for taking the guesswork out of what you are blending, but depending on your ingredients, you may need to modify," she explains.
Accessories
"The most common included accessory is a smoothie or to-go cup (some even have a special blade attachment just for that size), but some brands also offer these as an add-on accessory you can purchase separately," says Mudge. "More premium ranges can include a tamper, like you would see in a commercial blender, as well as additional options like different size carafes or special blade attachments for specific types of blending."
Care & Maintenance 
The manufacturer's instructions is always the place to start for specifics. Mudge advises that a quality blender can last for many years if cared for properly. "Make sure to clean after each use and be sure that harder ingredients, like ice or nuts, are acceptable for your specific blender," she points out. "Many suppliers also offer replacement parts, so if you drop and break your jar, for instance, you can likely order a replacement versus replacing the entire unit."
Ask the Experts
Q: What is an optimal wattage for a good blender? 
"A good, all-purpose blender that will perform well should be at least 1000W (and up to 1800W for a high performance blender)," says Mudge. "But wattage alone won't determine if a blender will meet your needs; the design and construction will also impact the user experience."
Q: How do I wash a blender? 
"The most important step is to always follow the manufacturer's instructions," says Mudge. "Most removable parts are dishwasher safe and many blenders have a cleaning function that is simple to use: just add warm water and a little bit of soap. Of course, take caution when cleaning the blade as it is very sharp. For the base, make sure you unplug first, then wipe clean as needed."
Q: Can I use the same attachments on different brands of blenders?
"Do not mix attachments from blender to blender unless they are from the same manufacturer and specified to be used with your specific blender base," says Mudge. "Using an attachment that is not meant for your blender could damage both the attachment and the base."
Q: Can I use a blender to crush ice? 
"Yes, many blenders are capable of crushing ice but you should refer to the manufacturer's information to make sure your blender is suited for ice," Mudge advises.
Q: Can I grate vegetables in a blender? 
"I would not recommend using a blender for grating vegetables – in most cases you would find that your blender works too quickly and your vegetables would be too finely chopped or partially pureed," says Mudge.
Our Take
There are many superb blenders out there, ranging from single-serving size to those ideal for batch cooking. But if you want a machine with a large capacity, powerful motor, and a long life, there is no better option than the Vitamix 5200.