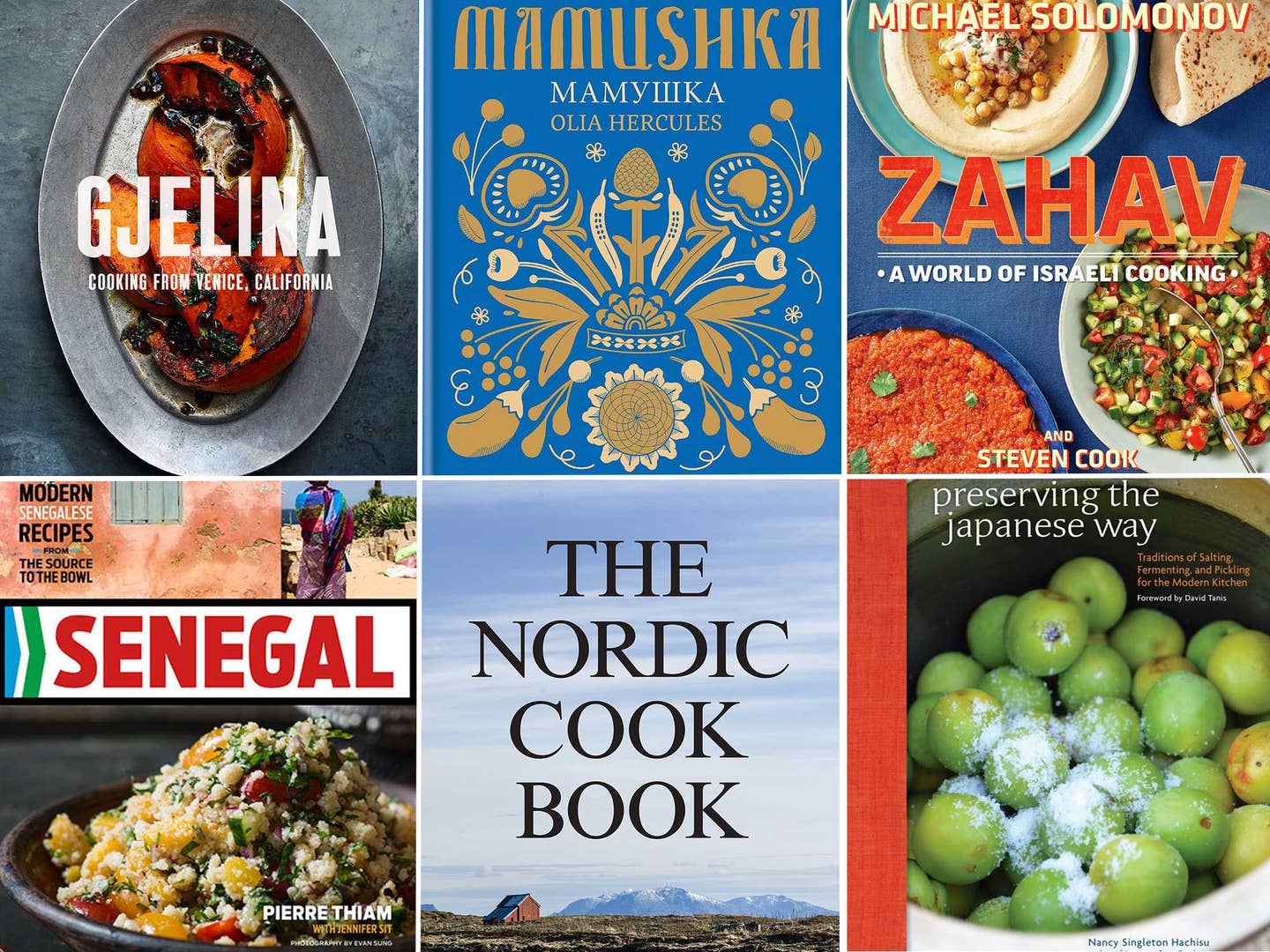 Shopping & Reviews
The Cookbooks We Fell for in 2015
The year of the vegetable, and guided tours of incredible far-flung cuisines
2015 was my favorite year for cookbooks. Books that pushed vegetables to the forefront. Books that got readers thinking about how to treat (and make!) their food better. Books that took us to far-flung locales and guided us through cuisines we had no idea held so much excitement.
We cooked through and obsessed over many books that came through our test kitchen this year, but these are the ones we felt a deep connection to, where we went on a journey with an author, and where, most importantly, the recipes worked out well.
These picks (mostly my personal favorites, but also including shout-outs from senior editor Sophie Brickman and assistant editor Alex Testere) advanced our knowledge of certain cuisines (Michael Solomonov's endlessly surprising love letter to Israeli cuisine, Zahav) and brought new life and awareness to those we thought we knew (I'm looking at you Magnus Nilson and your Nordic bible). But best of all, the recipes were exciting to cook and eat. Save them a spot on your shelf.
No other cookbook that came out this year more acutely captures the zeitgeist of how we cook in America now (and will for years to come) than Gjelina. Travis Lett's earnest, vegetable-centric restaurant of the same name, housed on an unassuming corner in Venice Beach, has pioneered the "new California" style of cooking for a decade, but this year, everyone finally caught on.
In his first cookbook, he provides the recipes that have made him a deserved icon for conscious cooking, where ingredients are treated simply and dolled up in a manner to maximize their flavor. Hearty honey-roasted sweet potatoes find relief with a drizzle of yogurt and lime juice and dusting of espelette pepper; tender rabbit is braised in white wine, then draped in a pan sauce of seared mushrooms, crème fraîche, and smoked paprika; and caramelized blood sausage gets served on baguette toast, then brightened with an apple and rosemary mustard and cilantro chimichurri.
Lett's cooking is a mélange of well-balanced, complimentary bold flavors that make cooking simply the most exciting it can be.
When I first met Olia Hercules this year, I was mesmerized by a wedge of crisp, sizzling hot flatbread made with kefir dough and stuffed with feta and sorrel leaves that she handed me. It was at once familiar and foreign; a taste from a childhood memory that I never had. And once I got my hands on her intoxicating book that held her other accessible and inviting Ukrainian recipes, I experienced more of those moments: a fragrant slow-cooked mutton stew brightened with pomegranate molasses and cilantro; a cottage cheese cake sweetened with golden raisins; and fermented, fresh tomato sauce that tingled my tongue and brightened a hearty duck borsht—all felt nostalgically comforting and refreshingly new at the same time.
Cooking through her book, I felt like I was getting to know the modern day Julia Child, Paula Wolfert, or Madhur Jaffrey—a strong, inviting woman with charm using soul-stirring recipes to open up a world that I never knew I wanted to know all about.
Zahav by Michael Solomonov and Steven Cook
Michael Solomonov's Zahav: A World of Israeli Cooking is more than just a cookbook. It's equal parts personal memoir, recipe scrapbook, and ode to his native Israel, all woven together by a pervasive (and understandable) obsession with fresh tahini. And as Solomonov is wont to do, he's shown us an Israel we never knew existed: Pickled persimmons stand in for fresh tomatoes in a late fall Israeli salad, while king trumpet mushrooms find their way onto skewers, hovering inches above hot coals before being served with fresh favas. Solomonov may be all for innovation, but don't fret—there's still enough hummus to go around. — Alex Testere
Senegal by Pierre Thiam with Jennifer Sit
Ever since I've been at SAVEUR, I've been obsessed with the flavors of Africa, and chef Pierre Thiam has been my guide, breaking down the sometimes inaccessible ingredients and showing them in a familiar yet still authentic light. As infectious as his mega-watt smile is Thiam's food, expertly codified in the pages of his bright and bold Senegal cookbook, an ode to his home country and its cuisine.
Thiam, the former chef of his own Brooklyn restaurant, Dakar, offers both authentically-traditional recipes for dishes such as thiebou jenn, a fermented seafood-rich stew with numerous boiled vegetables; and paañ niambaan, clams marinated in tamarind, basil, scallions, and lime; as well as modern updates like dakhin, a risotto-like mix of rice, peanuts, and peas swirled with verdant spirulina, a native algae, and a coconut milk ice cream scented with orange flower water and lime and turned sunset-orange with red palm oil.
Thiam also offers background on customs, rituals, and ingredients to give his dishes the context and the reader a grounded understanding of this vibrant country. "Senegal" transports, transfixes, and transcends—everything one would expect of a cookbook by this venerable chef and ambassador for Africa.
How does one sum up the entirety of Nordic cooking in one book? If you're Magnus Nilsson, you spend years culling through old cookbooks and archives and speaking with cooks, farmers, and artisans across seven countries to produce the starting point: this hefty encyclopedia of a cuisine that most cooks barely knew beyond potatoes, lingonberries, and pickled herring.
You'll find those ingredients in his book for sure, but you'll also learn about sprats, a small herring-like fish that gets flavored with sandalwood chips and pickled in ättika, an acetic acid and water solution used as vinegar; colostrum, the first milk a cow produces once she gives birth, that gets lightly sweetened with sugar and baked into an eggless custard; and tacopaj, an anomalous bastardization of tex-mex-like tacos and quiche that Nilsson argues has become wholly Swedish and indispensable from the country's culture and cooking.
As you may have guessed, you won't see Magnus's skillful cooking that he's known for at his rural Swedish restaurant Fäviken in the pages of the The Nordic Cookbook. Refreshingly, all the recipes in his book are true home cooking, a record of what people in Scandinavia are making and cooking for themselves, using simple ingredients and methods that have helped their culture survive for centuries.
We loved Justin Smillie's peppercorn-crusted short ribs so much we featured them in all their glory on the cover of the first issue of this year: scattered with curled ruby-red radishes as beautiful as edible flowers, the dish is a looker—and an eater too, which we found out just about as soon as Upland, his New York City restaurant, opened.
But for those of you not lucky enough to have an office a few blocks away: Buy. This. Book. Smillie, a born-and-raised Californian, brings his fresh touch to just about anything he cooks, from slow-roasted dried chickpeas (you'll never even glance at a watery can of chickpeas again) to summer clams in corn milk with fresh corn relish. His olive-oil-cured cod and tomato panade even makes the casserole sing again. — Sophie Brickman
The most important part of Nancy Singleton Hachisu's tome about the art of Japanese preserving is that it contains not just recipes, but methods of how to preserve and make the ingredients so often hard to find or procure on your own, a how-to guide that doesn't feel like an instruction manual yet teaches you all the ways in which Japanese cooking relies on its preserved bounty.
There on page 180 is her treatment on hoshigaki, chewy, delicate air-dried persimmons, a delight to eat on their own or mixed with bitter mustard greens and creamy tofu. On page 167, Hachisu explains how to salt green plums to make umeboshi, an ingredient I had longed to make ever since I imbibed it in a tonic years ago in Taiwan. And on page 189 she instructs how to make rice koji (steamed and fermented) to mix with a shochu for a dressing to drizzle over chilled sliced bitter melon, one of my new favorite afternoon snacks.
Other chapters expound upon the requisite pickled vegetables, miso, and tofu in an equally inviting way. It's these treatments—learning to make your own for before you even cook it—that make her book so indispensible and timely today, where to cook with the best ingredients, it helps if you make them yourself.
And here are 13 other cookbooks we still can't put down: