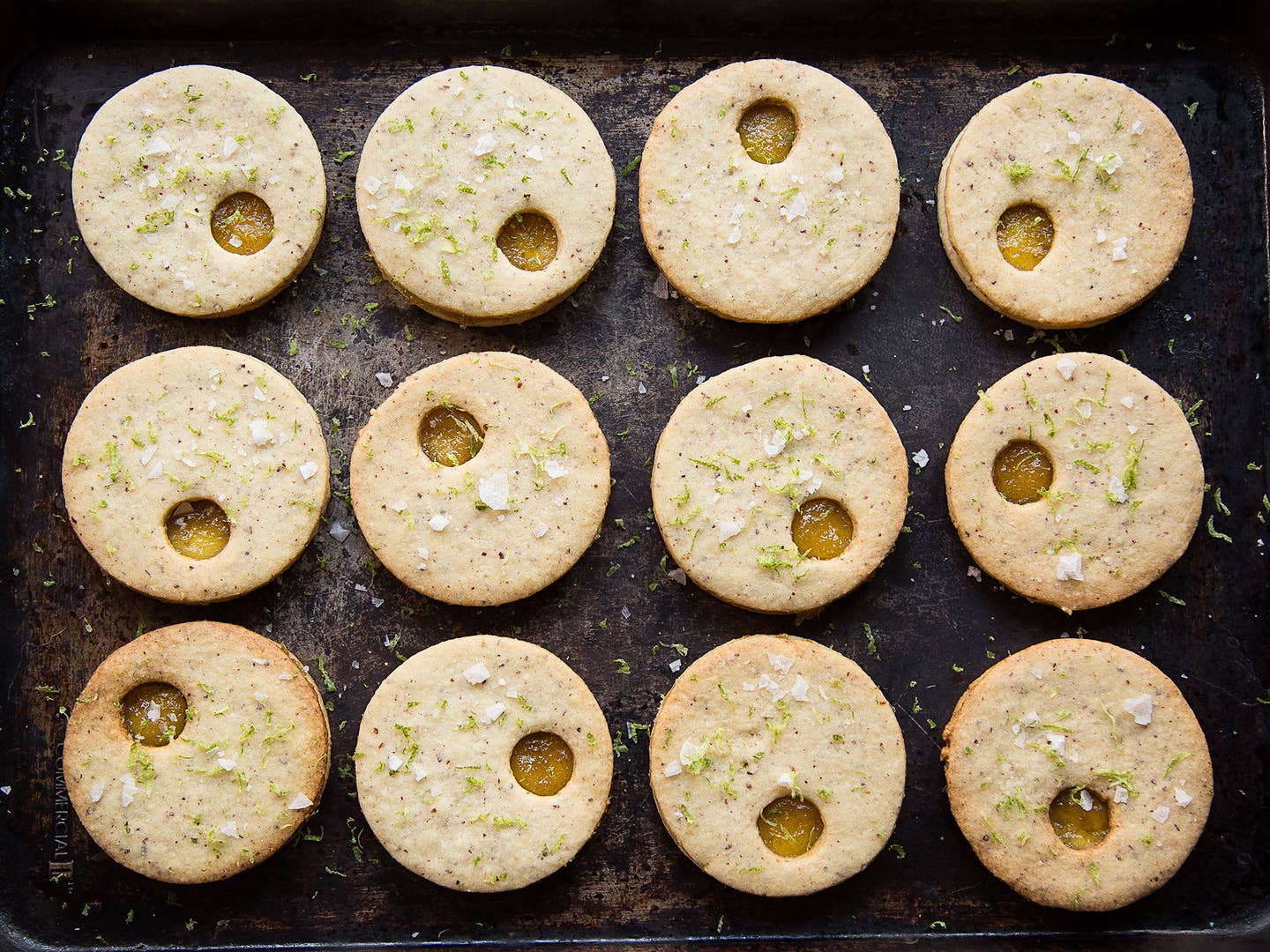 Travel
New York's Best Cookie Comes From a Hidden Tea Shop With an Amazing Secret Menu
How a Portuguese chef adapted a Taiwanese snack into a dessert with a truly global pedigree
Walk down West 10th Street in the West Village and you may miss it altogether. The shop's only marker is a small, chubby teapot, opaque and mysterious, sitting in the window. Then climb the stairs to the entrance of the cute, oh-so-Village-y five-storey apartment building and you'll make out the words Té Company pasted on the front door, but you'll have to poke your head inside a residential foyer to find the actual entrance.
Hardly a notice saying "we're here," let alone, "Hey, did you know we also sell New York's best cookie?"
The cookie is a simple linzer, lots of butter, sugar, flour, and salt, tender and delicate but with some hazelnut flour for nutty chew. Two rounds sandwich a layer of pineapple-rosemary jam in the middle, ripe with concentrated sweetness, and a schmear of spicy, grassy, slightly fermented Japanese chile paste called yuzu kosho. Coarse crystals of salt and shreds of lime zest decorate the top of the cookie, where the filling pokes through an off-center hole like a wayward googly eye. When you take a bite, your brain kind of short circuits and you wonder what the hell you just ate and why, how, it's so good.
A good cookie is the craft of pastry in miniature: how well you work with butter and sugar and gluten, how you manage with sweetness and articulate clear flavor, and how thoroughly you know your oven, because a mere 30 seconds can be the difference between perfectly crisp-yet-chewy versus over-baked and crackly. Every detail counts, and this sweet-and-savory number nails all those points, then takes you to weird places you never thought a cookie could.
It's part of a semi-secret menu that co-owner Frederico Ribeiro puts out to supplement his partner Elena Liao's Taiwanese oolong tea service, one that's far more impressive than you'd expect at a 350-square-foot neighborhood cafe where customers nurse pots of tea while thumbing through artsy magazines. Ribeiro doesn't make much dessert and he eats sweets academically. He approaches pastry the same way he approaches the savory dishes he made at New York's Per Se, as its sous chef, and in Portugal before that. When he left restaurants to help Liao (who's his wife as well as his business partner) with opening the shop, that fine-dining training came along for the ride.
The cookies are Ribeiro's homage to a simple, well-loved staple of Taiwanese snack time: the pineapple cake. Two-bite rectilinear caramelized shortbread prisms filled with sweet, chewy, pineapple-flavored winter melon filling, pineapple cakes are to Taiwan what chocolate chip cookies are to America, and they are, in their own way, perfect things: crumbly and buttery, bursting with the essence of fresh pineapple.
Liao, who grew up in Taiwan, didn't eat them much as a child; her mother refused to let anything that carby and calorie-dense pass through her kitchen. It wasn't until Liao moved to the United States for school in 1996 that she started stocking up on them during trips back home. "It's funny," she says, "I don't have many memories of pineapple cakes from when I lived in Taiwan, but once I left they became a way to remember where I came from." It was first through those cakes that she shared a slice of her home with Ribeiro, who, as an immigrant to America himself, understood right away.
So when it came time to make some sweets to seduce passersby to the oolong side of the Force, it was clear to both Liao and Ribeiro that pineapple cakes had to be involved. But Ribeiro refused to try his hand at one.
"I think I was intimidated by it," he says. "You see the cake and it looks so perfect and square and caramelized all the way around, and if I couldn't do it perfectly, I didn't want to do it at all."
Instead, he decided to make the pineapple cake his own, the adopted taste of a departed home, now adopted and adapted again. The result wasn't an attempt to improve the original in any way, but to make something both original and nostalgic.
"It's hard to say where the inspiration comes from," he muses. "It could be from a book you read, or colors you see—lime green goes so well with yellow on the Brazilian flag that [the colors] must be friends." In the half-dozen drafts Ribeiro took to settle on the cookie's current recipe, he wound up drawing inspiration from pretty much everywhere. A Per Se almond-and-chocolate sandwich cookie suggested the soft, cohesive texture he wanted. The Hungarian chef René Sandoval taught him the importance of adding something salty to pineapple to intensify the flavor, and Japanese yuzu kosho and lime fell in because Ribeiro kept seeing how well jalapeño and citrus worked with pineapple (British chef Heston Blumenthal may have had something to do with it).
That's a lot of world travel for a little cookie. It's also, to be honest, a lot of work to replicate at home. You'll be coring and cubing pineapple for homemade jam, scraping vanilla beans for the cookies, scouring specialty shops for the yuzu kosho (or buying it online), and, Ribeiro insists, the cookies must rest overnight so the sandwich settles and the jam doesn't squish out when you bite in. This is a project recipe; totally worth it, but not to whip up on a Monday night.
So if you're in New York, maybe save yourself the trouble and drop $3.25 for one instead. But whether you bake or buy them, they open up a world of influences from the least likely of locales. And who knows how they'll inspire you down the road.