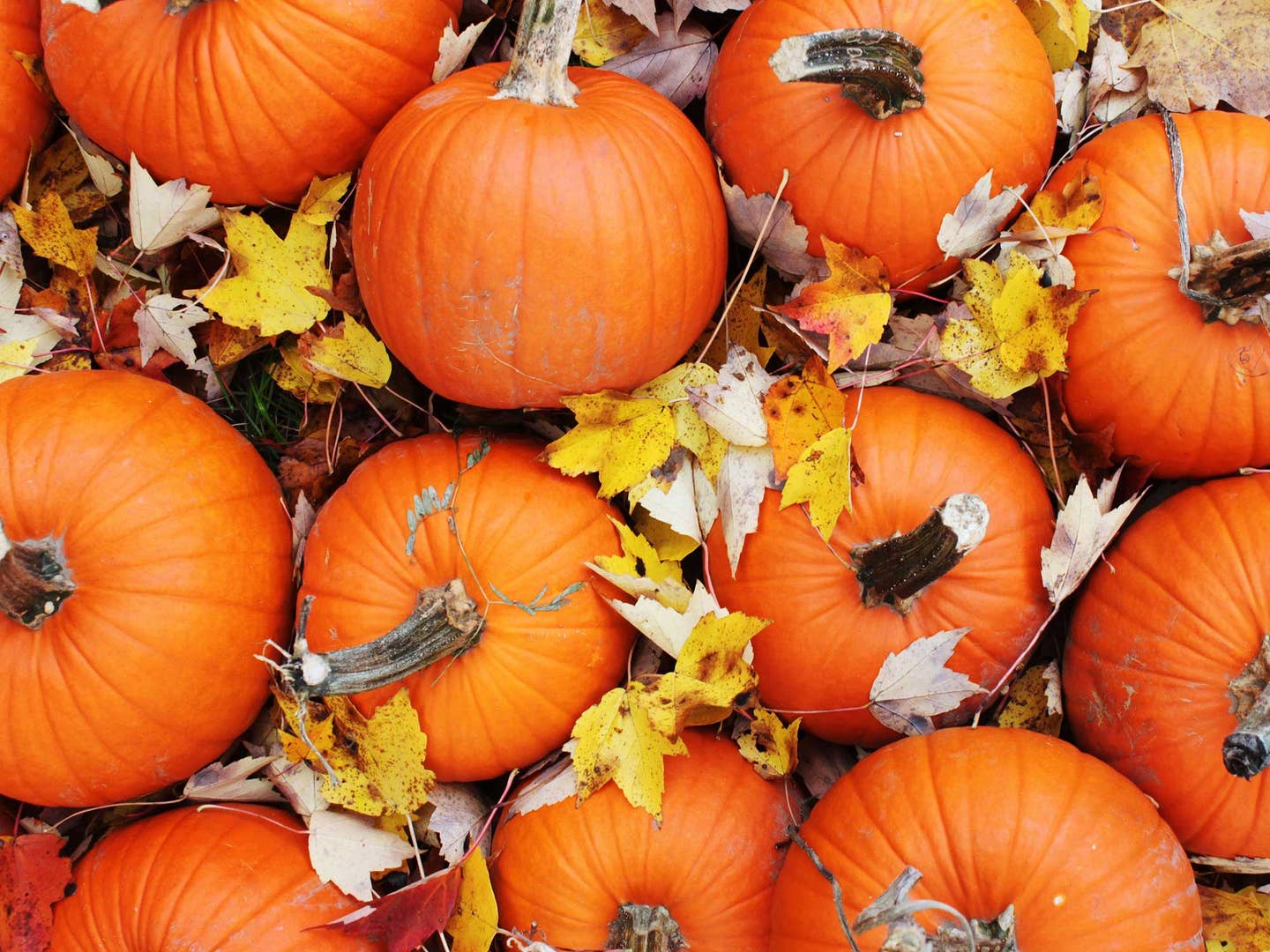 Drinks
The Contrarian's Guide to Legitimately Delicious Pumpkin Beer
Too often conflated with pumpkin spice and pie flavoring, pumpkin beers get a bad rap. These brews are all about celebrating the real squash, from saisons to sour ales
How did pumpkin beer become a thing? Save for the lowly pumpkin, no other produce category has been designated with an official Brewers Association style (there isn't, say, an entire category of grapefruit beers or blueberry beers despite their proliferation). This is partially thanks to its long history as an American style. Dating back to colonial times, pumpkin ales were ubiquitous in the Northeast where the gourds were cheap and abundant in an era when quality malts were not. So, why not ferment them? When the craft beer revival took hold, pumpkin ales began to appear again. Starting with Buffalo Bill's Pumpkin Ale in 1985, the category's revival manifested in a dessert-like reformulation that leaned on baking spices rather than on the pumpkin itself (some of these beers didn't even contain pumpkin). Still, they sold well, and pumpkin ales eventually became a part of most breweries' autumn portfolios.
Recently, the category has faced a firing squad of criticism—"seasonal creep"—while sales have plummeted, and brewers have cut production across the country. Consumers have tired of these basic pumpkin spice brews. So have professionals. When the Great American Beer Festival was held in Denver in early October, the pumpkin/squash beer category had a pathetic nine entrants with the "winner," Butt-Ah Nut from Oregon's BTU Brasserie, awarded a mere bronze medal. (By GABF rules, gold medals are only awarded to superlative beers.)
But, as a contrarian, I support pumpkin ales—the ones made right, of course, that actually showcase pumpkin rather than cover it up. I love these beers that evoke the harvest season, make you feel like you're sitting on a hay bale, riding a tractor through a patch. So forget the archetypical drivel that simply tastes like an overturned spice cabinet swirled with brown ale. Instead reconsider the category—the ambitious pumpkin saisons, sour ales, and even lambics. The rum-barrel-aged, bourbon-barrel-aged, and even sherry-barrel-aged. Beyond liquidized pies and latte syrup flavoring, these nine beers interpret the true flavor of the season's humble gourd.
9 Contrarian Pumpkin Beers Worth Seeking Out
Generally more associated with sour beers, Brettanomyces—the wild yeast strain found on the skins of fruits—are alive and kicking in Boulevard's Funkier Pumpkin. In this case, Brett adds an earthy funkiness to the raw beauty of fleshy, vegetal pumpkin.
Jolly Pumpkin La Parcela | Farmhouse ale, 5.9% ABV
No, Jolly Pumpkin Artisan Ales isn't an all-pumpkin brewery. The Michigan brewery, however, is an all-farmhouse brewery, producing beers "from the earth" as brewmaster Ron Jeffries says. Like all of its offerings, "No 1 Pumpkin Ale" is made via open fermentation, inviting yeasts (like Brett) and souring bacteria into the mash. With just a hint of spice and cacao, La Parcela is a sour saison style, delicate, delightful, and very age-able.
In 2014, San Francisco's Almanac Beer Co. released Heirloom Pumpkin, a barleywine packed with caramelized pumpkin and aged in brandy barrels. In my opinion, the limited offering was the best pumpkin ale ever made. Today, Almanac is still innovating with Pumpkin Pie de Brettaville featuring heirloom pumpkins roasted to deep, sugary caramelization that are added to an already-fermented Brett beer, then further aged in oak casks with a selection of spices, most notably whole vanilla beans. Yes, it tastes like pumpkin pie, but pie made by an Amish farmer with a verdant pumpkin patch.
Ghoulschip is the closest thing the pumpkin beer world has to a "whale"—that is, a rare, highly-sought-after offering that, like Captain Ahab, beer geeks will chase the world over. Made using a mash of Maine pumpkins, toasted pumpkin seeds, and molasses, Ghoulschip is fermented overnight in the brewery's vaunted outdoor "coolship." It's then cellared in oak barrels for up to three years. Clean and tart, backed with a caramel sweetness, it one-ups any trick-or-treat bag.
Timmermans Pumpkin Lambicus | Lambic, 4% ABV
While the four previous American brewers dance around the idea of a pumpkin sour ale, Belgian brewery Timmermans produces a straight pumpkin lambic via spontaneous fermentation. The Lambicus pours a glowing orange color, has an initially hard acid and a fizzy effervescence, but finishes softly with a subtle vegetal bite and brown sugar sweetness lent from the Portuguese sherry barrels in which it's aged. My main question: Do Belgians even celebrate Halloween?
Elysian Brewing cares deeply about pumpkin beers. Not only do they make at least twenty varieties (mostly tap-only one-offs), but they host an annual Great Pumpkin Beer Festival in Seattle, strictly for pumpkin beers. Of their bottled offerings, Punkuccino, a pumpkin-based ale mixed with Stumptown cold brew, is the best. (Ironically, it's their most un-pumpkin pumpkin beer.) The dark rich result sure ain't for #PSL lovers, but will please coffee nerds far and wide.
New Jersey's Carton Brewing intentionally subverts style and expectations in every brew. In keeping, this canned cream ale eschews all pie spices for roasted pumpkin meat rubbed with orange zest, pink peppercorns, and candied ginger. This is added to their boozier-than-expected cream ale mash resulting in a rich, creamy beer, which, like pumpkin soup, is dry and vegetal in flavor with a hint of heat from the pepper and ginger.
Avery Brewing Co. loves alcohol. And though many of their releases soar into double digit ABVs, these Colorado brewers are skilled in maintaining subtlety and complexity. First released in 2010, Rumpkin is a booze bomb of a pumpkin ale, aged in rum barrels and decadent enough to make one 12-ounce bottle enough to share among friends. Four years later, Pump[KY]n, a pumpkin porter aged in bourbon barrels, follows the same dessert-y, high-octane philosophy.