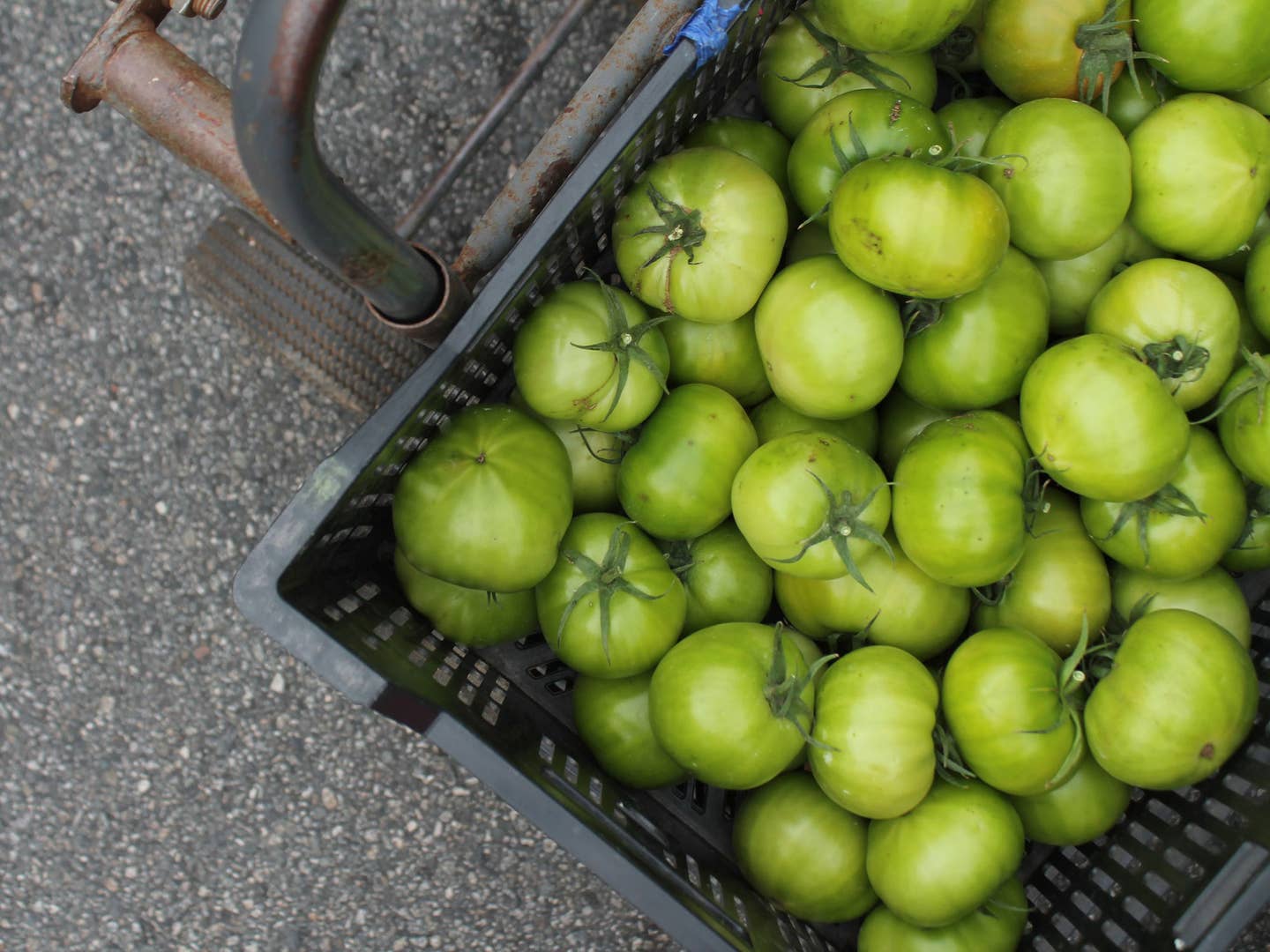 Travel
A Tour of LA's Best Farmers Market
Every Wednesday in Santa Monica, chefs descend on the city's most exciting market for the first picks of California produce
Corina Weibel goes grocery shopping just like anyone else. She puts a list together every Sunday and cross items off as she goes. But her grocery list isn't of the Post-it variety; it's more of the multi-page spreadsheet type. And where she shops, there is no frozen food section. Instead of a shopping cart, she pushes a well-used two-wheeled dolly stacked with multiple crates. Weibel is the chef of Canelé in Atwater Village, California, and picks up the bulk of the produce she needs every Wednesday at the Santa Monica Farmers Market—the most exciting and produce-diverse market in the city.
It takes just a short walk past two or three tents to realize the market's diversity. There are stinging nettles and squash blossoms, bread and grains, cheese, cherimoyas and chayotes, rhubarb, greens and green tomatoes, so much citrus, melons (bitter and sweet), figs and walnuts, peanuts, okra, mangoes, and long beans.
"LA is centrally located, so farmers come in from all different microclimates," Weibel says. "That's the luck we have at this market. Farmers come from all over the state and it gives us such a variety of produce."
We meet at 8 a.m. at the intersection of 2nd Street and Arizona Avenue on a Wednesday, the biggest day for the market, now in its 35th year. It's in Santa Monica on Sundays too, but in a different location, and there are only 30 farmers compared to Wednesday's 75, another reason the Wednesday edition is the one Weibel and many chefs consider the heart of LA's restaurant pulse.
"I would say 95% of the produce I use comes from the Santa Monica Farmers Market," she says. She has been shopping here for 20 years. She grew up in Philadelphia and has lived in England and Switzerland. But after attending the New England Culinary School in Vermont, and reading about Alice Waters, she tells me she realized, "I have to go to California."
Weibel's first trip to the market was in the '90s, when she was working at the since-closed Campanile, which, having opened in 1989, was one of the first restaurants in Los Angeles to celebrate local farms and farmers. "Romeo was a teeny bopper back then," Weibel says as we walk up to a yellow tent with "Coleman Family Farm" printed on it. "This is Romeo," she says. "He's Bill and Delia's son." His hand dwarfs mine. He's tall. His smile is wide and genuine.
Romeo Coleman drives 86 miles each Wednesday morning from Carpinteria, where he runs the farm his dad started in the '60s. In 1996, after Coleman graduated from Cal Poly, he took over the farm.
"We're near the coast," Coleman says, "so we get more moderate temperatures and have longer seasons. There's more of a constant heat." At Coleman Family Farm, spring ingredients grow well into summer, and summer ingredients grow into into fall. The extended growing seasons play to Coleman's advantage, as he's able to provide sought-after ingredients like lettuces, kale, and peas almost year-round. "The ocean is a big factor, and the coastal valleys have a lot of air movement," he says. "So the heat never really settles, and neither does the cold."
This is quite different from Flora Bella, James Birch's farm located two hundred miles north of Santa Monica in Three Rivers, in the Sierra Nevada foothills. Birch has farmed here since 1989, though he was out of town this Wednesday. So his wife Dawn made the three and a half hour drive to Arizona Avenue. "I left at 2 a.m. last night," Dawn told me. She was expecting fog (there was) and knew the drive would take longer (it did). But by 8 she was fully setup: root vegetables, cabbage, and greens like red mustard, mizuna, and the farm's arugula, coveted by chefs citywide, Weibel included.
"James and I have always debated about the flavor of our produce," Dawn says. "Is it the water, or is it the soil?" Obviously, she says, it's both, and the combination produces what many chefs consider some of the best produce available in Los Angeles.
Things are much warmer closer to San Diego, in Valley Center, where Peter Schaner has been farming Schaner Farms since 1983. "It's the best place in the United States to grow avocados," he says, thanks to the dry, steady heat there. "Citrus and other frost sensitive crops really thrive in this area too." So along with a variety of eggs (emu included), this is what you'll find on the Schaner's tables and stacked in the back of the truck: avocado, guava, makrud lime, kumquat, Meyer lemon, blood orange, and pomelo. "Schaner isn't certified organic, but he doesn't use any pesticides," Weibel would tell me later. "He just doesn't pay the fees to have the label."
"Over the years, you learn the true values that these farmers have," says Weibel. The relationships she's built with them have come from time, and visits to their farms. "These people are working hard and they're making really good food," She says. But the relationship goes both ways. "The farmers are very thankful the chefs come and support us," Schaner says. "Chefs really care about the farmer's operation, and see that their support is needed for a sustainable farming operation." Coleman would chime in later, adding, "The chefs have really helped out, because it allows us to grow stuff that they like and that we can grow and make a living off of."
Weibel says there are Wednesday mornings she wakes up and wishes she could sleep in, or take the day off altogether. "But once I get here," she says, "it's therapy."