15 Food Snapshots From Around the World We Loved This June
From Slovakia to Cuba, our readers show how they #eattheworld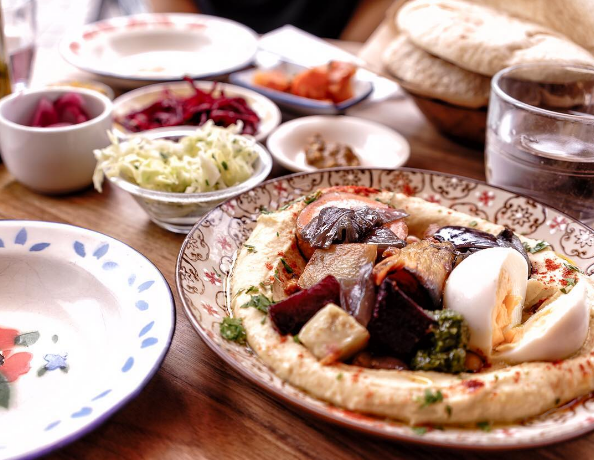 The SAVEUR motto is Eat the World for a reason: we firmly believe the best way to experience the world is food-first, and that food's an essential part of culture to embrace at all times. We take this motto to heart daily on Instagram, sharing our favorite food shots from all over the globe, with our hashtag of course: #eattheworld. And we're happy to see you're doing the same. Here are 15 standout snapshots you took this month that we can't get enough of.
Lebanon: @lebanoneats
Fasting during the day calls for endless rounds of Mashewe after sunset. These skewers at @rotanalebanon are a perfect way to feast during Ramadan.
Germany: @coupleeatsworld
It doesn't get much fresher than this, @coupleeatsworld. These mussels off the coast of Germany remind of us of a summer vacation we'd never want to come back from.
Malta: @simon.misfud
You're right, @simon.mifsud, it's time to get crackin'. This seafood-pasta combo is exactly what we'd want to eat while surrounded by the Mediterranean Sea.
Slovakia: @lavas_zdravychlieb
If breakfast is the most important meal of the day, then we want to wake up with this spread every morning. @lavas_zdravychlieb topped this lavash toast with everything we could dream of, including creamy cottage cheese, smoked tuna, and soft boiled eggs.
Japan: @yokohyn
@yokohyn prefers to purchase her lamb still attached to the bone, and we agree. The result is a juicy, tender rack of lamb that creates a fantastic dinner. These rosemary balsamic lamb chops look so juicy and so tasty.
New York City: @pigbeachnyc
We wish we could dive right into this sandwich, @pigbeachnyc. Everything from the purple cabbage to the barbeque pork screams summer and we might have to include this at our next team BBQ.
London: @ks_ate_here
Food that looks good, tastes good, and does good? What could be better? @ks_ate_here was at @kerbfood, where a portion of the proceeds from the meal went to @tweetsmarttwo, a homeless charity in the United Kingdom.
Amsterdam: @twopaperboats
There's no such thing as too many side dishes when it comes to this meal. Fresh, warm pitas topped with anything and everything? Delicious.
Paris: @lefrenchfood
Turn up the heat with spicy Sichuan noodles from @dnoodlesparis. We might need to sit next to a fan for this one, but it looks like it would be worth it.
Maine: @smorgaseats
Eating these brown butter lobster rolls is exactly how we want to spend a weekend in Maine. @smorgaseats definitely knows what's up when it comes to this New England necessity.
Turkey: @insearchofwonders
This egg and asparagus toast is so simple, but exactly what we're looking for in a speedy dinner.
Taiwan: @wordofmouth
Street food and dessert are two of our favorite categories. Naturally, we support combining the two. Fried doughnuts, sesame balls, and green onion pancakes sound like the perfect snacks to munch on while exploring the streets of Taiwan.
New Zealand: @depleta
A pair of rich, creamy tonkotsu ramen bowls looks like exactly the kind of meal we'd want to enjoy with a friend while exploring this adventurous country.
Dallas: @baboushdallas
This baklava from @baboushdallas makes us feel like we're in heart of Greece even though it's in the heart of Texas. We're not positive if this plate is made to share, but it's likely that one of us would devour it in minutes.
Cuba: @jenlikestoeat
What better way to explore a new country than by eating your way through it? This seafood paella is topped with everything we love, especially the finishing touch of a gingham bow tied to a fried chicken leg. Very classy.