Mother's Day Brunch Should Be As Special As Mom—Cue the Frisée Breakfast Salad and Cucumber Ice Bloody Mary
Plus, 11 more ideas that show your appreciation.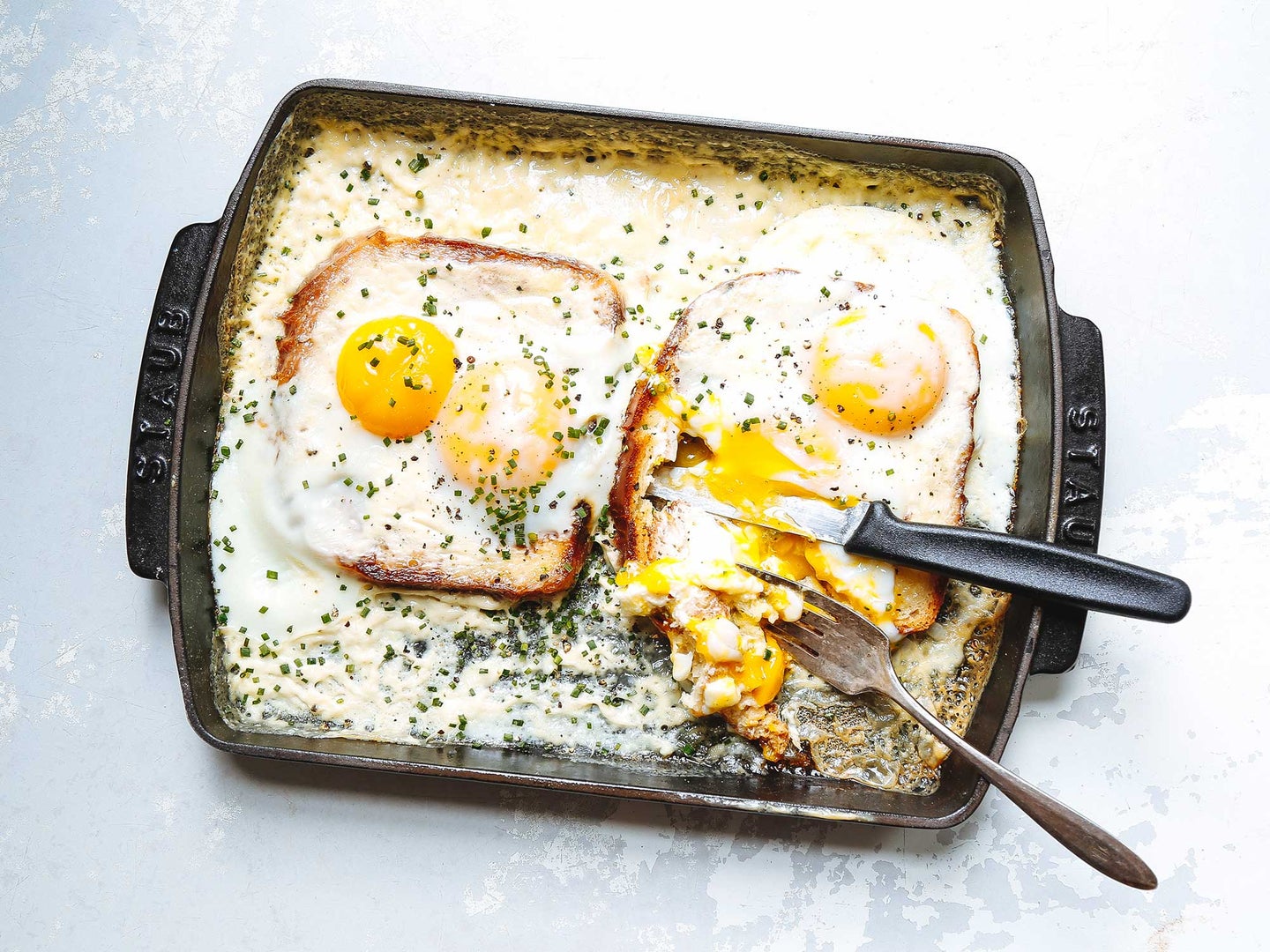 Mother's Day is that too-rare reminder to hit pause so we can all give thanks to those important women in our lives who made us who we are. This year, whether you're celebrating your own flesh-and-blood, a superstar stepmom, or your co-parent-in-crime, the mom in your orbit deserves so much more than another greeting card. Let her sleep in while you make her a morning meal she'll remember all year.
Our best Mother's Day brunch recipes are easy enough for the little ones to lend a hand—but special enough to treat that very special mom. Think classic blueberry muffins, frisée breakfast salad, no-splatter rhubarb-rose jam, and cream-soaked, savory, baked French toast. 
If there are other relatives nearby, don't be shy about delegating to the fam—I hear siblings make excellent sous chefs—but know that these dishes are simple enough even for us only children to handle with aplomb. A minty iced mocha is a quick-yet-elevated caffeine delivery system for moms who like a sweet start to their day, while other mothers might prefer to indulge in a stiffer morning libation; for them, mix up a batch of spicy bloody Marys the night before. 
If there are multiple moms at the table (I'm looking at you too, Aunties and Grandmas <3), a family-sized coffee cake or a jumbo batch of crunchy granola might be in order. However many moms you might be celebrating this year, you'll find something to make each of them smile among our favorite Mother's Day brunch recipes.
Sourdough starter mixed into classic waffle batter gives a brightness, airiness, and—who knew?—exterior crunch to waffles that non-yeasted batters can't match. Get the recipe >
This savory French breakfast of baked, cream-soaked toast and eggs is deceptively simple (and scalable) but lavish. The cream soaks into the garlic-rubbed bread and thickens to a rich sauce right in the skillet resulting in a savory French toast. Get the recipe >
These spiced sweet potato pancakes are adapted from the version served at the historic Arcade Restaurant in Downtown Memphis. Get the recipe >
In Basque country, this egg-based tortilla is sometimes sliced through the middle like a sandwich roll and layered with cured ham and sheep's milk cheese. If cutting horizontally through the thin, delicate tortilla seems too troublesome, the ham and cheese are just as delicious served on the side. Get the recipe >
This lightning-fast cold-brew coffee method is a simple—and portable—way to caffeinate on the go. Aeropress brewers are inexpensive, lightweight, and easy-to-clean, and can be used to make either hot or cold espresso-strength coffee in a matter of minutes. Get the recipe >
Sweet, fresh blueberries are complemented by a generous hit of fresh lemon zest in this quintessential muffin recipe. Overmixing the batter will result in a tough muffin, so stir only until most of the flour is moistened. Get the recipe >
Bologna makes an excellent breakfast sandwich swap for sausage or country ham, particularly when it's purchased from a good butcher, browned in a pan, and layered on warm, split biscuits. Runny fried eggs, melted American cheese, and sweet, sharp mustard make a good thing even better. Get the recipe >
For a no-stress Mother's Day brunch, make a batch of easy, splatter-free jam in the oven. This version adds floral flavors to sweet-tart rhubarb with vanilla bean and rosewater. Get the recipe >
This simple fried rice is as good for breakfast as it is for dinner. Thick-cut bacon will make for more meaty, chewy bits. Cookbook writer Amy Thielen often adds a little sauerkraut for a further Midwestern touch. Get the recipe >
The LongHouse scholars ate this granola for breakfast every morning of their month-long stay at Molly O'Neill's house in Rensselaerville, New York. Get the recipe >
Spicy tomatillo and cucumber ice cubes chill this twist on the classic brunch drink from chef Mary Sue Milliken's Los Angeles restaurant Border Grill. This recipe first appeared in our November 2013 issue along with the story State of Grace. Get the recipe >