Our Best Pumpkin Recipes Celebrate the Flavor of Fall
From soup to curry, there's so much more to this iconic autumnal squash than lattes and pie.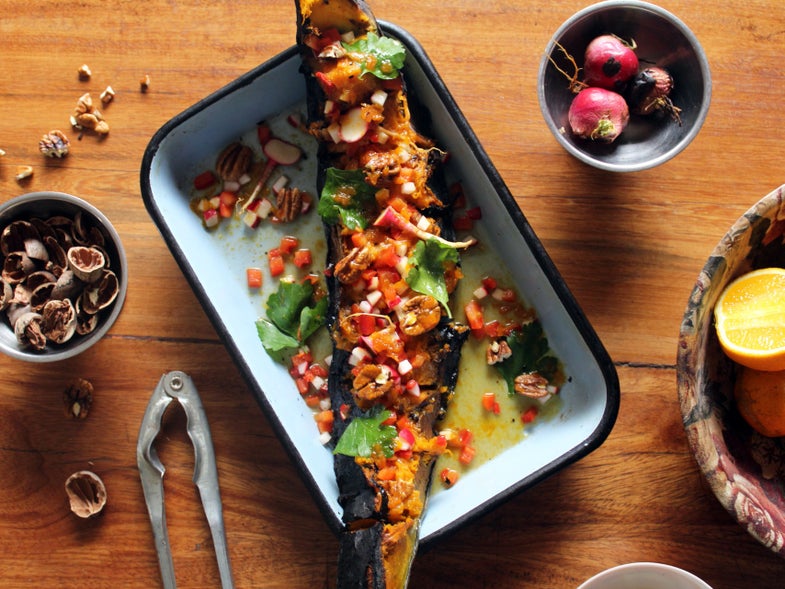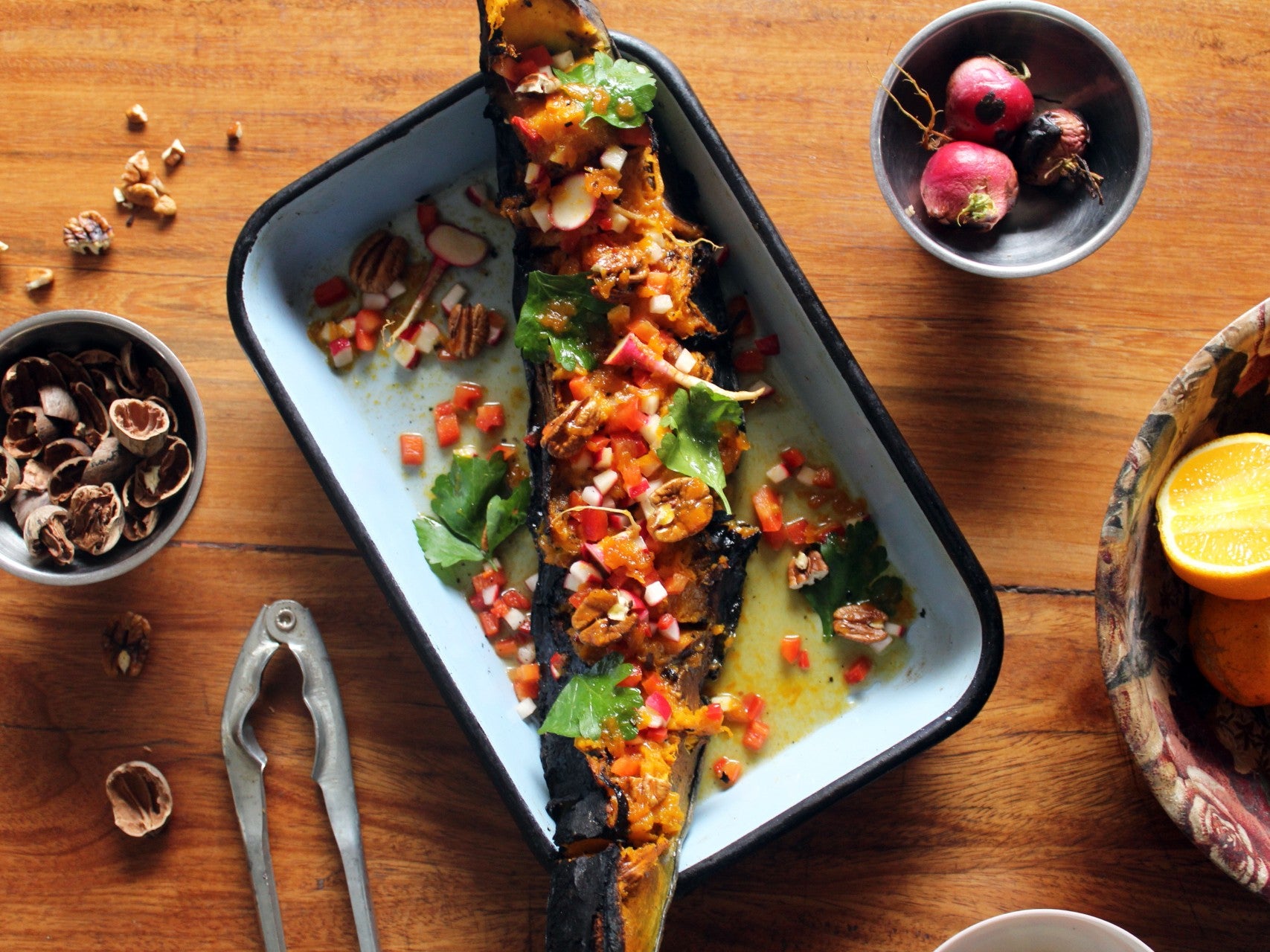 There's no ingredient more synonymous with fall than pumpkin. And while we may have witnessed the "basic"-ification of this late-season squash in recent years (we're looking at you, pumpkin-spiced-everything), the actual vegetable is surprisingly versatile. Roasting or scorching the gourd directly over an open flame amplifies its earthiness.  Its starchy-sweet flesh makes pumpkin the go-to filling for everything from dumplings to desserts. Toasting the seeds makes for a comforting fireside snack. Even its thick skin is edible—becoming soft and tender in hearty soups, stews, and braises. In fact, they're so easy to incorporate into seasonal fare, it's no wonder that pumpkins are said to be one of the world's oldest domesticated plants.
While pumpkins play well in a wide range of  savory dishes, when it comes to dessert, it's their natural sweetness that positions them ahead of the market pack. When Thanksgiving rolls around, the holiday spread is incomplete without a classic pumpkin pie. Of course, we can't begrudge the ingredient for its fine fit with warm baking spices, which make it the perfect addition to tarts, cheesecakes, quick breads, and even pancakes.
From savory curries to classic pies, here are our best pumpkin recipes to try this fall.
The flavors of fall and winter are perfectly represented in this simple and elegant meal featuring hearty squash and tender lamb. Get the recipe >
This delicate seasonal dumpling is stuffed with squash, spiced pork, ginger, and scallion. Get the recipe >
Tender pumpkin spice cake, topped with a fluffy toasted meringue. Get the recipe >
Caramelized roasted pumpkin gets an unorthodox hit of flavor from orange zest and juice, stirred in just before serving to brighten this wintry soup. Get the recipe >
Crispy baked kale, sweet roasted squash, and peppery arugula and watercress are combined with pumpkin and pomegranate seeds in this colorful salad. Get the recipe >
Roast or sauté extra squash over the weekend (butternut or calabaza are perfect) to make quick weeknight work of this garlicky, spicy pumpkin soup. Get the recipe >
Sweet, starchy squash gets the asado treatment in this smoky side dish. Get the recipe >
This autumnal dessert is a lighter and more refined version of plain old pumpkin pie, thanks to egg whites folded into the filling. Get the recipe >
Kabocha, Japanese pumpkin, makes a lighter pie with a vivid orange color. This pie trades in usual expected flavors for a slightly spicy dose of ginger and black pepper. Get the recipe >
This easy pumpkin pie recipe boasts a rolling-pin-free pie crust, a bounty of warm spices, and can be prepared days in advance or the morning of Thanksgiving. Get the recipe >
Just three ingredients—pumpkin, coconut milk, and salt—combine to make a simple spoon pudding, sweetened with cardamom-scented golden syrup and topped with crunchy pumpkin seeds. Get the recipe >
With warming notes of curry and cinnamon, this hearty pumpkin curry recipe is perfect for a chilly fall or winter evening. Get the recipe >
Rich, fluffy pancakes loaded with pumpkin, warm spices, and sea salt deliver pumpkin pie for breakfast. Get the recipe >
A dense, pudding-like pumpkin bread makes a rich and satisfying dessert. Use leftover butternut, acorn, or pumpkin squash purée. Get the recipe >