Where to Eat, Drink, Sleep, and Play in Chicago
Must-eat deep dish, sterling Mexican food, a killer bar scene—the Windy City has it all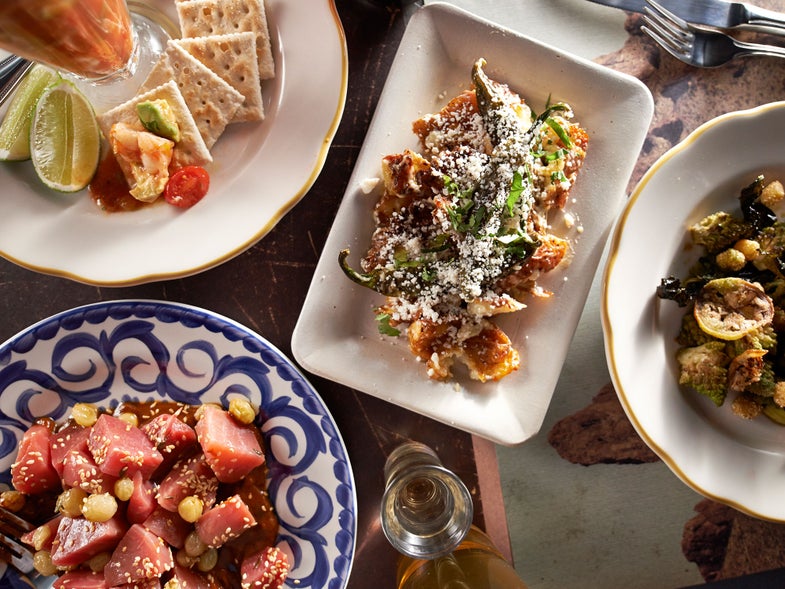 Don't let the nickname fool you; the Second City is second-to-none when it comes to eating and drinking. Beneath the deep dish surface you'll find a wealth of affordable regional specialties and life-changing restaurants. Dig a little deeper and you'll find bars that distill their own spirits right before your eyes; markets that live and die by the farm-to-table mantra (yes, even in the Midwest); and hotels both boutique and colossal. And it gets better and better every month; be it a new fine dining destination, subterranean cocktail haunt, or specialty coffeeshop, Chicago's showing no sign of slowing down.
There's so much out there in this sprawling city that deciding where to eat can be intimidating for visitors. So we've compiled a guide of can't-miss Chicago restaurants, bars, hotels, and culinary destinations to ensure your time in the Second City is first-rate.
Where to Eat:
Xoco
There are tortas and then there are Tortas. Rick Bayless's immensely popular sandwich shop makes Capital-T-Tortas that truly are worth waiting in a (fast-moving) line for. With higher quality, more deeply flavorful meat options than most of the city's Mexican sandwich shops, and a more cheffy attention to detail than average, Xoco easily rises above the competition as a sandwich destination, even in a city of destination-worthy sandwiches. From piquant chorizo to tender braised goat to whole sandwiches drowned in tomato broth, there's a sandwich for everyone here.
Xoco
449 N Clark St. (Enter on Illinois), Chicago, IL 60654
Xoco Bistro (Wicker Park)
1471 N Milwaukee Ave, Chicago, IL 60622
Bacino's
Few foods are more divisive than Chicago deep dish, so if you're going to take the plunge, go ahead and do it right. While names like Giordano's and Lou Malnatti's get bandied about all over, our go-to deep dish is the dark horse Bacino's, specifically for their stuffed crust pizza, a taller, mightier version of deep dish that includes an extra layer of pizza dough above the cheese and beneath the tomato sauce (remember, you're going for broke here). Why Bacino's specifically? Because every element of their pizza tastes a little more fresh and flavorful: bright and tangy tomato sauce; spinach that isn't cooked to depth; mozzarella with just a touch of twang; and a crust that has some burnished flavor to go along with its heft. You won't be lacking for gobs of cheese and sauce with this stuffed crust, but the lighter, more flavorful touches from the kitchen mean you won't feel like you got hit by a bus after eating, either.
Bacino's
Multiple locations across Chicagoland.
Birrieria Zaragoza
Chicago is home to some excellent Mexican food, a fact often overlooked by visitors. But there's no avoiding it at this family-run Mexican restaurant on the Southwest Side, because the menu has one simple star: birria, braised goat stew, and it's spectacular. Birreria Zaragoza is a hike from downtown, all the way over on Pulaski Road near Midway Airport, but once you get a taste of meltingly soft, gently spiced goat meat in lipsmacking tomato consomme, you'll start planning your next visit while still at your table, and that's before you get a bite of the thick, toasty tortillas made by hand to order. The dining room is no-frills—bright lights and spare tables—so your eyes naturally fall on the gentleman behind the counter, chopping up hunks of goat meat with a fat cleaver on a well-worn butcher block.
Birrieria Zaragoza
4852 S Pulaski Rd, Chicago, IL 60632
(773) 523-3700
Floriole Cafe and Bakery
For classic French pastry, simple but excellent sandwiches, and even pizza (not the Chicago kind if that's not your thing), Floriole is the bakery to know. The star here is the pastry case, hard to miss as you're hit by a wall of butter as soon as you walk inside. Flaky croissants and creamy scones are a given, but don't miss the bakery's superlative caneles, which sell out early thanks to a perfect balance of burnished, crisp exteriors and fragrant, custardy centers. The bright, sun-lit interior makes for the perfect cafe to while away an afternoon while drunk on pastry.
Floriole Cafe and Bakery
1220 W Webster Ave, Chicago, IL 60614
(773) 883-1313
Al's Italian Beef
Yes, be sure to eat some hot dogs while you're here, but also be sure to partake in the less-talked-about Chicago specialty: the Italian beef sandwich, Chicago's chief contribution to America's great sandwiches. Effectively a roast beef sandwich topped with pickled vegetables and drowned in jus (a Midwestern dip, if you will), the Italian beef balances meaty heft with sweet-and-sour twang, and all that gravy means you'll need a sleeve of napkins to get through it–a sure sign of a good sandwich. At Al's, the beef is that much more flavorful and spiced, then sliced whisper thin so it falls apart in your mouth. The giardiniera (here principally pickled celery and peppers with a dose of chile heat) is a refreshing rejoinder to the meat, and the soft, pliant hero bread, once soaked with jus, holds its shape just long enough for you to down one with gusto.
Al's Italian Beef
Multiple locations across Chicagoland.
Longman & Eagle
Taking inspiration from the city of broad pork shoulders, Longman & Eagle offers a cozy, cabin-like experience with a meat-packed menu. From duck egg hash and foie gras french toast at brunch to horseradish bone-marrow purée topped strip loin at dinner, everything's sure to stick to your ribs, and stay there. The same goes for fresh produce, like pickled green garlic to accompany pillowy ricotta gnudi. Though Longman is known for its whisky selection, feel free to crack open a PBR (especially during winter brunch) for a true Sweet Home Chicagoan experience.
Longman & Eagle
2657 N Kedzie Ave, Chicago, IL 60647
(773) 276-7110 (no reservations)
Publican
If Chicago had a homecoming king, it'd be chef Paul Kahan, whose family of restaurants has been at the top of the list for Chicagoans since he opened up his first place almost two decades ago. But if we were to guess which one might be his favorite, our money is on Publican, which, like Kahan himself, is a testament to Midwestern hospitality at its most laid-back and charming. The menu, centered around beer and pork, is a parade of crowd-pleasers (country-style ribs, anyone?), ideal for a big, open dining room that encourages kicking back and making a night of it.
Publican
837 W Fulton Market, Chicago, IL 60607
(312) 733-9555
Boeufhaus
It's no surprise that Chicago is a steakhouse town. What is pleasantly surprising is that a city saturated with steakhouses can still innovate the meaty template. See Boeufhaus, one of the most surprising restaurants to take shape in Ukrainian Village. A far cry from the hifalutin steakhouses that dot downtown, this dark, diminutive place gives the steakhouse formula a European accent, infusing it with German and French panache. Short rib beignets and tarte flambée are a nice way to kickstart a meal, followed by filet mignon au poivre, steak frites, or an aged ribeye swimming in bordelaise. Swing by at lunch for a more casual meal, which features some of the best, most succulent pastrami you'll ever eat.
Boeufhaus
1012 North Western Avenue, Chicago, IL 60622
(773) 661-2116
Dove's Luncheonette
Take a seat on a stool and witness how Donnie Madia, 2015's James Beard Restaurateur of the Year, transforms casual dining. Though your options are limited (like the seating), every dish on the Southern-inspired Mexican menu (like chorizo verde gravy topped buttermilk fried chicken and pork shoulder pozole) is an easy winner. Top off your experience with a fully stocked tequila and mezcal bar and soul music spinning on vinyl, you know this ain't your grandpa's lunch counter.
Dove's Luncheonette 1545 N. Damen Ave, Chicago, Illinois 60622
(773) 645-4060
Lula Cafe
Logan Square doesn't lack for coffee shops, bars, and brunch spots, but before it became the hip neighborhood that it is today, it had Lula Cafe. Open since 1999, the bustling spot is known for brunches of bloody mary's, not-so-classic omelettes (think duck confit, blood sausage, and trout), and takes of Mexican dishes, it's open all day (and even has an online shop for those who want to live the Lula lifestyle 24/7). Plan to wait for brunch, but it's worth it. Just don't go Tuesdays—that's the one day they're closed.
Lula Cafe
2537 North Kedzie Blvd, Chicago, IL 60647
(773) 489-9554
Where to Drink:
The Violet Hour
When you take a seat at The Violet Hour's sleek bar, you occupy the birthplace of many of this generation's greatest bartenders—and it's no coincidence that so many have gone on to open their own celebrated watering holes; every drink at The Violet Hour, no matter the time of day, is perfectly-executed and unfailing tasty. The food isn't to be missed, either, whether it's the tangy chicken wing tartine or—to close out the evening—the chocolate chip ice cream, spiked with Fernet Branca (naturally).
The Violet Hour
1520 N Damen, Chicago, IL 60622
(773) 252-1500
Lost Lake
Lost Lake wasn't Chicago's first tiki bar, but it's the one that everyone's talking about. Opened on the border of Logan Square and Avendale in early 2015, the bar prices all cocktails at $12, and if you get hungry, order food from Thank You, a American-Chinese takeout counter around the corner. They'll deliver food straight to your table (or barstool), so you don't have to worry about abandoning your rum-spiked drink with the banana dolphin hanging over the edge.
Lost Lake 3154 W Diversey Ave, Chicago, IL 60618
(773) 293-6048
Revolution Brewing
Revolution Brewing isn't just the biggest craft brewery in Chicago—it's the biggest in Illinois. Situated in Logan Square, the warehouse-cum-brewery and taproom offers a variety of types of beers with names like Workingman Mild (a session), Double Fist (a double pale ale), and hoppy "Hero" brews, a series of season India Pale Ales. Make sure to order a basket of freshly baked bread or tray of charcuterie to help sustain your drinking.
Revolution Brewing
2323 N Milwaukee Ave, Chicago, IL 60647
(773) 227-2739
Where to Stay:
Chicago Athletic Association
Originally conceptualized in 1890, the Chicago Athletic Association is once again open to the public, and this time it's bigger, better, and more delicious than ever. The 13-story Michigan Avenue stunner sports the vintage opulence of the Titanic, but with more craft cocktails and less icebergs. The former athletic club frequented by the olympic elite now boasts a myriad of public spaces, dining areas, and reimagined sporting rooms within its Venetian Gothic walls. The rooms contain soaring ceilings and stunning views of Millennium Park, along with a billiards-packed game room, a full-service restaurant with table side cocktail service called Cherry Circle Room, a Shake Shack, and a rooftop restaurant and terrace called Cindy's.
Chicago Athletic Association
12 South Michigan Avenue, Chicago, IL 60603
(312) 940-3552
The Guesthouse Hotel
The Guesthouse Hotel in Andersonville on Chicago's far north side is as close as you'll get to feeling like a Chicago resident for a few days. Nestled in one of the city's most charming neighborhoods, miles from the hustle and bustle of downtown high rises, the Guesthouse lives up to its name with its homey environs that feel more like chic apartments than hotel accommodations. Considering the building's previous incarnation as condos, it's no surprise. The property contains a spa, a club room, and suites in a variety of sizes, all just a stone's throw from the central corridor of Andersonville, home to hip boutiques, restaurants, coffee shops, the Swedish museum, and more.
The Guesthouse Hotel
4872 North Clark Street, Chicago, IL 60640
(773) 564-9568
Public Chicago
With it's sleek white-washed design and hot ticket restaurant, The Pump Room (from power chef Jean-Georges Vongerichten), you could mistake the Public in Chicago for a chi-chi Miami hotel. But this isn't Miami, it's Chicago, so you can enjoy all the style with a hearty helping of Midwestern kindness.
Public Chicago 1301 N State Parkway, Chicago, IL 60610
(312) 787-3700
What to Do:
Read It and Eat
Cookbook-lovers, take heed. Read It and Eat is a bookstore with an appetite for the culinary. It's a food-exclusive bookstore in the heart of Lincoln Park, home to a wide catalogue of cookbooks, essays, biographies, travel writing, and everything in between. In case that wasn't enough, the store also hosts recurring demonstrations and tasting events in its on-site kitchen event space, certainly something you won't find at the average bookstore. Diehard locals would be wise to enroll in Read It and Eat's cookbook club, which meets monthly to discuss books and dine together.
Read It and Eat
2142 North Halsted Street, Chicago, IL 60614
(773) 661-6158
Joong Boo Market
Ask most any chef where they shop for Asian ingredients in Chicago and more often than not the answer will be Joong Boo Market. This sprawling grocery store and dining spot in Avondale houses an impressive arsenal of dry goods, meats, produce, seasonings, breads, kitchen wares, pastries, and specialty items, all with Asian accents ranging from Korean to Vietnamese. For the avid home cook looking to delve further into various Asian cuisines, this is the spot to stock up. Or if you're just here to eat, you can do that too at Joong Boo's on-site quick service eatery, home to killer ramen, bibimbap, mandoo, and more.
Joong Boo Market
3333 North Kimball Avenue, Chicago, IL 60618
(773) 478-5566
Maxwell Street Market
For nearly a hundred years, the Maxwell Street Market has been the premier flea market of Chicago. These days it's principally about Latin American food and wares, and every Sunday, vendors trot out all manner of tacos, tamales, churros, and other Mexican specialties like quesadillas loaded with huitlacoche, the funky, inky-black fungus that grows over corn kernels. In between bites of street food you can catch cultural performances that run during the warm weather months.
Maxwell Street Market 800 S Desplaines St., Chicago, IL 60607
(312) 745-4676
Dose Market
If you're lucky enough to be in town and score tickets, this eclectic and upscale market is worth a whole Sunday of perusing. The hottest new restaurant and food ventures share the floor with up-and-coming designers and boutiques in once-a-month pop-up booths. Prepare to stock up your pantry, closet and stomach with distinct finds.
Dose Market
Venue One 1034 W Randolph St, Chicago, IL 60607
(312) 972-8400
With additional reporting from Matt Kirouac