Techniques
Why You Need a Salt Cellar or Salt Box
Also known as a salt pig, it's a stylish, practical way to store the most essential ingredient in your kitchen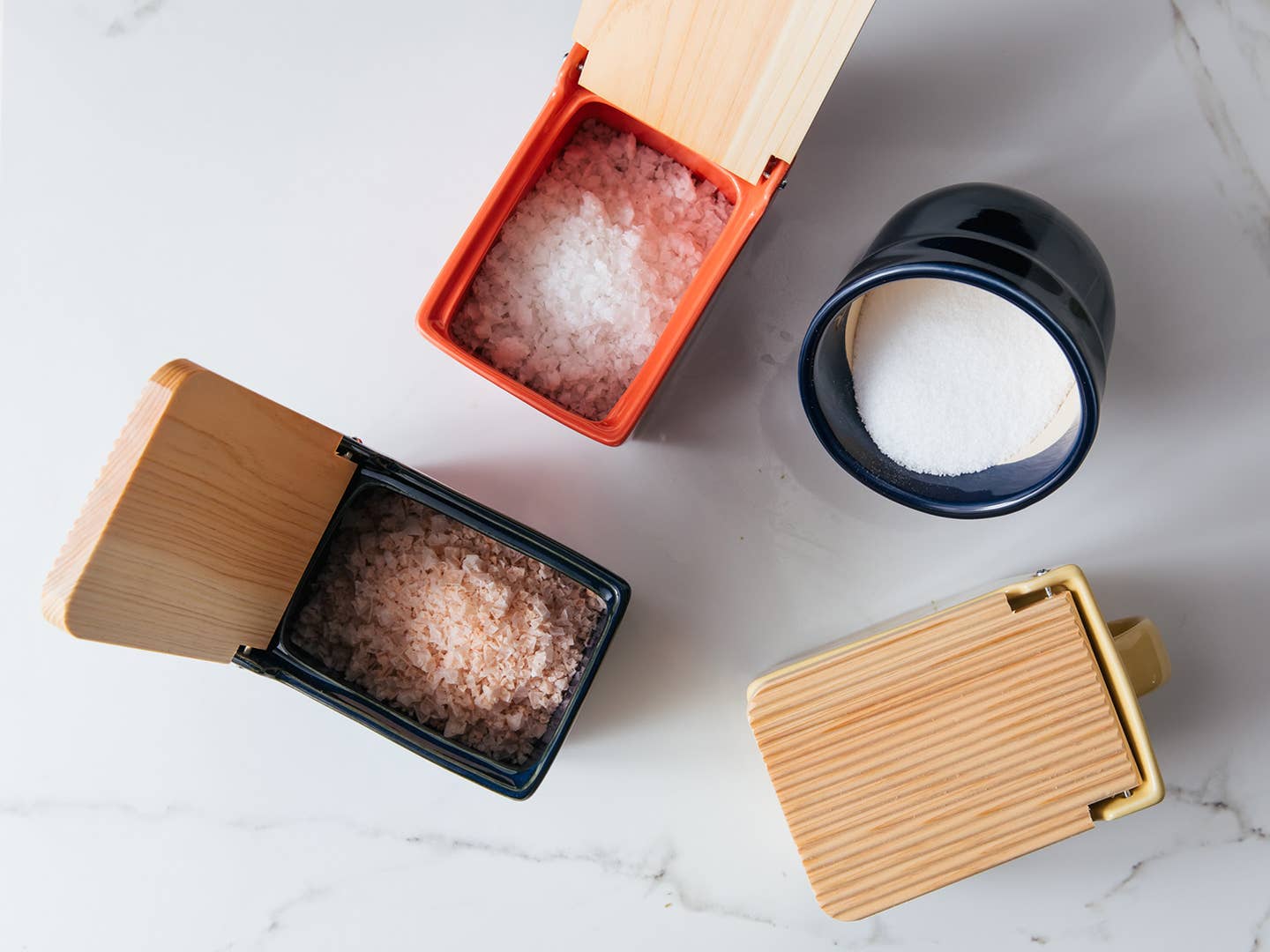 Salt is undeniably the most important ingredient in the kitchen. It brings out the flavor of your food and drinks, adds texture, and can even be used as a preservation or cooking method (think preserved lemons or salt-baked fish). So why is such a crucial ingredient so often stowed away in the spice cabinet or trapped in an imprecise grinder or shaker?
Instead of storing your salt in the cupboard or a grinder, try a salt box—it keeps the essential ingredient within reach and makes seasoning your food easy.
If your kitchen aesthetic is more along the lines of French farmhouse, this classic French ceramic salt pig is the way to go. It has an elegant curved shape and is available in a variety of rich colors.
Whether you need a pinch of salt for a seven-minute egg or a handful for a pot of pasta water or a pickling project, it'll be easy to access in this Japanese salt box with a flip-up lid. The modern design comes in more than 10 colors—get one for your everyday kosher salt and another for your fancy sea salt.
If you have a penchant for losing lids, this handcrafted olive-wood salt box with a magnetic swivel lid is a great option. It comes in two styles: all wood, or wood and white concrete.
A clear glass salt box allows you to take inventory of how much salt you have at a glance. The matching lid keeps the seasoning free from moisture (and curious house pets). Bonus: since "salt" is embossed on the front, no one will accidentally mistake it for sugar.
This wooden salt box with three swiveling compartments is ideal for showing off a salt connoisseur's collection, from Himalayan pink to Icelandic black lava to French sel gris.
You're likely to find one of these ninth steam table pans filled with salt in restaurant kitchens across the country. While it's not technically a salt box, it's just the thing for the home cook who dreams of turning their kitchen into the city's hottest pop-up restaurant.