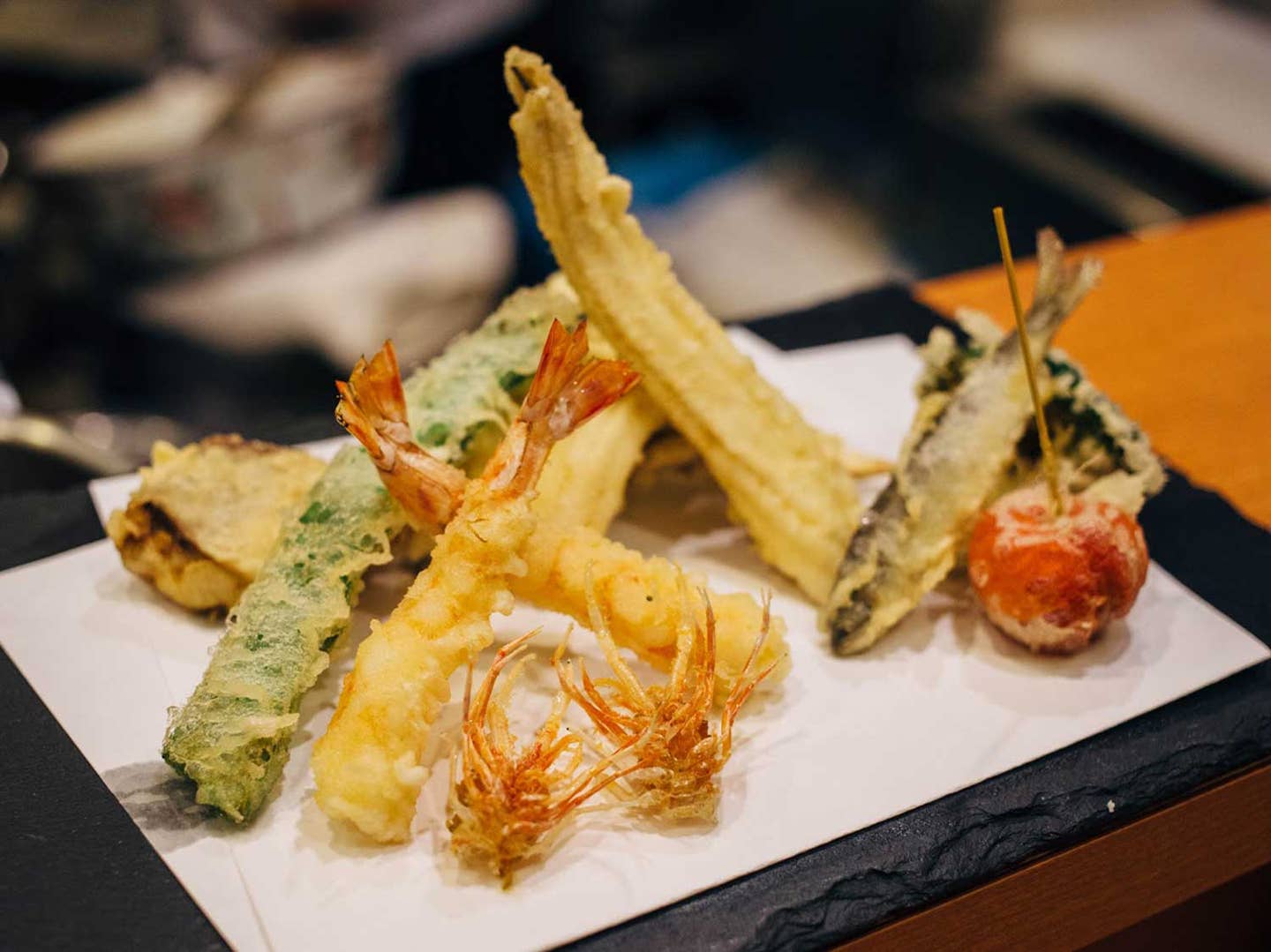 Travel
In Tokyo, Great Tempura Is Everywhere—from Train Stations to Michelin Restaurants
Our ultimate guide to navigating the city's tempting terrain of tempura
Tempura has come a long way since it was first introduced to Japan in the 16th century. An early rendition most likely arrived in the country by way of Portuguese missionaries, and as the technique spread, it was adapted to local palates and ingredients. The style that developed in Tokyo is known as Edomae tempura and is characterized by its use of seafood and vegetables that were available in the city. In the Edo era in the 18th century, tempura started out as a fast-food item sold by yatai (street vendors) before evolving into a more refined dish served by indoor restaurants.
These days tempura is often associated with high-end dining in Tokyo—there are 11 Michelin-starred tempura restaurants in the city and counting—but that doesn't mean its humble origins have been forgotten: you'll also find the dish at izakayas, noodle shops, train stations, you name it. While some restaurants are still dedicated to the traditional techniques, others are focused on incorporating global flavors or unconventional drink pairings. There's a Japanese saying jūnin toiro, which literally translates to "10 people, 10 colors" and means that for every 10 people, there will be 10 different ways of doing the same thing. "The ways to cook tempura are equal to the number of tempura chefs," says Masayuki Kaneko, one of the chefs at Tokyo's Isshin Kaneko. If you're in Tokyo and want to explore the city's diverse expressions of tempura, here are six spots worth seeking out.
2-7-2 Fujimi, Chiyoda City, Tokyo 102-0071
For family-run Isshin Kaneko—located in Kagurazaka, Tokyo's former geisha district—the goal is "to share the soul of Edomae tempura," says Kaneko. Lunch is an excellent value here: a basic tendon (tempura served over a bowl of rice) will only set you back ¥920 (about $8.50), and multi-course tasting menus start at ¥3,800 (about $35).
But to experience the full range of veteran tempura chef Bunji Nishidate's cooking, visit for dinner. You'll be treated to an extravaganza of dishes, starting with soup and hassun (a beautifully plated course of mixed hyper-seasonal ingredients), and culminating in a tempura tasting, presented one crisp morsel at a time. Nishidate rigorously controls the temperature of his frying oil throughout the evening, adjusting the flame and flicking in bits of batter with chopsticks to test the result. "A chef must be able to use all the senses," he says, paying attention to "the look of the color changing, the touch with chopsticks, the smell to detect changes in the oil, and the sound of oil popping caused by the loss of water from the ingredients."
Subtle but significant differences also distinguish lunch from dinner service: the batter at midday is prepared using whole eggs, which creates a light and crispy coating to pair with the steamed rice that is integral to the meal. At dinner, the batter is made only with yolks, which yields a fluffier, more luxurious texture. By evening, the cooking oil is also infused with a toastiness from lunch service—an aroma that Kaneko considers a trademark of Edomae-style tempura.
Matsumoto Building 1F, Dogenzaka 2-9-10, Shibuya-ku, Tokyo
Tucked down an alleyway in Tokyo's Shibuya neighborhood, Nondokoro Nimarukyu is the perfect pitstop for a late-night tempura fix—the izakaya is open until 5 a.m. Owner A-Hero Miyamura wanted to surprise diners by doing something different in the tempura category. The restaurant's signature dish, daikon fries, is nontraditional in both technique and presentation: while tempura itself typically isn't seasoned, Miyamura braises the radish in a flavorful dashi stock before battering and frying, then serves the golden strips in a playful McDonald's-style paper sleeve.
Other house specialties include a whole chrysanthemum leaf, fried to a giant, lacy crisp, and a tangle of chewy saki-ika (dried squid) with a featherlight shell of batter. Nimarukyu also serves tempura staples like kisu (Japanese whiting), lotus root, and maitake mushrooms, as well as izakaya standards such as hiyayakko (chilled tofu) and fresh cucumber sticks with miso paste. And to drink? The restaurant's in-house sommelier curates a rotating selection of Japanese and international wines, which are available by the glass or bottle. "Tempura has strong umami, so [natural wines] pair well with tempura and izakaya food in general," says Miyamura.
B1F, Subaru Bldg, 4-3-7 Ginza, Chuo-ku, Tokyo
While Ginza may be best-known for its buzzy Michelin-starred restaurants and dazzling designer flagship stores, step away from the main Chuo-dori drag and you'll find plenty of excellent, more humble venues. Our favorite example is Abe Honten, a cozy, intimate spot one floor before street level that specializes in Edomae-style seafood tempura with a seasonal focus. The restaurant serves its house dashi-soy dipping sauce cold, which provides a refreshing contrast to the piping hot tempura.
At lunchtime, the restaurant teems with local salarymen eating their tendon with gusto, while in the evenings, the multi-course tasting menus are the main draw. Chefs turn out dainty, impeccably cooked bites of tempura one by one, and for the grand finale, present a bowl of rice topped with a seasonal kakiage—a type of tempura in which chopped or thinly sliced mixed ingredients are dredged in a thin batter and fried in a cluster—and immersed in hot green tea.
2F R-Hall, 1-17-2 Ebisuminami, Shibuya-ku, Tokyo
In Tokushima prefecture on the island of Shikoku, there's nothing but "fields, mountains, the ocean, and some dragonflies, which is what makes the produce so delicious," says Shiho Yamamoto, a native of the area and the owner of Tokyo's Yamamotoya. At the relaxed, convivial restaurant, Yamamoto and her staff arrange the seasonal tempura ingredients of the day—often sourced from Tokushima—in a wooden box and present it to customers in lieu of a menu, allowing them to order directly from what they see.
Tempura ingredients at Yamamotoya are assembled in creative arrangements, then dipped in a batter mixed with soda water for added crispness and served with customized condiments. Yamamoto, who spent years working in izakayas before opening her eponymous restaurant, has a knack for inventive flavor combinations: an early-summer selection might include mackerel with okra and ponzu; myoga (Japanese ginger) wrapped in bacon; and shiso, cod roe, and cheese wrapped in a thin strip of pork belly. The drinks menu also features Tokushima specialties like local craft shochu and gin, towering lemon sours, and artisanal seasonal sakes.
1-5-20 Azabujuban, Minato-ku, Tokyo
Kikuya is a tempura-specialty tachinomi. Literally a conjunction of "stand" (tachi) and "drink" (nomi), these standing bars are a quintessentially Tokyo experience. The casual, no-frills establishments are known for serving shochu and sake alongside quick-grilled dishes like motsuyaki (offal) and yakitori (chicken). Kikuya has repackaged the old-school tachinomi format into a stylish and contemporary dining experience.
The restaurant features an L-shaped counter that winds around the open kitchen and is packed with everyone from solo diners to first dates to groups of coworkers. Behind the counter, chefs use a high-tech digital fryer to regulate the oil temperature. While the cutting-edge technology may seem sacrilegious to traditionalists, it makes the craft of tempura more accessible to cooks of all levels.
Kikuya offers a particularly unconventional tempura menu, using ingredients inspired by the owner's travels around the world. The restaurant's "caprese" tempura is a good example: a petite ball of mozzarella is paired with a cherry tomato, battered, fried, and topped with a dab of punchy basil sauce. Other offerings include cilantro kakiage, potato-salad tempura, and a crispy, fried take on ajitama, a marinated soft-boiled egg that's traditionally added to ramen.
Tokyo Station Kitchen Street 1F, 1-9-1, Chiyoda-ku, Marunouchi, Tokyo
Tokyo's labyrinthine subway stations boast some of the best affordable food in the city, and Keyaki—located in Tokyo Station's "Kitchen Street"—is no exception. With an inexpensive menu and cheerful atmosphere, it's a commuter favorite. You can spot the restaurant by its glowing menu—a wall display of backlit photos shows plates and bowls brimming with crusty, golden tempura. There is often a line during peak service hours, but it moves quickly.
Keyaki's menu, which offers both vegetarian and seafood options, is served all day, from 11 a.m. to 11 p.m. The tendon are dressed with a brush of tare (a thick, sweet soy sauce) and come with a side of miso soup, while the teishoku (set meals) include shibazuke (traditional salted and fermented pickles), a side dish such as hijiki seaweed or soybean salad, and tentsuyu (a light tempura dipping sauce).