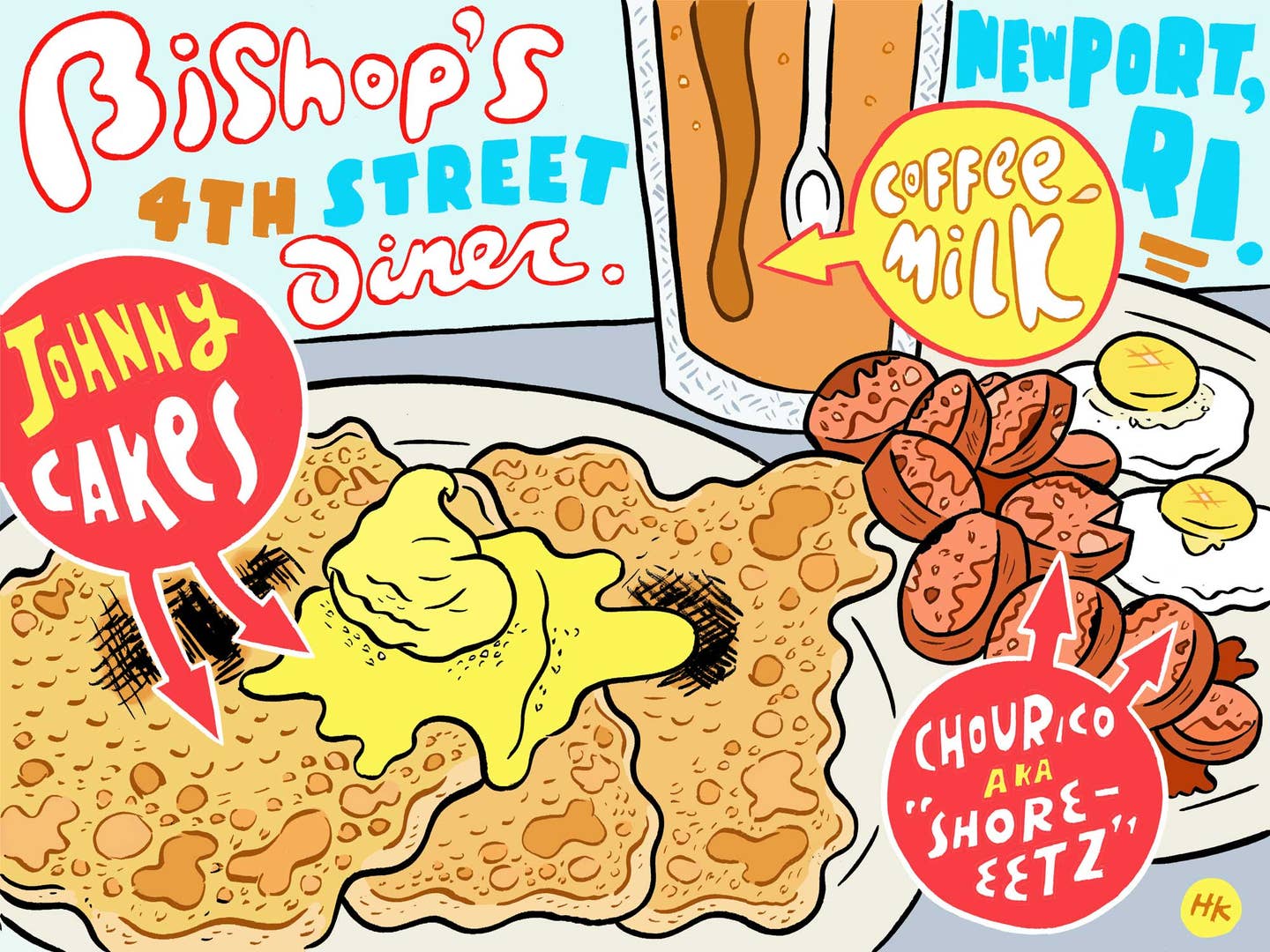 Travel
Rhode Island's Bishop's Belongs in the New England Diner Hall of Fame
Get a crash course in the weird and wonderful regional cuisine of the tiniest state in the union
Welcome to Hawk's Illustrated America, a monthly series following illustrator Hawk Krall's journeys through the back roads of the U.S. in search of our country's most obscure and delicious regional specialties.
In the endlessly fascinating world of New England regional food, the tiny state of Rhode Island has an especially outsized supply of culinary oddities. Try "gaggers" (hot dogs). Or coffee milk (think chocolate milk but with coffee syrup). Or clamcakes, crisp little clam doughnuts. Rhode Islanders seem determined to confuse and delight the rest of America with their food, and if you want a front row seat to Rhode Island eating at its finest, pull up to the counter of Bishop's 4th Street Diner, an old chrome-plated honest to goodness train car diner on the fringes of Newport.
The train car diner—a freestanding structure shaped like a railway car, with an open kitchen, long counter, and a few booths along the opposite windows—is a dying breed. Most these days have expanded to include larger dining rooms, or disappeared altogether. But Bishop's is the real deal, the walls covered with bric-a-brac and the seats packed with locals chatting in thick New England accents.
Bishop's menu reads like an all-star lineup of Rhody specialties: chourico, johnnycakes, "stuffies" (stuffed clams), Portuguese toast, coffee milk. If you're confused about what any of those things mean, you're not alone—neither did I until having a meal at Bishop's. But it's all excellent, the kind of under-the-radar roadside food find that people like me dream about.
I got the lowdown on Bishop's backstory from current owner Nancy Bishop, who's been running the place for over 20 years. Bishop's began as a porcelain and stainless steel John O'Mahony era diner, built in New Jersey in the 1950s, and installed in Swansea, Massachusetts, where it was christened the Princeton Diner, until the former owners trucked it over to Newport in the 1960s and re-named it the 4th Street, in honor of a Newport street that was planned by the city but never paved.
Nancy bought the 4th Street some 20-odd years ago with her then-husband, giving it their family name. After a divorce, Nancy stayed on running the diner, where she meet her current husband, a retired colonel who was a regular customer.
One day, that regular told her about a great old diner his grandfather took him to as a kid, where he scratched his initials into a mirror with a pen knife. It turned out that diner had been located in Swansea Massachusetts, and—you guessed it—Nancy walked over to a mirror near the restroom, and there it was, his initials still carved into the diner decades later. "I'm a big believer in fate," Nancy says. The diner and the new husband—"It was all meant to be."
In this part of the country, close to Fall River, Massachusetts, the epicenter of America's Portuguese population, chourico (a.k.a. shore-eetz) is everywhere. It's a topping on pizza, meaty filler in a $3 cup of soup with elbow noodles, or the sausage in an egg sandwich, which is my preparation of choice and one that Bishop's does especially well. Sourced from Mello's in nearby Fall River, which drops off orders twice a week, Bishop's chourico is sliced into thick coins that allow the casing to char just enough while chunks of paprika-stained fat sizzle out of the coarsely ground sausage.
As for the johnnycakes, these aren't the vaguely corn-flavored pancakes you might be imagining. Light, paper thin, and crispy at the edges, Bishop's johnnycakes are closer to crepes than anything I've eaten at a pancake house, and come topped with mounds of melty whipped butter. There are no exhausting doughy cores here, just thin, crisp edges with a sweet corn undertone.
Bishop's prides itself on those johnnycakes, made exclusively with cornmeal from nearby Kenyon's Grist that's ground on local quarry stones from a mill that's been standing since 1886 in neaby Usquepaug. For the full experience, wash them down with a frosty glass of coffee milk. The flavors dance to the thick accents of locals shooting the breeze.
This kind of from-scratch pride stands in stark contrast to diner trends across America. Most diners these days have long abandoned family recipes for ready-made frozen products and, faced with greater competition and narrower margins than ever, make whatever concessions to convenience they have to so they can keep the lights on. New England, though, seems to be an exception to this trend; at the very least Bishop's sure is.
"We make as much as we can from scratch, get whole turkeys in, cut our own potatoes for breakfast," explains Nancy, who sets the menu at Bishop's along with a list of daily specials that include anything from fried chicken to American chop suey. "Food is really important to people in this part of the country," she continues. "Everyone talks about where to get the best lobster rolls or johnnycakes, and people expect good food, especially in the Newport area."
Nancy's earned a loyal following at Bishop's, which, despite a few appearances in diner history books and TV programs, mostly has skirted beneath the national radar. That makes the customers from Paris, Germany, and the Ukraine all the more surprising. They're tourists staying in nearby hotels, and when they ask their concierges where they can find a legit New England restaurant experience, they're usually sent to Bishop's.
Hawk Krall is an artist, illustrator, and former line cook with a lifelong obsession for unique regional cuisine, whose work can be seen in magazines, newspapers, galleries, and restaurants all over the world. He focuses on editorial illustration, streetscapes, and pop-art style food paintings.