Meet the SAVEUR Blog Awards Finalists: The 6 Best Food Videographers
We're hungry for more videos from these 6 bloggers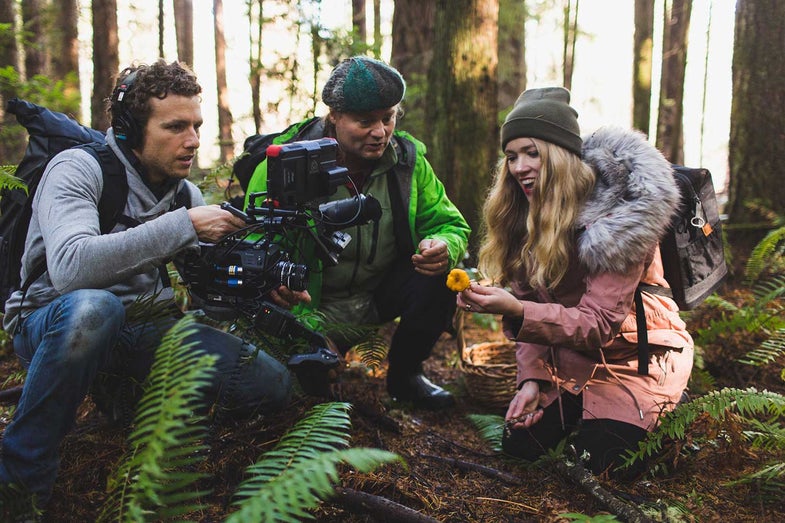 The SAVEUR Blog Awards are here, and from a pool of tens of thousands of reader nominations we've selected 66 finalists in 11 categories. Now it's your turn to vote for a winner. Cast your ballot here early and often; you can vote as many times as you like by September 12th. Today: meet the finalists for our Best Food Video category.
These are the web series that are making us hungry. They feature everything: travel around the world, adventure in your home kitchen, and innovative ways to appreciate some of our favorite ingredients.
The Blog: Since 2007, maangchi.com has been a place for Maangchi to share her recipes, photos, and stories about Korean cooking and ingredients, and to connect with anyone interested in Korean cuisine and delicious food.
The Blogger: Maangchi was born and raised in South Korea, where she developed a passion for food and cooking from a very young age, learning traditional techniques from the people around her. She's the founder of maangchi.com, a wide-ranging online destination for Korean food and cooking. Her videos on YouTube have taught millions of people how to cook traditional Korean food. She currently lives in New York City.
The Blog: For Jeanne, a french girl living in NY and obsessed by bread baking, falling in love her sourdough starter, the funniest guy she ever met, was probably the best decision of her life. Until they break up. To get over him, Jeanne escapes to Paris where she binges on bread, croissants, and French men. Somewhere between a romantic comedy and a cooking show, My life in Sourdough explores intimacy, disappointment, and finding love in unexpected places. Shot between NY and Paris, the series weaves in the sensual, carnal element of food into a narrative, showcasing an absurd world where people love food so much they date it.
The Blogger: Marie C. is a New York-based French director and photographer. Growing up in Alsace, France, she made red and black currant jams and worked in a bakery. Marie obtained her MFA from NYU Tisch School of the Arts, prior to which she studied law at Cambridge University. She channels her passion for cooking and filming into the miniseries she writes and directs, My life in sourdough, now in its third season, and also directs commercials – she is represented by MacGuffin Films.
The Blog: From family recipes to exploring the streets for yummy food, we produce a variety of food-centric videos. We believe that food brings people together and creates cultural understanding. We hope that through our videos, people are inspired to try new things and to explore the world around them. We also try to keep things fun so if all we do is put a smile on your face, that's good too!
The Bloggers: Shinichi was born in Tokyo but spent most of his early years in Hawaii. Although he's been traveling back and forth ever since, his love for food and travel really started with his first trip to Europe. Satoshi was born in Yamagata Japan and spent most of his free time as a child with his grandfather, who taught him how to cook. Their love for food and travel, and a passion to share their experiences with the world inspired them to create TabiEats.
The Blog: Lorena first started Cravings Journal in English while living in London and now she has it also in Spanish, which is great because a huge portion of the world can now understand her content. She shares both savory and sweet recipes, and her main objective is to give enough information, tips, and tools with each recipe so that anyone can make them, from the most anxious to the most experienced cooks. That's why Lorena started her YouTube channel; in this way she can give her followers a very important visual tool to help them achieve the perfect result from a recipe.
The Blogger: Lorena Salinas' first encounter with food was at her mom's house in Perú. She and her family always made a food event out of every gathering. When Lorena moved to Chile while working for a company, she first studied business, but she started to cook for herself and became obsessed with it. One day Lorena quit her job, moved to London and studied to be a chef. She started sharing recipes on her new blog and later fell in love with talking to the people who made and enjoyed her recipes. She believes that world becomes a better place as more people cook at home.
The Blog: Cooking outside is not just for summer, this series Kitchen Unnecessary shows you the magic of cooking seasonal ingredients over the fire all year long. Rain or shine (or even snow), Ashley Rodriguez and her guests will show you how to embrace cooking outdoors with the wild foods they find. Their passion is to get outside as often as they can; to grasp a sense of awe as they surround themselves with towering trees, vast oceans, massive mountains, and a world of wild foods; then come together around the fire, cook an extraordinary meal, and share it with others.
The Bloggers: Kitchen Unnecessary is a small but mighty team of hungry adventurers. The show is hosted by Ashley Rodriguez, directed by Chris Baron, produced by Julie Hubert with photography and design by Gabriel Rodriguez. Collectively they have worked on Emmy and Oscar nominated shows and documentaries, written and photographed two cookbooks, created an award-winning blog, cooked in world renowned restaurants, taught workshops around the country and cooked many meals over the fire in order to live out our ultimate passion; bringing people together.
The Blog: Food Talkies (talkie: talking motion picture) is a collection of films that range from heartwarming food stories to the dazzling culinary arts. Created by filmmaker and food fanatic Andrew Gooi, Food Talkies is about capturing food stories—not only so that they are enjoyed by viewers, but so that these stories can be preserved on film.
The Blogger: Videographer Andrew Gooi is a Malaysian-born, U.S.-based filmmaker, and the creator of Food Talkies. He was first inspired to begin documenting food stories by his grandmother, who makes his absolute favorite dish. His story was the catalyst for him to begin capturing not only the dishes, but the stories of the people behind them. He believes that many people have a food story, be it a memorable flavor profile from childhood or an introduction to a dish that would forever change their lives. Through these films, Gooi hopes to honor the food pioneers, chefs, artists, family, and friends.