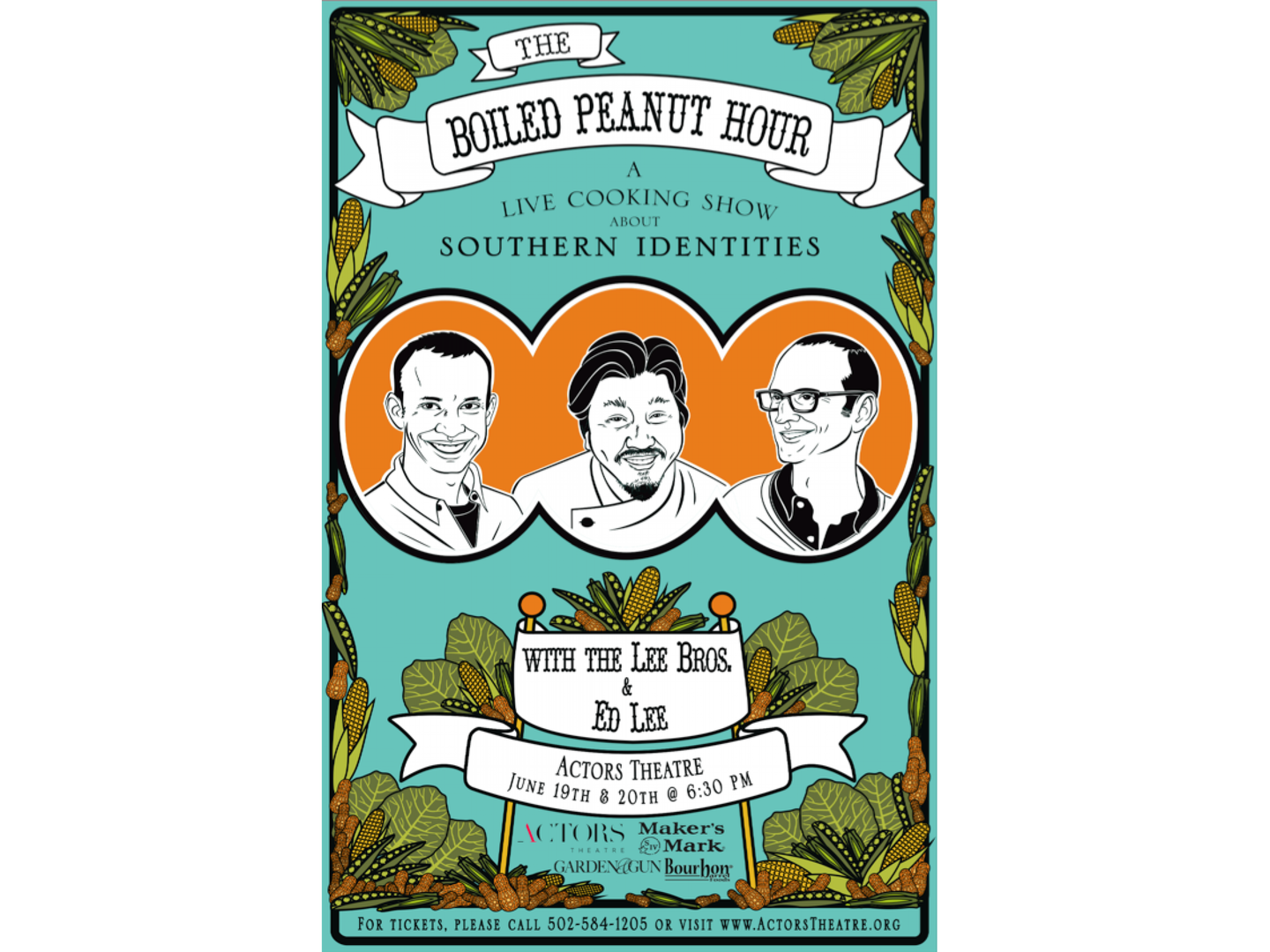 Culture
The Boiled Peanut Hour Live with Matt, Ted, and Ed Lee
One chef and two writers on Southern food, their new live cooking show, and pissing off grandmothers
Louisville chef Ed Lee and cookbook writers (and brothers) Ted and Matt Lee have joined forces to present The Boiled Peanut Hour: A Live Cooking Show About Southern Identities. Set in the Actors Theatre of Louisville, this live cooking show features Matt, Ted, and Ed cooking their favorite Southern dishes while exchanging some personal stories and strongly held beliefs about Southern identities. In typical Southern fashion, there will also be bourbon tastings throughout the show. We got the chance to talk with the three Lees about what it means to be from the South, how their Southern identities influence their cooking, and why they enjoy pissing off grandmothers.
How do you describe southern food to other people?
Matt: That's a big one…that's like asking "how do you describe European food?" Southern food is different from region to region. What grows well in coastal South Carolina is different from what thrives in the mountains of South Carolina. New Orleans is worlds apart from Richmond. What Southern regional cuisines seem to share—from Louisville to Jacksonville to Richmond to Charleston—is a "spirited resourcefulness," a desire to get the most from the ingredients you've got, to take every opportunity you have to enhance flavor and add dimension without giving a fig for what the neighbors might think.
Southern food has always been a fusion of different ingredients and styles of cooking, and a melting pot of different cultures and ideas. There's no one right way to make something. In looking back at old Southern cookbooks and recipes, we found about 10 different ways to make a biscuit, all slight variations on a Southern classic within the same cookbook.
What changes in southern food are you seeing right now that are exciting?
Ted: There's never been a better time to be eating and cooking Southern food because its very definition is being challenged by chefs like Ed, and chefs like Alon Shaya who at Shaya in New Orleans is cooking modern Israeli cuisine with hyper-local, meticulously sourced Southern ingredients. Is it Southern? Yes! Ditto Michael Gullotta, a mid-city New Orleans born-and-bred chef who opened a restaurant, MoPho, serving a mash-up of Vietnamese and Creole—again sourcing ingredients diligently, from local farms (and specifically from the network of Vietnamese small-farmers in New Orleans East). Is it Southern? Yes! The question "What IS Southern food?" is very much top-of-mind—and not just for food nerds like us. The answer is: it's EVERYTHING! And it always has been.
The notion that contemporary Southern chefs are somehow "messing" with "authentic" Southern food is a critique that could have been leveled at home cooks in Southern history at any time in the last five hundred years. What we find so heartening and hopeful is that what's been happening in the last 5 years in the study and appreciation of Southern foodways is triumphantly counterintuitive: the more that chefs and home cooks, farmers and writers are expanding the definition of what Southern food is in 2015, the more knowledge we seem to be gleaning about what traditional Southern food was, about our own past. Look at the work that David Shields and Robert Moss are doing documenting the history of Southern food. That kind of deep, rich study of Southern food history has never been undertaken before, and I think it's not coincidental that it happens at a time when the influences on Southern food have never been more expansive.
How is your Southern identity communicated into the foods you are making?
Ed: I've always felt like the narrative of Southern food has always embraced influences from the Far East, from coconuts to curry. When I first started out, a lot of people were like, "Who's this guy and why's he cooking Southern food?" But it all goes back to the idea that Southern food can be a fusion of many cultures and culinary backgrounds. As I continue to define my cuisine through a lens that is rooted in Asian food but informed by Southern traditions and ingredients, I continue to find intersections between the two that not only make sense to me culturally, but also taste delicious.
Ted: We don't have a typical Southern grandma that raised us on her home cooking. A lot of the influence in our cooking comes from the adventures we had as kids. We would go fishing with our friends, and we learned how to catch all of these exotic animals. We want that exotic "wow factor" to be reflected in the dishes that we are making. We want people to see that childlike amusement and fascination with beautiful natural things in the foods we create. A lot of people think that you have to have family recipes and to be raised by a Southern grandma to know good Southern cooking, but that's not necessarily true. Our job is to piss off a lot of grandmas!
What do you hope for viewers to take away from "The Boiled Peanut Hour"?
Matt: A live cooking show is different from watching a cooking show on TV because you get to experience the sounds and the smells of cooking and to interact with the hosts. There's a certain element of spontaneity, and things are inevitably going to happen that are unexpected. We're doing two different shows and we can guarantee that what happens one night won't happen the other night. We want it all to be very candid and we want our viewers to see the process of cooking Southern food up close and personal.
Ready to head to Louisville? Learn more about The Boiled Peanut Hour here.