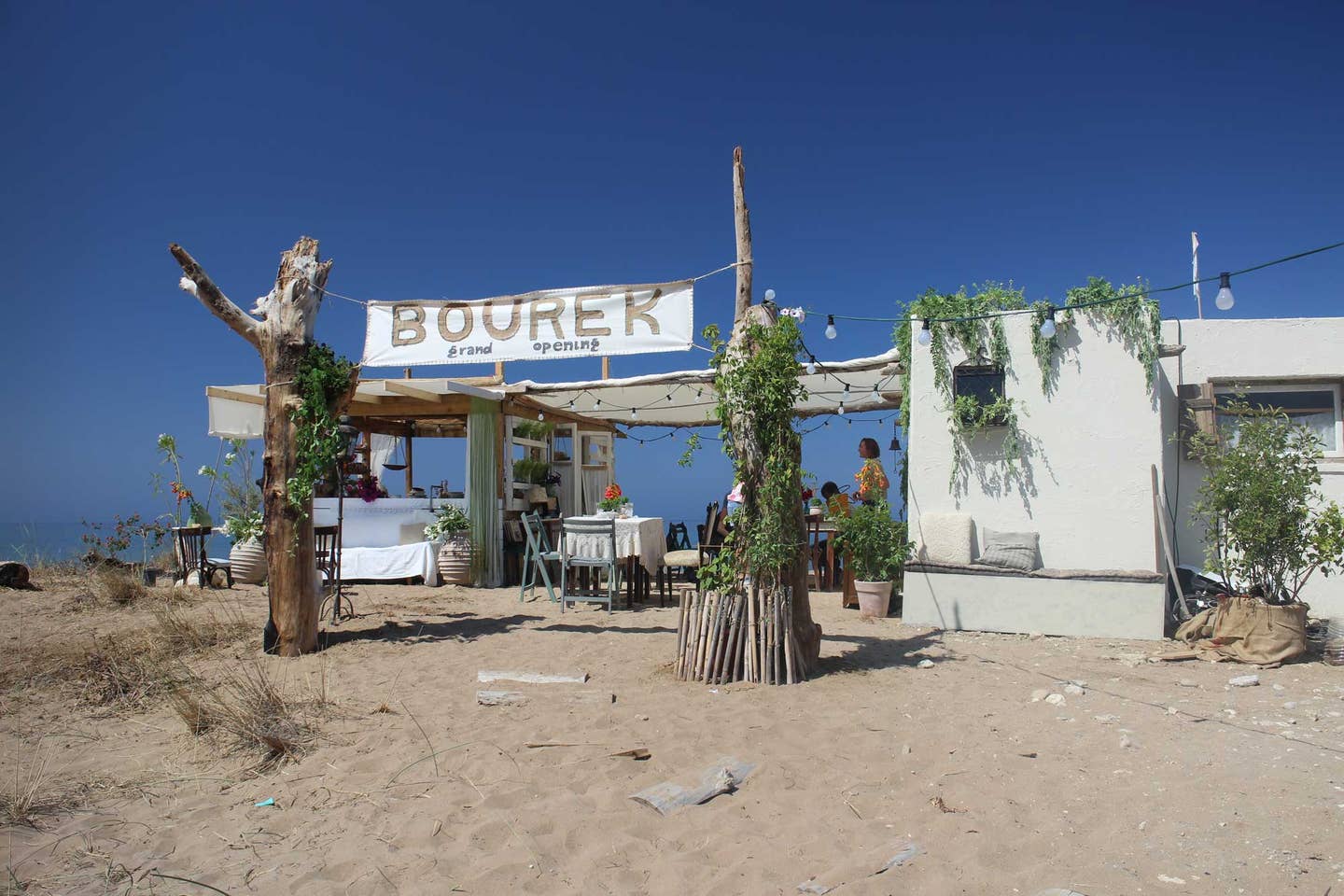 Culture
A New Film About Boureks Shows How We're All Connected Under Baked Sheets of Dough
Vladan Nikolic, writer and director of Bourek, talks with us about the pastry that goes beyond borders
When director and writer Vladan Nikolic describes the film Bourek, which was released in Europe last year but just debuted in America a couple months ago, he calls it "a comedy about the end of the world and many other things." One of these "other things" is Greek food. Set against blindingly beautiful Greek beaches, the movie centers on a diverse cast that lives in a hotel with a tiny Greek taverna. A flaky pastry called bourek, ubiquitous in the Mediterranean but with slight alterations based on the country, parallels the film's characters, who bond over food despite their diverse backgrounds. I sat down with Nikolic to ask him what it was like to work on a movie based around food in one of the world's great food destinations.
The film, Bourek, is literally about the food called bourek. How did that become the core of this story? Originally I'm from the former Yugoslavia, and bourek with yogurt is a common breakfast. It's a very familiar food for me. In Yugoslavia in the '90s, there was the breakup of the country, and at some point it hit me that traveling through that region, especially Greece and Turkey, all of these countries have historically had animosity or conflicts, but they all have this similar food. They all have bourek. Then I was talking to some friends from Israel and they have bourekas, and the north Africans have another version of bourek, and I thought this is just such a great metaphor for something that you share, and how food brings people together. It's also this ritual of sitting down to eat. Bourek is baked, and there's something special about the bakery.
How does a bourek vary from place to place? Every place has its own version. It's essentially dough with either cheese or meat. Over time I've seen that you can pretty much do it with anything with it. The filling can be almost anything, but the difference is how it's made. For example, in Turkey they have a very different way of cutting it, and the cheese is different. I think it spread because of the Ottoman Turks, they were all around these areas. They are gone, but the food is still there. But then it's really interesting how each different culture has changed it slightly to fit their own tastes. You think you know a food but then you go to a different place and it has a different flavor.
There's a turning point in the film where one of the characters makes their version of bourek, and it does bring everyone together. You have the main character, the Greek, Eleni, and she has this house and what used to be the oven in her grandparents' bakery, so it's kind of something that is retreating more in the background. It symbolizes these traditional things that we have carried over generations. The idea was that by introducing this other character who is a smuggler now but used to be a baker, it shows how certain things have become impersonal, and I think you can see this also in the food we eat, how we eat, how we consume. When I was growing up, there was no way we would eat a frozen dinner or something like that, but it was a very different time. You could spend two hours cooking. The idea here with the baker coming in and then rediscovering what he used to do, and also putting the oven back in use—it's uniting the characters, it's this idea of bringing people together through food.
How do you think the characters' perspectives change in the film by what they learn about each other? They were fighting to preserve the food [at the restaurant], but I think it was the rediscovery of something authentic and local that all of the characters appreciated. It's kind of the way these characters warmed up to each other in the end, the way they all worked together, which was really the food bringing them together. So even if they didn't consciously realize that on the way to getting there, in the end, it's really the thing that has connected them.
Bourek will premiere in Los Angeles tomorrow, June 17th, at Laemle Music Hall.