Recipes
Braised Bass and Clams in White Wine and Cream
Serves

serves 4

Cook

1 hour 10 minutes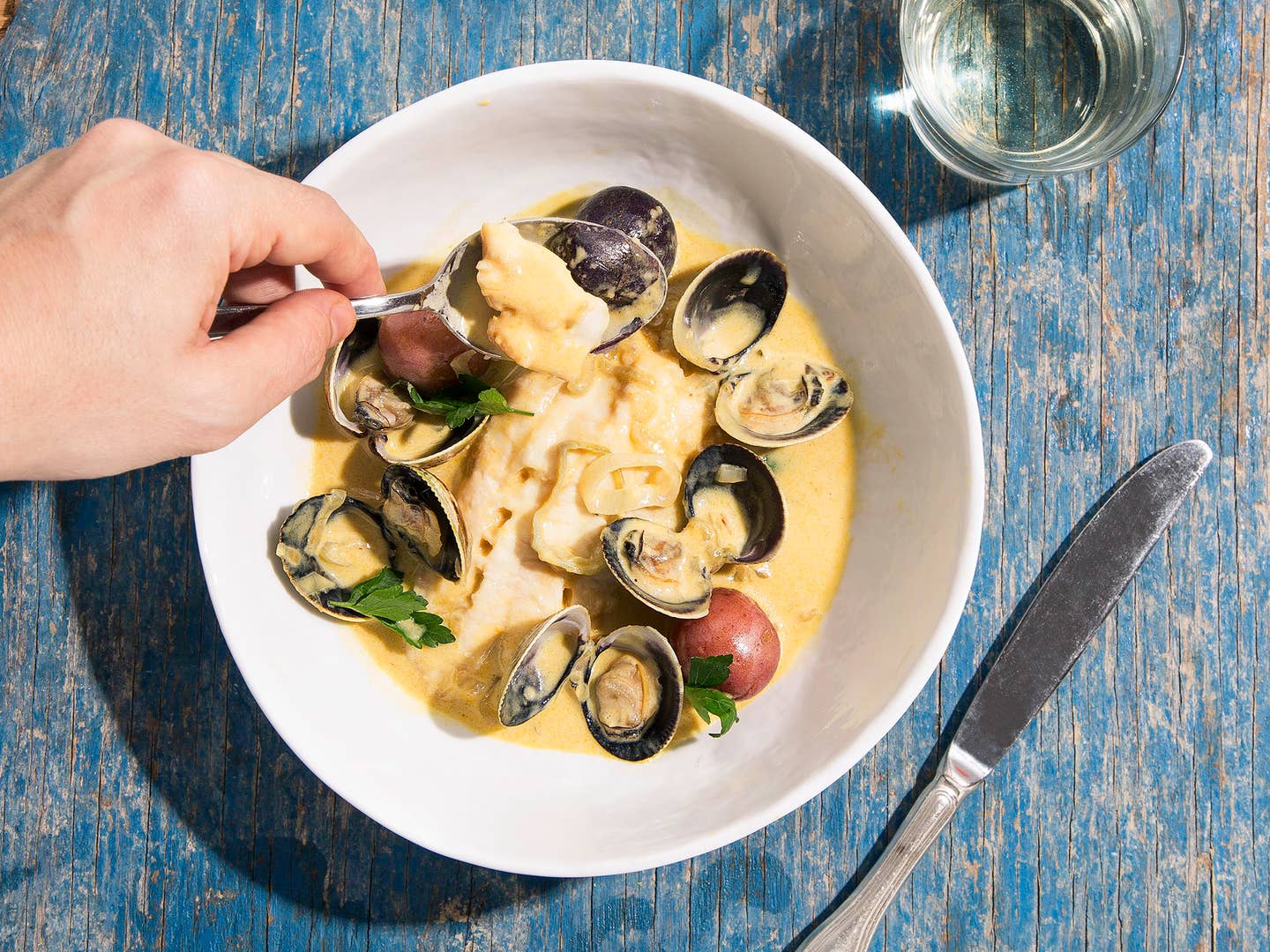 This classic Portuguese dish of bass and clams cooked in a fragrant broth and finished with a rich glug of cream is adapted from Cimas in Estoril, which has been serving fresh fish to clientele since the '50s, when the establishment was owned by a Scottish spy.
Ingredients
2 tbsp. olive oil
4 shallots, thinly sliced
1 bay leaf
1 garlic clove, minced
1⁄4 cup white wine
4 6- to 8-oz. skinless stone or black bass fillets
1⁄4 cup all-purpose flour
4 cups fish stock
1 lb. littleneck clams, cleaned
1⁄2 cup heavy cream
1 tbsp. flat-leaf parsley leaves
Boiled new potatoes, for serving
Instructions
Step 1
In a large saucepan, warm the olive oil over medium heat. Add the shallots, bay leaf, and garlic and cook, stirring, until soft, about 5 minutes. Stir in the wine and cook until it evaporates, about 2 minutes. Lightly dust the bass fillets with the flour in a bowl, then add the fillets to the pan in a single layer and pour over the fish stock. Bring the stock to a boil, then reduce the heat to maintain a simmer and cook until the fish is tender, about 4 minutes. Using a slotted spoon, transfer the fillets to 4 serving plates, then add the clams to the pan. Cover the pan and cook the clams until they all open, 3 to 4 minutes.
Step 2
Using a slotted spoon, remove the clams from the pan and divide them among the plates. Bring the sauce to a boil and cook, stirring occasionally, until reduced and thickened, about 18 minutes. Stir in the cream and remove the pan from the heat. Spoon the sauce over the fish and clams and garnish with the parsley. Serve warm with new potatoes.