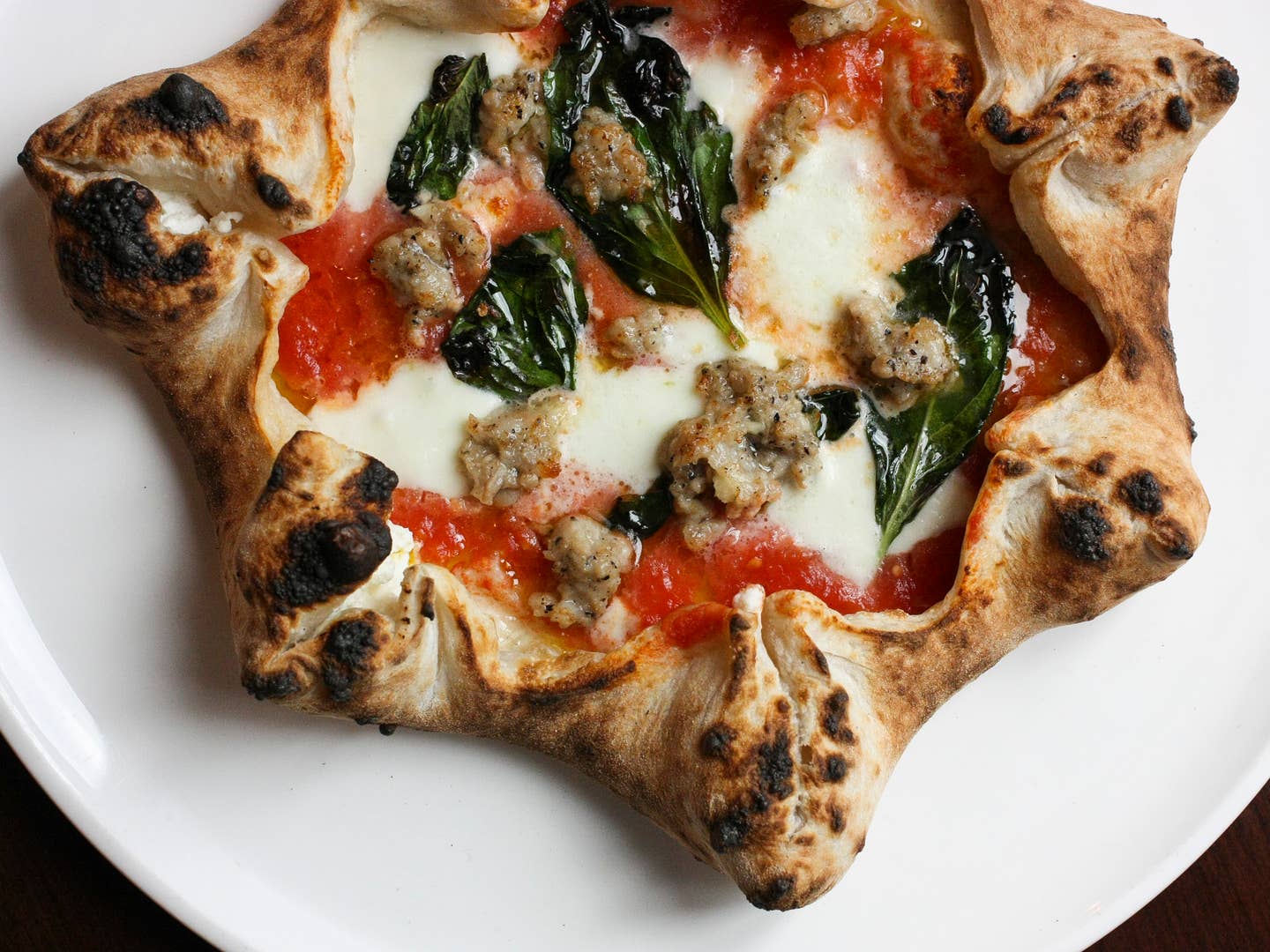 Travel
The Weird Pizza Sculptures of Philadelphia
Pizzaolo Joe Cicala of Brigantessa shows that not all pies are round
In Campania, pizza is dogma. To satisfy the Associazione Verace Pizza Napoletana (AVPN), southern Italy's governing body of fire-blistered crust, dough-stretchers are expected to complete a battery of regulations (PDF) more unforgiving than an Ariana Grande meet-and-greet. From ingredient origins and oven temperature to pie dimensions and herb application ("scatter a pinch of oregano in an orderly manner"), the requirements are stricter than strict if you desire the AVPN's official blessing. And all that's assuming you've already completed the mandatory two weeks of training in Naples, seven-hour days of specialized lecture followed up by a dinner-service stage in one of the City of the Sun's dozens of pizzerias.
So what exactly do AVPN-approved pizzaoli do for kicks, with rules on rules on rules lording over their professional lives? They break all of them. While Neapolitan shops tend to focus on two very minimalist offerings, the cheeseless marinara and the timeless margherita, a subculture of quirky, off-menu and definitely not AVPN-approved pizzas lingers just below the top crust.
While noted nouveau pizza parlors like Paulie Gee's and Pizzeria Bianco take a relatively conservative approach to flaunting the old ways, logging most of their innovation in the toppings department and subtle crust manipulations, a much wilder facet of Italian pizza culture caught the attention of Joe Cicala, a Philadelphia chef who went through AVPN training in support of his South Philly forneria Brigantessa. Proud papa to an imported Gianni Acunto wood-burning oven weighing well over three tons, Cicala prioritized tradition when building his pizza selection. But he also decided there was room to have a little fun with the behemoth apparatus, which heats up to 900 degrees on a nightly basis.
At the bottom of the list, diners can find two examples of non-traditional pies inspired by lighthearted Italian pizzaoli—La Rachetta, a tennis racket-shaped crust topped with sheep's milk ricotta, eggplant, tomato and basil; and La Stella, a buffalo mozz-pork sausage-sauce situation whose shuriken-like crust points are stuffed with additional cheese. Enough to get a rise out of a staunch pizza purist—but they're far from the only options for thrill-seekers.
Though they're not on the menu, Cicala has the capability to make a number of weird pizzas, accessible so long as one can vaguely describe them to a server or bartender. The chef's proper Neapolitan dough—nothing more than Italian double-zero flour, water, yeast, and sea salt—gets warped into a bread vessel of sorts for La Conchiglia, a hollow pizza pita he fills with a mess of steamed clams. For the Tranchetto, he twists a cheese-topped dough round up like a blunt, bakes it and dresses the log with bitter greens and two-year-old prosciutto. For the indecisive, there's the humbly named Il Meravigliao (The Marvel)—a half-folded calzone hybrid that combines the toppings of three different pizzas onto a singular canvas.
Though these unorthodox pizzas deviate violently from the norm, Cicala doesn't skimp on ingredients or attention to detail when it comes to building them. They eat just as nicely as the chef's flatter, rounder stylings, with bonus functionality—when's the last time your pizza doubled as an edible bowl, or was able to satisfy a table of picky, particular eaters without excessive customization?
"There's no limits. You can do whatever you want with it," says Cicala, fondly recalling an evening last fall when he prepared a Vesuvio, a stuffed pizza you literally light on fire before serving, while Pink Floyd: Live at Pompeii played on the bar television. And though a majority of these explorations are inspired by Cicala's Italian studies and travels, he's started to let the stars and bars seep into the creative process—please don't tell the AVPN about this one.
Brigantessa
1520 East Passyunk Avenue, Philadelphia, PA 19147
(267) 318-7341