Brown Rice Salad with Avocado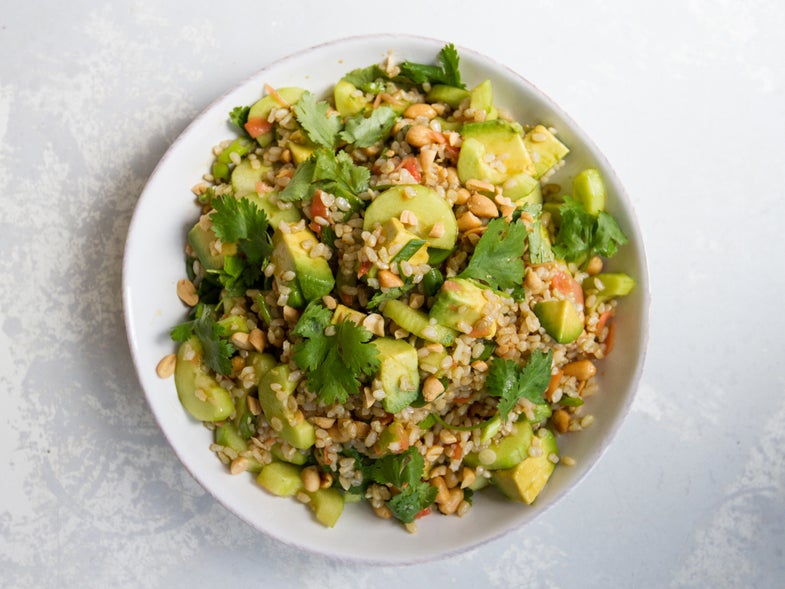 The staff at Huka Lodge in New Zealand used to serve this simple dish for lunch when I worked there as a chef in 2011; I fell in love with it immediately and it's been a regular part of my dinner repertoire since. The combination of crunchy peanuts, creamy avocados, and the sweet bite of ginger make for a dish that's full of complex flavors, yet easy to execute. Serve it on its own or with tofu for a vegetarian meal, or add grilled chicken, fish, or shrimp. —Farideh Sadeghin, test kitchen director
Brown Rice Salad with Avocado
The combination of crunchy peanuts, creamy avocados, and spicy ginger make for a dish full of complex flavors, yet simple to execute.
Time: 35 minutes
Ingredients
1 cup short grain brown rice
Kosher salt, to taste
3 1⁄2 tbsp. dark soy sauce
3 1⁄2 tbsp. mirin
3 1⁄2 tbsp. sake
1 tbsp. sugar
1 cup cilantro leaves and tender stems, plus more for garnish
1⁄2 cup peanuts, toasted and roughly chopped
1⁄4 cup pickled ginger, thinly sliced
4 scallions, thinly sliced
2 avocados, peeled, pitted, and thinly sliced
1 English cucumber, peeled, seeded, halved lengthwise and sliced into 1/4" pieces
Zest and juice of 1 lime
Instructions
Rinse rice in a strainer under cold running water for 30 seconds. Bring 12 cups water to a boil in a large pot with a tight-fitting lid over high heat. Add the rice, stir it once, and boil, uncovered, for 30 minutes. Pour the rice into a strainer over the sink; cool to room temperature. (For more information on making the perfect brown rice, check out our recipe.
Combine soy sauce, mirin, sake, and sugar in a 2-qt saucepan over medium-high; cook until sugar has dissolved, 3-5 minutes. Cool teriyaki sauce slightly.
Combine rice, teriyaki sauce, the cilantro, peanuts, ginger, scallions, avocados, cucumber, and zest and juice in a bowl; transfer to a serving platter and garnish with cilantro.