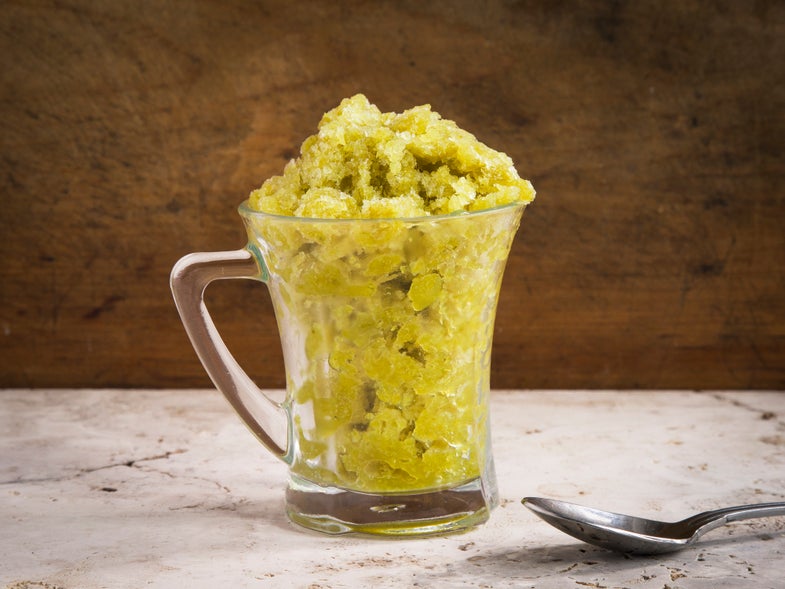 Like okra, cactus leaves have a gelatinous interior that lends a creamy mouthfeel to this lightly spicy, sweet-tart granita. CJ Jacobson, chef at Girasol in Los Angeles, serves it as a complement to a fruity sorbet; it also makes a great palate cleanser between dinner courses. Read more about cactus ice »
What You Will Need
Cactus Ice
This bracingly refreshing granita has a creamy mouthfeel, with light spice from jalapeño and the lip-puckering tang of lime.
Time: 3 hours, 30 minutes
Ingredients
2 lb. fresh nopales, sliced crosswise into 1/4-inch–thick strips
1 cup sugar
Finely grated zest and juice of 3 limes
1 jalapeño, stemmed and thinly sliced
Instructions
In a medium saucepan, combine the nopales with the sugar, jalapeño, lime juice, and 3 cups water. Bring to a boil, and then reduce the heat to maintain a simmer, and cook until the noaples are tender, about 10 minutes. Remove from the heat and let cool to room temperature.
Pour the nopales through a fine sieve into a 9-by-13–inch baking pan and stir in the lime zest. Place in freezer, and using the tines of a fork, stir the mixture every 30 minutes, scraping the edges and breaking up any ice chunks, until the mixture resembles fluffy shaved ice, about 3 hours.
Scoop the cactus ice into chilled glasses, and serve immediately.