Recipes
Calf's Liver, Caramelized Onion, and Tomato Sandwiches (Fegato alla Macellara)
Serves

serves 6

Cook

45 minutes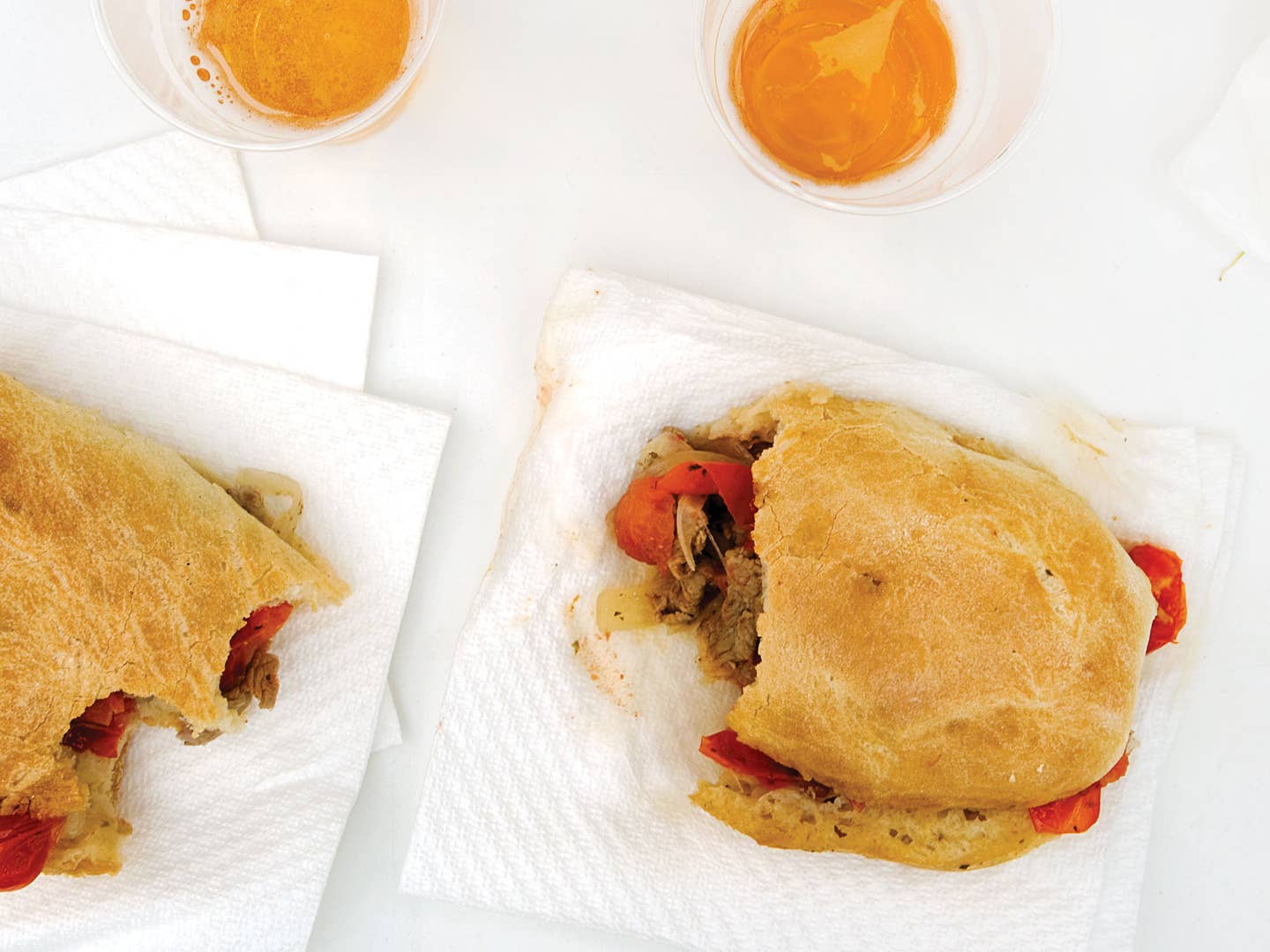 Thin strips of calf's liver are seared until brown and tender, then mixed with sweet caramelized onions and tomatoes and piled on toasted ciabatta rolls. Heating a cast-iron skillet over high for 5 minutes enables you to caramelize the liver strips without overcooking them.
Ingredients
1 1⁄4 lb. cleaned calf's liver, cut into 1-inch–wide, 1/4-inch–thick strips
1⁄4 cup plus 2 tbsp. olive oil
Kosher salt and freshly ground black pepper
4 medium yellow onions, thinly sliced lengthwise
6 oz. cherry tomatoes, halved
2 tsp. finely chopped thyme
6 ciabatta sandwich loaves, split
Instructions
Step 1
Heat a large cast-iron skillet over high for 5 minutes. Place the liver strips on paper towels and pat dry. Pour 1⁄4 cup olive oil into the skillet, then lay half the liver strips in the skillet, season with salt and pepper, and cook, undisturbed, until strips are browned on the bottom and the tops are still lightly pink, about 2 minutes. Transfer the strips to a plate and repeat cooking the remaining liver strips.
Step 2
Return the skillet to medium heat, add the onions, and cook, stirring occasionally, until softened and caramelized, about 20 minutes. Stir in the tomatoes and thyme, season with salt and pepper, and cook until the tomatoes begin to fall apart, about 5 minutes. Scrape the onions and tomatoes onto the liver strips, add the remaining 2 tablespoons olive oil, and toss to combine. Divide the liver and onions among the sandwich loaves and serve immediately.