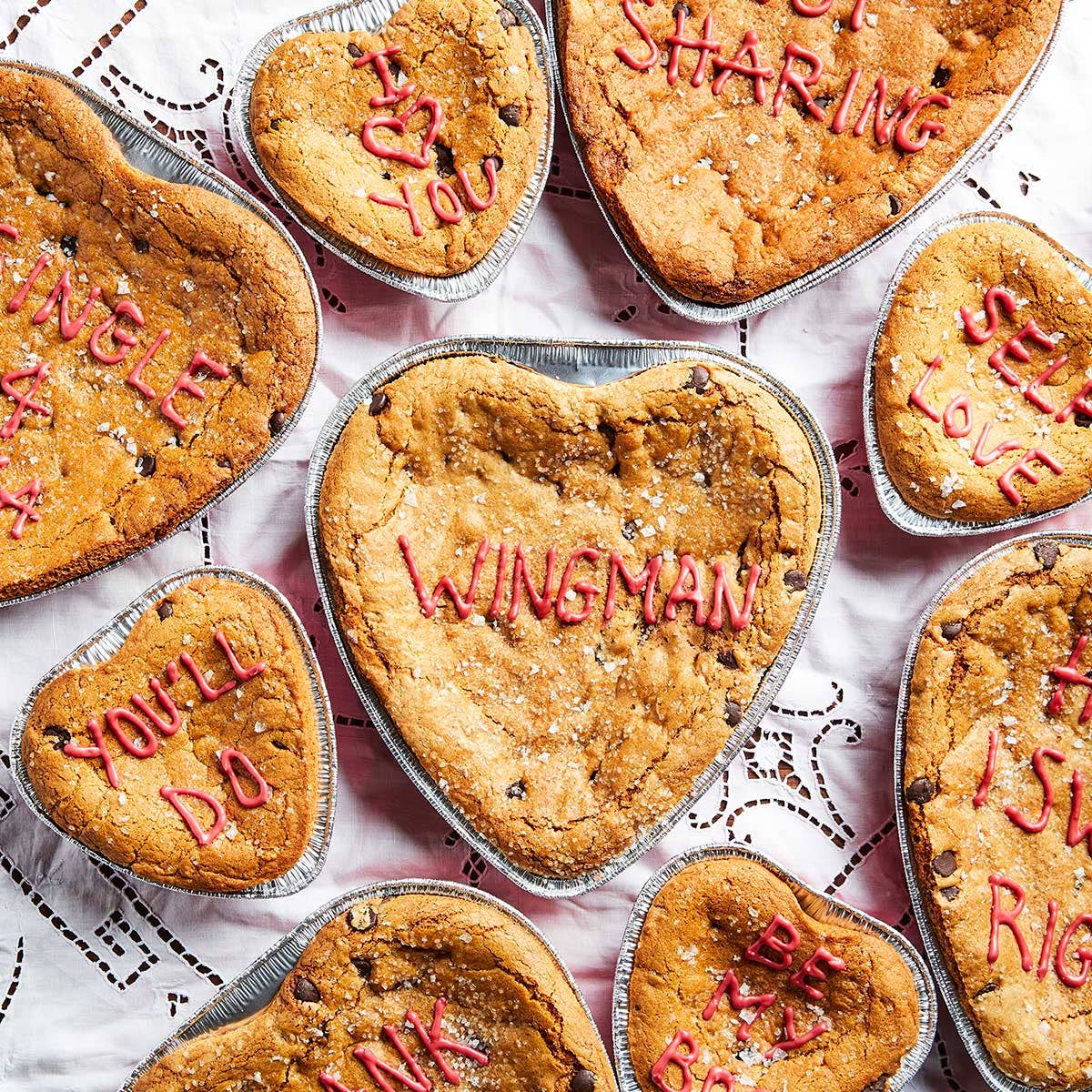 Recipes
Real Romance is Eating This Whole Cookie Cake for Two
Ovenly bakery's recipe for this homemade, caramel-laden, chocolate chunk cookie cake is all you want for Valentine's Day—and anytime
There's a certain kind of romance inherently involved in fine baking: chocolate and caramel that pour in silky ripples, the sweet whisper you hear as you dip a measuring cup into a bowl of sugar, the lusty smells of vanilla as a pastry nears completion in the oven. But when it comes to Valentine's Day baking recipes, all we really want is to be able to put on stretchy pants, watch a favorite movie, and eat the Valentine's dessert we make right out of the baking pan with a spoon. That's a special kind of love.
The bakers at Ovenly, a cool-kid, Brooklyn-based bakery that puts inspired twists on lovable classics, agree that cute and kitschy can be just as fun as fancy when it comes to Valentine's Day gifts. And the greatest gift of all is their recipe for an oversized caramel and chocolate chip cookie cake this year.
"We wanted to do something fun, delicious, and unexpected," said owners Agatha Kaluga. "Our team was joking about putting funny messages on conversation hearts, and someone in the group had the genius idea of creating 'conversation cookies.' Our Valentine's special was born."
Though the team bakes theirs in to-go-friendly aluminum, heart-shaped bake pan for the shop, at home, the cookie cake bakes perfectly into an eight-inch cake pan (heart-shaped if you like), from which it can be served in wedges or eaten straight with a spoon, or individual cupcake liners. What goes inside and out is customizable too, the bakers say: "You can serve it all sorts of ways with all of the sweet things. We like to warm ours up in the oven (200°F for 5 minutes) then serve it with a scoop of vanilla ice cream. If you're a glutton like us, you can also top that ice cream with hot fudge or warm caramel sauce."
The recipe—almost vegan unless you use a caramel sauce with butter in it—has a chewy edge and gooey center. (And the lack of eggs means it's a completely edible cookie dough.) Our preferred add-ins are high-quality bittersweet chocolate bars cut into coarse chunks, and store-bought regular or salted caramel sauce (because making it yourself means one more dirty pan in the kitchen). We could also see toasted walnuts being sensational here in the cookie dough.
It serves up to six, but a brave couple could eat it for two. And of course, we top ours with heaping scoops of ice cream. Because we're all adults here.