SAVEUR's Caribbean Island Guide: The Best Places to Eat, Stay, and Explore
Get a real taste of an endlessly diverse food culture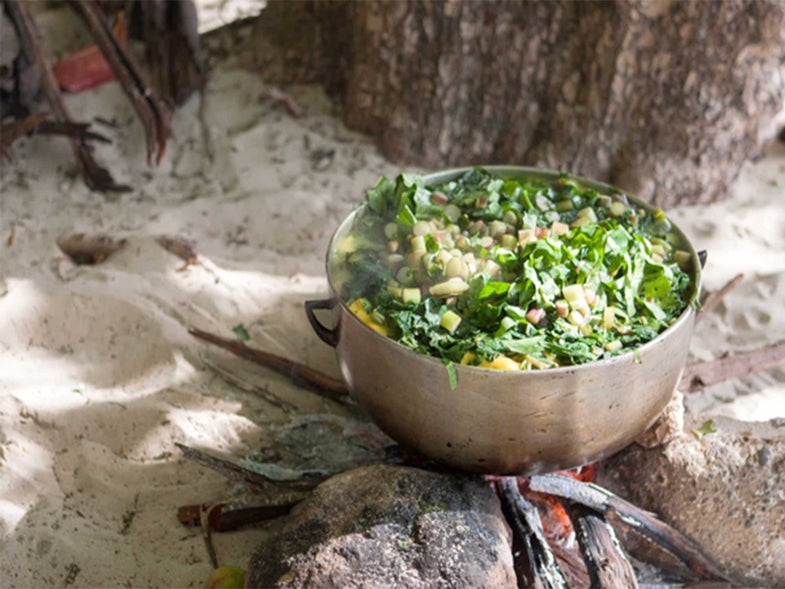 The Caribbean archipelago is made up of almost 30 island nations, which all makes for a vast, complex cultural heritage, and food options as abundant and diverse as the region's pristine beaches. While some of the islands' ingredients and dishes have made their way to foreign shores, food in the Caribbean is a world all its own, with a rich history well worth exploring. You may know about jerk chicken and callaloo, but how about goat water, oil down, and a can't-miss wheel of stuffed cheese called keshi yena? This is a place where regional cooking runs deep.
To help you wade through all those food and travel options, this guide narrows things down to five islands with lush, tropical landscapes, no shortage of excellent regional food, and places to stay beyond the giant resorts.
St. Lucia: Land of Green Figs and Saltfish (and Chocolate)
St. Lucia, with the Petit and Gros Pitons towering 2,500 feet over the town of Soufrière, is one of the Caribbean's most visually stunning islands. And there's an equally stunning culinary culture in the shadows of these Pitons. Eating in St. Lucia starts with the island's number one export: green figs, the St. Lucian parlance for unripe bananas. The pleasantly starchy fruits are boiled with their skins on to extract the nutrients within, then mixed with simmered cod that's then cured, for a rich dish that undeniably tastes of the tropics. The dish was historically made with salt cod from Nova Scotia, but today you'll find it with all kinds of local fish.
The Caribbean climate is optimal for growing cacao, and St. Lucia's abundance of cacao trees has made the island a leader for chocolate-hungry travelers. You can tour plantations, taste local chocolate, and watch the stuff get made truly bean-to-bar or tree-to-bar. And you'll find the ingredient on menus across the island for breakfast, lunch, and dinner.
Where to Eat
Anse La Raye Fish Fry
The fishing village of Anse La Raye in Gros Islet hosts one of the island's most exciting fish fries on Friday nights. What started as a draw for tourists in nearby hotels has grown to a weekly celebration of local fish, food, and music.
Front Street, Anse-La-Raye
Dasheene at Ladera
Take in the sites and flavors of St. Lucia at Dasheene at the Ladera Resort, overlooking the island's Pitons.
Soufrière
(1) 758-459-6600
Coal Pot Restaurant
Just five minutes from downtown Castries, St. Lucia's capital, is this 50-year-old restaurant serving French-Caribbean food.
Vigie
(1) 758-452-5566
Castries Market
Shop the 100-year-old open-air market (closed on Sundays) in St. Lucia's capital town of Castries, where you'll find vendors selling produce, spices, and homemade hot sauces.
John Compton Hwy, Castries City
Where to Stay
Boucon by Hotel Chocolat
Immerse yourself in St. Lucia's long history of cocoa (and eat plenty of chocolate) and the rare cacao grown there at the island's Boucon Hotel, set high in the rain forest on Rabot Estate, St. Lucia's oldest cocoa plantation.
Hotel Chocolat Estates Ltd., Jalousle
(1) 800-757-7132
Anse Chastanet
Take in the view of both Pitons on St. Lucia's 600-acre beach-front hotel.
(1) 800-223-1108
Fond Doux
If you're looking for a bit of history, and the chance to cook with the island's produce, stay at this historic 19th century estate. There are two on-site restaurants (Cocoa Pod and Jardin Cacao), but all of the one- and two-bedroom cottages at this 250-year-old plantation have kitchens, so you can also get the chance to cook with the local produce.
(1) 758-459-7545
Sugar Beach
Enjoy a number of on-site activities at this Viceroy resort, from scuba diving and volleyball to kayaking and windsurfing.
(1) 758-456-8000
Anguilla: Small But Food-Obsessed
Anguilla is one of the Caribbean's smaller island nations, but it boasts over 100 restaurant and bars, making it one of the Caribbean's most dense and exciting food destinations. Because of the island's size (16 miles long by three miles wide), there is limited space to raise livestock. So even more than on some other Caribbean islands, seafood plays an essential role in the local cuisine, from lobster and shrimp to crab and conch, peppered by influences from Spain, France, and nations across Africa, and all served with pigeon peas and rice, considered to be the island's national dish.
The small island also has one of the Caribbean's biggest barbecue cultures. Grills are commonly set up for the weekends, but you will find a few mainstay places serving chicken and ribs in Blowing Point, The Valley, and Long Bay.
Where to Eat
Sandy Island
Some of the best grilled lobster in the Caribbean is at the restaurant on Sandy Island, located five minutes off the north coast of Anguilla.
Bankie Banx's Dune Preserve
Open for lunch six days a week (closed Mondays) from 12 p.m. to 5 p.m., reggae artist Bankie Banx's Dune Preserve is also Anguilla's go-to music venue, with shows starting nightly (excluding Mondays) at 9.
Rendezvous Bay, The Valley
(1) 264-729-1328
Smokey's at the Cove
Caribbean barbecue on the beautiful white sand beaches of Cove Bay. Smokey's is open seven days a week from 11:30 a.m. to 9 p.m.
Cove Bay, West End Village AI-2640
(1) 264-497-6582
Straw Hat
Open for breakfast, lunch, and dinner, this Meads Bay restaurant has been serving Anguilla and the community (supporting local fisherman for the lobster, crayfish, and seafood-heavy menu) for 20 years.
West End Village, in the Frangipani Beach Resort, Meads Bay
(1) 264-497-8300
De Cuisine
A husband-and-wife-owned small, intimate restaurant with an ever-changing menu that reflects the island's bounty of local ingredients.
South Hill Plaza, Lower South Hill
(1) 264-584-3431
Elvis' Beach Bar
Seafood-influenced pub fare with a Mexican lean on Sandy Ground, which separates Road Salt Pond with the Caribbean.
Sandy Ground
(1) 264-476-0101
Hungry's Good Food
Alphonso Hodge and Irad Gumbs started a catering company in 2003. Since then, Hungry's Good Food, known for their seafood, soups, and quesadillas, has grown into a food truck, a brick-and-mortar restaurant, and a fish depot.
The Valley
(1) 264-497-5827
Where to Stay
Las EsQuinas
Little Harbor's little bed and breakfast on 8,000 square feet of a secluded peninsula.
Little Harbour, Anguilla BWI, AI-2640
Harbor Lights
Seek out one of the four rooms at this family-owned inn, located in Island Harbor, for a budget stay on Anguilla. Rooms range from $80 to $130 per night.
(1) 264-497-4435
Lloyd's Bed and Breakfast
This 55-year-old, 11-room bed and breakfast is a break from the island's monolithic resorts. Prices range from $99 to $145.
The Valley
(1) 264-497-2351
Montserrat: The Caribbean's Emerald Isle
Montserrat is known as the Emerald Isle of the Caribbean. This is partly due to the striking resemblance between the coasts of Montserrat and Ireland, but it's also a reflection of Montserrat's rich Irish heritage. The comparison is most notable, from a food perspective, once you get a taste of the national dish: goat water, a type of goat stew—seasoned with black pepper, garlic, and thyme (common in Caribbean cooking)—which is believed to be a riff on Irish stew (using goat meat in place of mutton) descended from the island's Irish settlers.
There are plenty of ways to spend your time beyond eating excellent goat. For such a small island, Montserrat has a surprising number of restaurants, and they are bustling during breakfast and lunch hours. With a population of only roughly 5,000 people, some of the restaurants are open for dinner by request only. But, when these requests are granted, you get some of the freshest food in the Caribbean, with some Irish-leaning dishes like baked fish, souse, and mutton. Montserrat is the only nation outside of Ireland to officially recognize St. Patrick's Day, and Montserratians do so with a week-long celebration. The island's passport stamp is shamrock-shaped.
You'll find most of Montserrat's activity, and 5,000 residents, on the northern half of the island. In 1995, Montserrat's Soufrière Hills volcano (which had been dormant for 300 years), in the southern capital city of Plymouth, erupted and buried the city in lava and ash. Since then, two thirds of the island has been termed an exclusion zone, with occasional visits only permitted by the local police force.
Where to Eat
Hilltop Coffee House
Pies, pastries, quiche, and fresh local juices (guava and soursop) located at the start of Montserrat's Oriole Trail.
Fogarthy Hill
(1) 664-496-8765
Anfa Restaurant
The comfort of Cantonese classics (the Caribbean is also home to Chinese culinary influences) like sweet and sour pork, cashew chicken, and fried rice on a Caribbean island. Most of Anfa's business is takeout, but there is a small bar and handful of chairs to dine in.
Saint John
(1) 664-491-2200
Ziggy's Restaurant
A fusion of English and Caribbean fare such as jerk pork, chicken roti, and butterfly shrimp at this Montserratian favorite Woodlands restaurant.
Mahogany Lane, Woodlands
(1) 664-491-8282
Where to Stay
Old Sugar Mill
Rooms at this restored 17th century sugar mill range from $55 to $150 per night.
(1) 664-496-2080
Tradewinds Real Estate
Connemara
Gingerbread Hill
(1) 664-491 5812
Miles Away Resort
Located along the Nance River, rooms, suites, and villas are all available for rent starting at $69 per night.
Mayfield Estate Dr, Olveston
(1) 664-496-7362
Aruba: The International Island
Aruba draws 1.5 million visitors a year for its unique geography and culture. It's one of the six islands that make up the Dutch Caribbean, and its food is more global than almost anywhere in the region, from Brazilian steakhouses to Italian restaurants that toss pasta in Parmesan cheese wheels.
But the island's local food traditions run deep, and the best place to start is with the national dish: keshi yena. It is traditionally made in a hollowed out Edam or Gouda cheese rind, stuffed with spiced meat, and baked or steamed. The Dutch influence is found in a number of other dishes common on Aruba, like pea soup, Dutch pancakes, and poffertjes (small sweet pancakes made with buckwheat flour).
Where to Eat
Madame Janette One of Aruba's great restaurants showcasing the island's international influences. Find locally-grown and sourced ingredients in lobster ravioli, sweet and sour shrimp with sesame seeds, takes on schnitzel, and steaks with classic French sauces. Cunucu Abao 37, Noord
(1) 297-587-0184
Papiamento
Named after the most widely-spoken language in the Dutch Caribbean, this 33-year-old Aruban restaurant serves a mix of classic Aruban dishes and heavily-spiced bouillabaisse with locally caught fish.
Washington 61, Noord
(1) 297-586-4544
The Old Cunucu House
The menu here celebrates the colonial influences of Dutch, Spanish, English, and French influences found throughout Aruba. In addition to keshi yena, find Caribbean classics like stewed conch and coconut fried shrimp on the menu with rack of lamb and escargot.
Palm Beach 150, Noord
(1) 297-586-1666
The Dutch Pancake House and Linda's
Two of the favorite places for Dutch pancakes on the island.
The Dutch Pancake House
Renaissance Marketplace, LG Smith Boulevard 9, Oranjestad
(1) 297-583-7180
Linda's
Palm Beach, 3 6-D, Noord
(1) 297-586-3378
Where to Stay
Sunset Beach Studios
Rooms start at $100 (depending on the season) at this small estate located just steps from the Caribbean Sea and Eagle Beach on the north side of Aruba. L.G. Smith Boulevard 486, Malmok
297-586-3940
Sea Breeze Apartments
Choose from ten studios/apartments.
Malohistraat 5, Pos Chiquito
(1) 297-585-7140
Karibu Aruba
It's hard to find budget-friendly rentals on the coast in Aruba. The island is small, so beachfront property fetches a particularly pretty penny. But Karibu Aruba has three rental apartments just across the main road from Eagle Beach.
Salinja Cerca 25M
(1) 297-746-0397
Grenada: Sweet and Spicy
Grenada, often referred to as Spice Island, is known for its production of spices, predominantly nutmeg and mace. Those spices play a vital role in some of the island's food, from savory dishes to sweet jams and syrups. There's even a Nutmeg Spice Festival devoted to the island's harvest.
But the island's national dish is something different altogether: oil down, the Caribbean version of chicken and dumplings. It's a one-pot callback to the island's French colonial past, with the Cajun/Creole trinity of onions, bell pepper, and celery mixed with local salted meat (usually fish or pork) along with chicken, doughy dumplings, and coconut milk. The stew gets its name from that coconut milk, namely the oil that cooks out of the milk as the pot simmers down, which it does for the better part of a day.
Where to Eat
Rhodes Restaurant
The Rhodes Restaurant, part of the Calabash Hotel and located amidst its villas, caters to the island's largely British tourists. But chef Gary Rhodes makes it a point to introduce guests to the local flavors of Grenada with a shrimp and callaloo tart, pepper pot (a heavily-spiced, salted-meat and vegetable stew and the national dish of Antigua), and local fish of the day preparations.
Calabash Boutique Hotel & Spa, Beach Lane, St. Georges
(1) 473-444-4334
Patrick's Local Homestyle Cooking
You'll find oil down here but, because of the dish's long cook time, it's only available by request. Patrick's offers an array of classic Caribbean dishes from cou-cou (a mixture of cornmeal and okra) and callaloo to Creole fish and fried plantains.
Lagoon Rd, St George's
(1) 473-440-0364
Belmont Estate
Dinner here is at the 17th century plantation and agro-tourism estate's 250-seat restaurant.
Belmont, St Patrick
(1) 473-442-9524
Where to Stay
Bougainvillea Apartments
Located just off the Grand Anse main road, these apartments are a quick ride from the airport and close to the beach and start at $64 per night. St. George's
(1) 473-444-4930
Candle Glow Apartments
Candle Glow's studio suites are located in Grand Anse, a short drive to the coast and the island's popular Grand Anse Bay beach.
St. George's
(1) 473-439-4916
True Blue Bay
50 rooms overlooking the waters of Grenada's True Blue Bay on the southern coast, with onsite activities that include cooking classes and rum-tasting.
Old Mill Road, True Blue Bay, Saint George's
473-443-8783