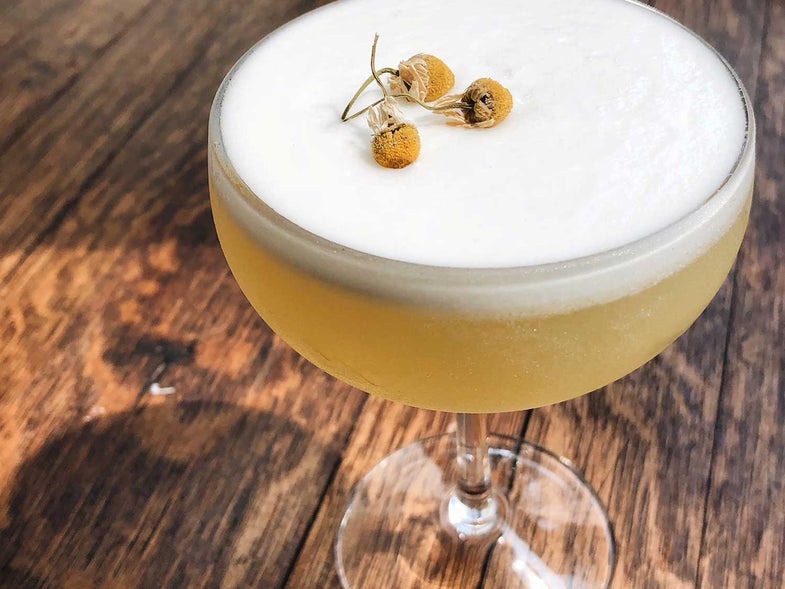 Renowned for their soothing properties, chamomile flowers have been used in tinctures and teas throughout Europe for centuries. When we found ourselves with a surplus after testing the chamomile gelato recipe in "This Garden-Driven Cook is Shaking Things Up In Southern Italy", we sought out new ways to utilize their comforting flavor. When infused in grappa, the high-ABV Italian spirit, chamomile's gentle aromatics are great for a shaken sour with a fluffy egg white foam, or used as a replacement for gin, mixed with tonic.
What You Will Need
Chamomile Grappa Sour
Mixed with a honey syrup, a chamomile-infused spirit gives this otherwise tart and lemony cocktail sweetness and balance. For this traditional sour, or any drink with egg whites, an initial "dry shake" before the ice is added helps create a smooth, even foam.
Ingredients
1 tsp. wildflower honey
2 oz. Chamomile-Infused Grappa
1 oz. fresh lemon juice
1 egg white
Dried chamomile flowers, for garnish
Instructions
Prepare the honey syrup: In a small glass or bowl, add the honey to ½ oz. lukewarm water and stir to dissolve.
In a cocktail shaker, combine the grappa, lemon juice, honey mixture, and egg white, and shake vigorously for 10 seconds. Add ice to the shaker and shake vigorously until the outside feels cold, 10–15 seconds more.
Pour through a Hawthorne strainer and a fine mesh sieve into a chilled coupe glass. Garnish with dried chamomile flowers.