Recipes
Charred Carrots With Lovage Sauce and Hazelnuts
Serves

serves 4-6 People

Cook

1 hour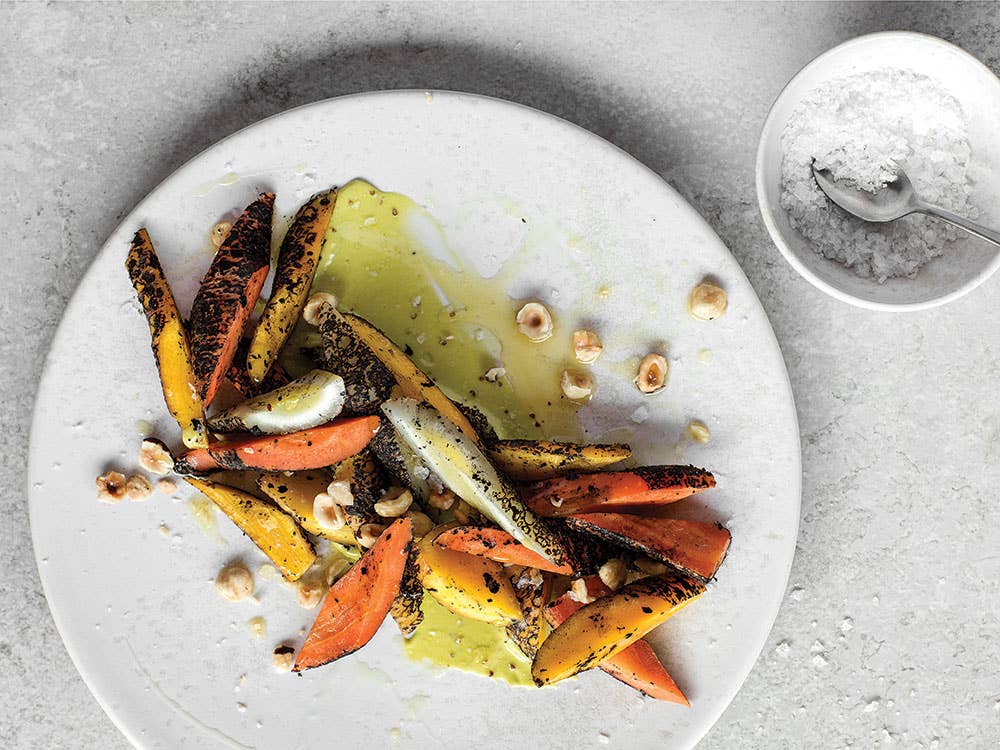 "Because we have so few months a year where plants grow above­ground, root vegetables are largely the base of Danish cuisine," says Copenhagen chef Niclas Grønhøj Møller, who relies on locally grown produce at his Copenhagen restaurant Spisehuset. "Danes are used to smoky flavors from eating so much smoked fish," he says, which is why he chars these carrots over the grill for a lightly smoky flavor before pairing them with a bittersweet lovage sauce. Lovage, a shiny, leafy plant that tastes strongly of celery, grows wild in Denmark, as do hazelnuts. You can use leftover lovage stems for making stocks or adding flavor to boiled potatoes, or simply substitute cilantro leaves if you can't find fresh lovage.
Saveur's resident Scandiphile eats and drinks his way through Copenhagen in search of cultural transformation
Ingredients
For the nuts and sauce:
1⁄3 cup hazelnuts
1 packed cup lovage leaves (about ¾ oz.), or substitute cilantro
3⁄4 cup grapeseed or canola oil
1 large egg yolk
1 tsp. apple cider vinegar
1 tsp. Dijon mustard
1⁄4 tsp. kosher salt
For the carrots:
16 slender carrots (preferably different colors), rinsed, skin on
1 tsp. kosher salt, plus more as needed
1 tbsp. plus 1 tsp. extra-virgin olive oil, plus more for drizzling
1 tbsp. fresh lemon juice
Flaky sea salt, for garnish
Instructions
Step 1
Toast the hazelnuts: Preheat the oven to 350°. Set the nuts on a small baking sheet and bake, shaking the pan once halfway through, until toasted and the skins have loosened slightly, about 15 minutes. Remove and let cool slightly, then rub the nuts to remove most of the skins. Coarsely chop and set aside.
Step 2
Meanwhile, make the lovage sauce: In a blender, add the lovage and oil and blend until very smooth.
Step 3
In a medium bowl, add the egg yolk, vinegar, mustard, and salt and whisk until combined. Slowly add the lovage oil, whisking vigorously while gradually drizzling it into the sauce in a very slow stream, until a consistency a little thinner than a mayonnaise forms. Cover and set aside until ready to use.
Step 4
Prepare the carrots: Bring a large pot of water to a boil, and set a bowl of ice water next to the stove. Add the carrots and a few generous pinches of salt to the boiling water; cook slightly, 3–5 minutes, leaving them still very crunchy. Remove and transfer to the ice water until cool enough to handle. Remove and pat the carrots dry.
Step 5
On a grill or grill pan over medium-high heat, add the carrots and let cook until well charred in places, about 15 minutes on a grill, or 20–25 minutes on a grill pan.
Step 6
Remove the carrots, and once they're cool enough, slice into 3-inch pieces on the diagonal.
Step 7
Transfer the carrots to a large bowl and toss with the olive oil, lemon juice, and 1 teaspoon salt.
Step 8
Smear some of the lovage sauce to taste onto the bottom of a serving platter. Place the carrots on top, then sprinkle with the chopped hazelnuts, sea salt to taste, and a drizzle of olive oil.