Recipes
Chestnut and Goji Berry Rugelach
Serves

makes Makes about 5 dozen

Cook

4 hours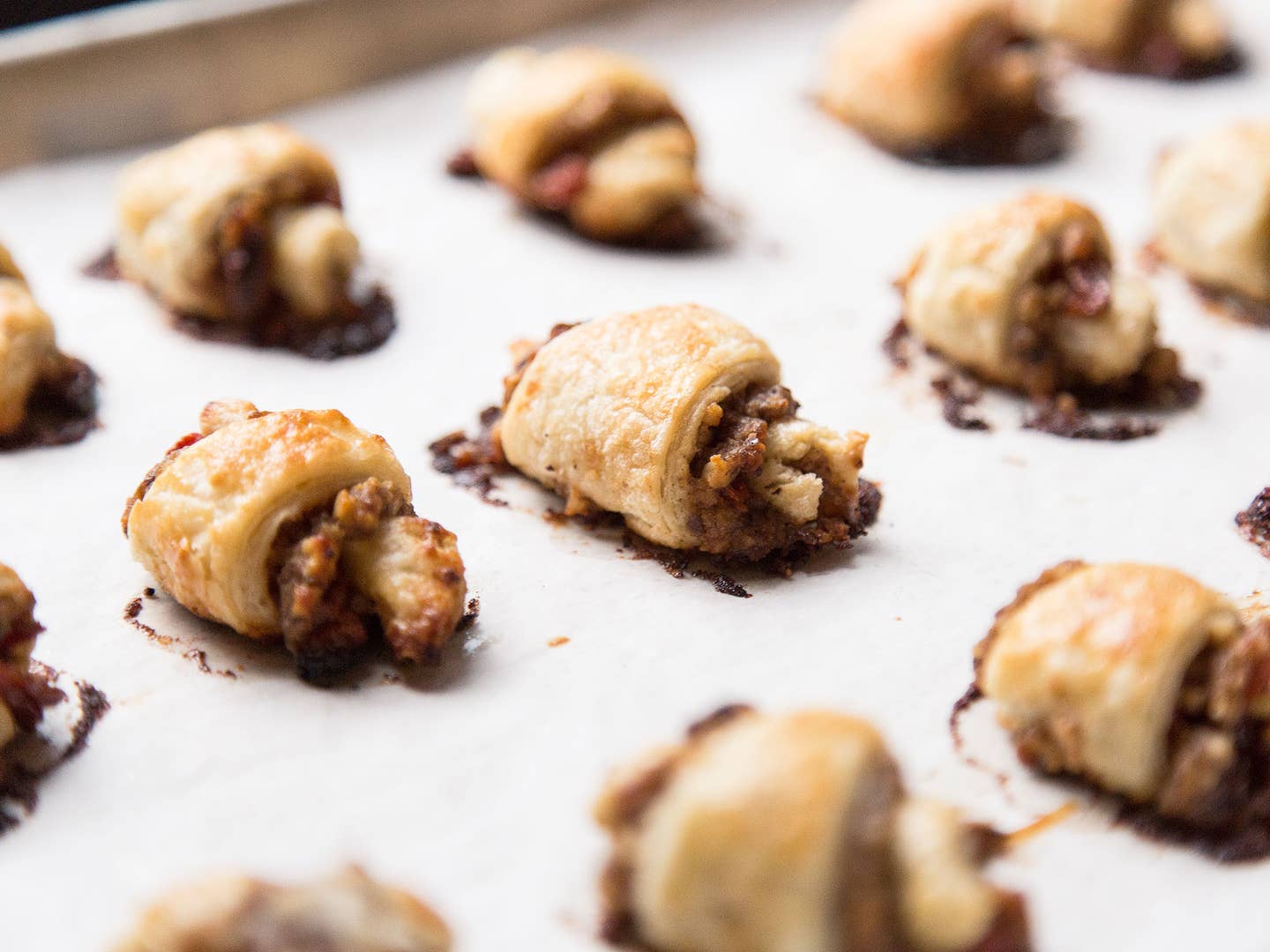 Classic sweet rugelach get a Chinese twist with a filling of chestnuts, goji berries, and Chinese five-spice powder.
Ingredients
2 cups (9 oz.) all-purpose flour
8 oz. chilled cream cheese, cut into 1/2-inch cubes
2 sticks plus 4 Tbsp. chilled unsalted butter, cut into 1/2-inch cubes
1 tsp. kosher salt
1 tsp. vanilla extract
1 large egg plus 1 egg yolk
1 cup goji berries
1⁄4 cup ginger liqueur, such as Domaine de Canton
1 cup vacuum-packed, cooked chestnuts
1 cup whole walnuts
1⁄2 cup honey
1⁄2 tsp. Chinese five-spice powder
Confectioners' sugar, for dusting
Instructions
Step 1
In a food processor, combine the flour with the cream cheese, 2 sticks butter, and 1⁄2 teaspoon salt and pulse until pea-sized crumbs form. Add the vanilla and the egg yolk and pulse until a dough begins to form. Transfer the dough to a clean work surface and knead into a ball. Divide the dough into quarters, flatten each piece into a disk, and wrap in plastic. Refrigerate the dough disks for 2 hours.
Step 2
Meanwhile, in a small saucepan, melt the remaining 4 tablespoons butter then remove from the heat and let cool. In a small bowl, combine the goji berries with the ginger liqueur and 1⁄4 cup boiling water. Let sit for 30 minutes to soften, then drain the goji berries. In a food processor, pulse the chestnuts and walnuts into coarse crumbs. Scrape the nuts into a medium bowl and stir in the remaining 1⁄2 teaspoon salt, the melted butter, and the honey and five-spice powder until the filling is evenly combined.
Step 3
Heat the oven to 350°. On a work surface lightly dusted with confectioners' sugar, roll 1 dough disk into a 10-inch circle, about 1⁄8-inch thick. Spread 1⁄4 of the filling in a thin layer evenly over the entire surface of the dough and sprinkle with 1⁄4 of the goji berries. Using a sharp knife or pizza cutter, cut the dough like a pizza into 16 wedges. Starting from the wide end, roll up each wedge into a crescent shaped cylinder. Repeat with the remaining dough disks, filling, and goji berries.
Step 4
Arrange the rugelach among 4 parchment paper-lined baking sheets, spacing each 1 1⁄2-inches apart and making sure the tip is tucked underneath the cookie, and refrigerate for 20 minutes. In a small bowl, whisk the remaining egg. Brush each rugelach with some of the beaten egg, then bake, 2 baking sheets at a time and rotating from top to bottom and front to back halfway through cooking, until golden brown, 20 to 25 minutes. Transfer the rugelach to a rack and let cool completely.