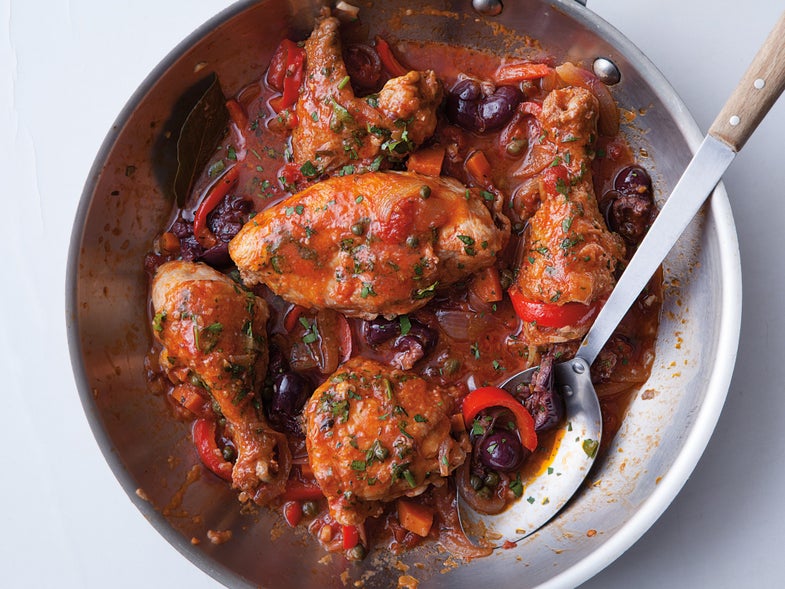 Chicken braised with wine and tomatoes is easy enough to put together on a weeknight (this recipe is ready in an hour), and you can adapt it for a whole chicken or your preferred mix of breasts, thighs, or drumsticks. Do go for bone-in meat for a richer and more flavorful sauce.
Featured in: Make this 1-Hour Italian Chicken Braise for Dinner Tonight
Find this recipe in our cookbook, SAVEUR: Italian Comfort Food
Chicken Cacciatore
With roots in northern Italy, this stew prepared alla cacciatora, or "hunter's wife style," has numerous regional variations based on the concept of braising chicken in tomatoes or wine or both, along with aromatics and vegetables. Here, the tomatoes are spiked with olives and capers to create a delicious, piquant sauce.
Time: 1 hour
Ingredients
1⁄4 cup vegetable oil
1 (3-4 lb.) chicken, cut into 8 pieces
Kosher salt and freshly ground black pepper
1⁄2 cup flour
1 tsp. finely chopped fresh rosemary
2 cloves garlic, finely chopped
1 bay leaf
1 medium carrot, peeled and cut into 1/4-inch pieces
1 medium red bell pepper, stemmed, seeded, and thinly sliced
1 small yellow onion, thinly sliced
2⁄3 cup white wine
1 (28-oz.) can whole peeled tomatoes, crushed by hand
1⁄2 cup Gaeta olives, pitted and lightly smashed
1⁄4 cup capers, drained
1 tbsp. finely chopped fresh flat-leaf parsley
Instructions
Heat oil in a 12-inch skillet over medium-high. Season chicken all over with salt and pepper and dredge in flour. Working in batches, cook chicken until browned, 10 to 12 minutes, and transfer to a plate. Add the rosemary, garlic, bay leaf, carrot, bell pepper, and onion to skillet and cook until golden, 6 to 8 minutes. Add wine and cook, stirring and scraping up browned bits from the bottom of the skillet, until reduced by half, about 3 minutes.
Return chicken to the skillet and add the tomatoes. Bring to a simmer and cook, covered, until the chicken is tender, about 30 minutes. Uncover and stir in olives, capers, and parsley. Transfer chicken to a serving platter and serve with the sauce spooned over the top.