Recipes
Chilled Asparagus Soup with Herbed Shrimp
Serves

serves 8

Cook

1 hour 40 minutes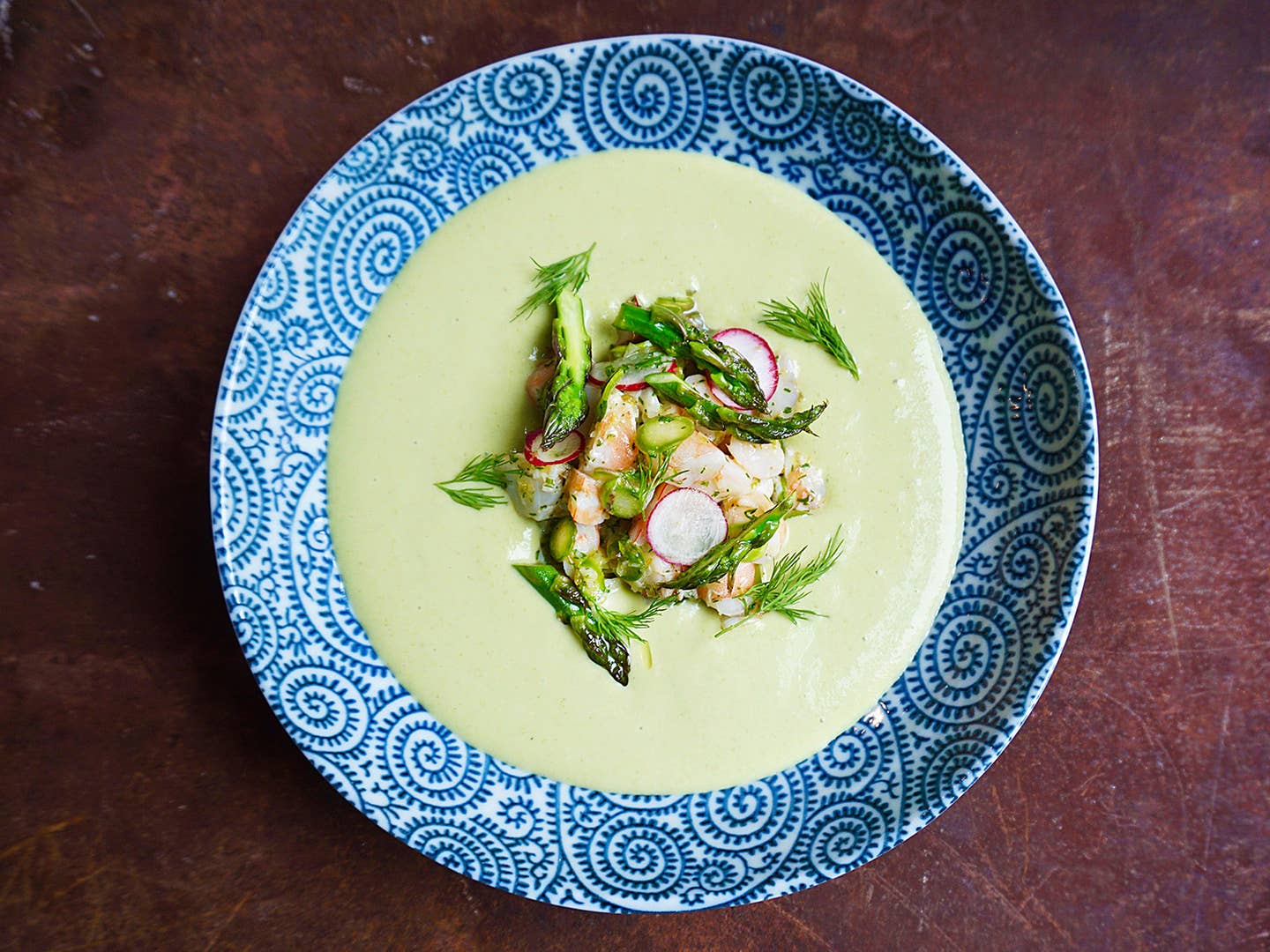 Asparagus pulls double duty in this elegant cold soup from chef Kevin Johnson of Charleston's The Grocery: it's cooked with leeks and potatoes for the smooth, silky base and tossed with poached shrimp, crunchy radishes, and fresh herbs for the colorful salad on top.
Ingredients
For the soup:
3 Tbsp. extra-virgin olive oil, divided
3 medium leeks (13 oz.), white and light green parts only, split lengthwise, rinsed well, and thinly sliced
Kosher salt
3 medium garlic cloves, finely minced (1 Tbsp.)
2 medium russet potatoes (1¼ lb.), peeled and coarsely chopped
2 quarts vegetable stock
5 sprigs thyme
2 bay leaves
1 lb. coarsely chopped asparagus (3 cups)
6 sprigs tarragon
1 cup heavy cream
2 Tbsp. fresh lemon juice
2 Tbsp. champagne vinegar
Freshly ground black pepper
For the salad:
2 Tbsp. Old Bay seasoning
1 medium lemon, thinly sliced
1 lb. medium shell-on shrimp
6 oz. asparagus, very thinly sliced (1½ cups)
2 small radishes (2 oz.), very thinly sliced
3 Tbsp. finely chopped fresh chives
2 Tbsp. finely chopped fresh mint
2 Tbsp. finely chopped fresh tarragon
1 Tbsp. finely chopped fresh dill
2 tsp. finely grated lemon zest, plus 3 Tbsp. fresh lemon juice
¼ cup extra-virgin olive oil
Kosher salt
Freshly ground black pepper
Instructions
Step 1
Make the soup: In a medium, heavy-bottomed pot over medium heat, add 2 tablespoons oil. When the oil is hot, add the leeks, season generously with salt, and cook, stirring frequently, until they are very soft but not at all browned, 7–10 minutes. Add the garlic and potatoes, and continue cooking until they are beginning to soften, about 5 minutes more. Add the stock, thyme, and bay leaves; bring to a simmer and cook until the potatoes are very soft, 20–25 minutes.
Step 2
Using an immersion blender or working in batches with a standard blender, purée the soup until smooth; keep warm.
Step 3
In a large skillet over high heat, add the remaining 1 tablespoon oil. When the oil is hot, add the asparagus and cook just until the asparagus turns bright green with tinges of char, 4–6 minutes. Transfer to the soup, then stir in the tarragon. Purée again until very smooth. Set a fine-mesh strainer over a large bowl and strain, discarding any vegetable fibers. Refrigerate until completely chilled, then stir in the cream, lemon juice, and vinegar; season with salt and pepper. Refrigerate the soup while you make the salad.
Step 4
Make the salad: Set a large bowl of ice water by the stove. In a medium pot, add enough water to reach 1½ inches up the sides. Add the Old Bay and lemon. Bring to a simmer over medium heat, then add the shrimp and cook until pink and just cooked through, 4–5 minutes. Using a slotted spoon, transfer the shrimp to the ice water; drain. Peel, devein, and cut the shrimp into ½-inch pieces. In a medium bowl, add the shrimp, asparagus, radishes, chives, mint, tarragon, dill, lemon zest and juice, and oil. Toss to combine, then season with salt and pepper.
Step 5
Divide the salad between 8 wide soup bowls. Pour 1½ cups soup around the salad in each bowl. Serve cold.