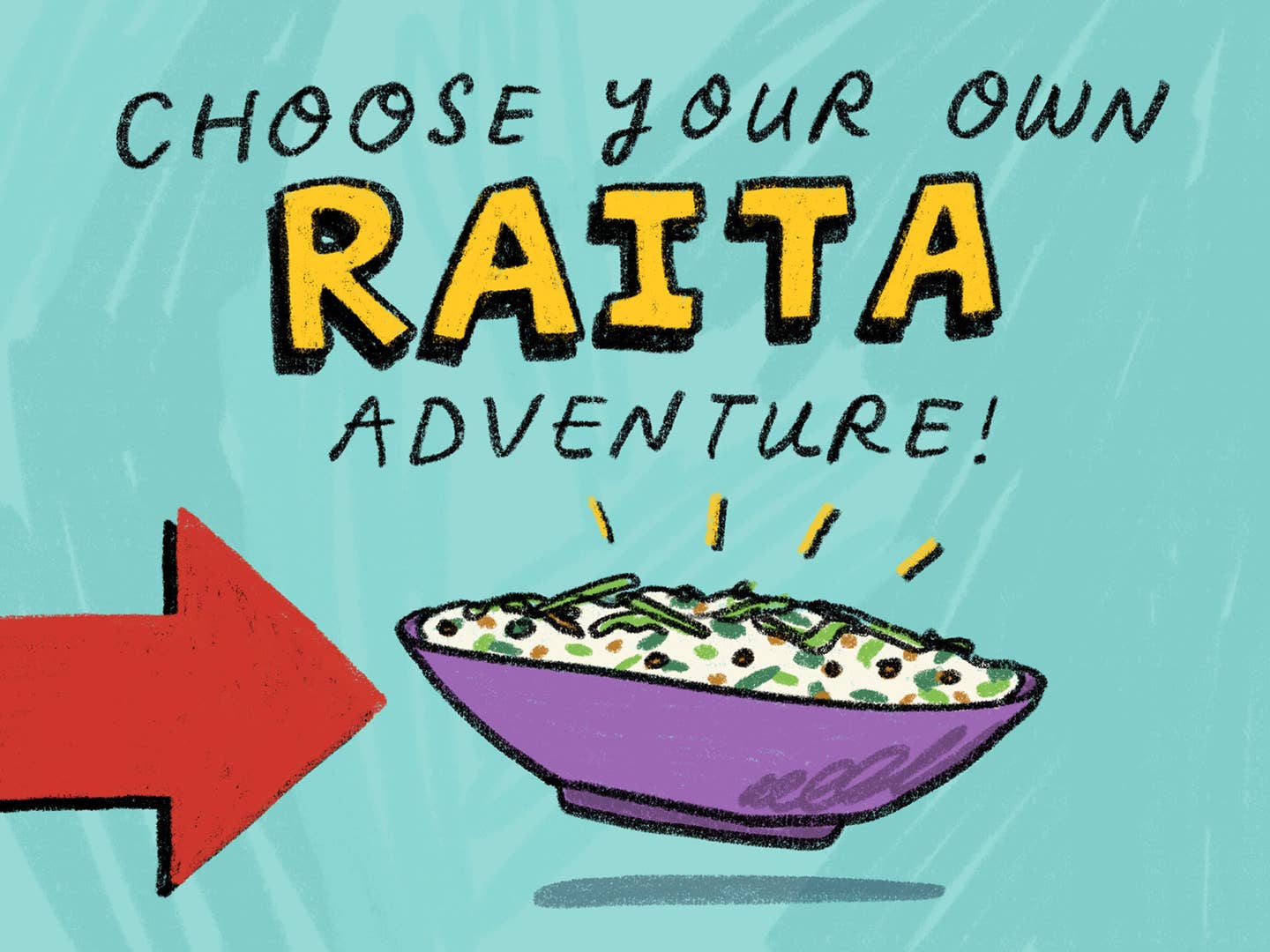 Techniques
Raita Is India's Most Versatile Condiment—Here's How to Make It Dozens of Ways
Follow our illustrated guide to adapting this savory yogurt as a side dish, dip, and more
This is Choose Your Own Adventure, a series of illustrated guides that break down how to customize some of your favorite international dishes.
Sometimes I feel like savory yogurt is a secret that everyone except America has figured out. Here in the U.S., we can't seem to see imagine yogurt beyond breakfast. In Greece, there's tzatziki. In Iran, they've got maast-o khiar, an herb-y yogurt side. And in India, where my family is from, we've got raita—part condiment, part side dish, part marinade, and one of the worthiest and most widely applicable uses for yogurt that I can think of.
At its core, raita is yogurt that's been mixed with a little bit of sugar, spices, and oftentimes vegetables and other textural components. When done right, raita has an addictive salty-sweet quality to it—it's the cooling foil to all of the hearty, warm spice-laden flavors of many Indian dishes. In most cases, you'll see it served as a side dish. But over the years, I've discovered that raita can do so much more: You can use it as a marinade for meat, adding juiciness and flavor; you can use it as a dip for crackers or crudités; you can spread a thin layer of it onto a sandwich (like a sub for mayo); or you can even thin it out with milk or water and use it as salad dressing.
My mom, the coauthor of my cookbook, Indian-ish, has always had a basic formula for raita, and lots of ways to dress it up from there. There are endless adaptations on it, and it's very likely that no two raitas you eat are going to taste the same. But once you have the basic outline for the dish, you can develop your own signature combo. Start with yogurt, and choose your own adventure.
This one is pretty simple: always plain, always full-fat. Full-fat yogurt brings that necessary richness and clean flavor, and plain yogurt provides the ideal creamy-but-slightly-loose texture. Avoid Greek yogurt, which will make your raita too thick. To make a raita to serve 4, start with about 2 cups of yogurt.
My mom spices all of her raitas with equal parts salt and sugar, plus a pinch of red chile powder (paprika works, too). This creates a great, neutral base for building flavor, after which there are at least two no-fail spice routes you can take. (These are just two, but there are many options to explore!)
Ground cumin seeds: Toast a spoonful of cumin seeds in a dry skillet until deeply fragrant, and then grind them in a spice grinder or mortar and pestle. Add to the yogurt and mix thoroughly.
Mustard seed and curry leaf chhonk: Chhonk, also known as tadka, is a very handy technique in Indian cuisine, in which spices are tempered in oil or ghee to enhance their best qualities and create a deeply flavorful oil. One of my family's favorites involves mustard seeds and curry leaves—the curry leaves crisp up like potato chips, and the mustard seeds lend a pleasant earthiness. To make a chhonk, heat a couple tablespoons of oil or ghee in a skillet over medium heat, and add a couple teaspoons black mustard seeds and a handful of fresh curry leaves. Sizzle for a few minutes until fragrant, and pour over the top of the raita as a finishing touch.
More ingredients can be added to raita for a little extra heft, especially if it's being served as a side dish, as opposed to a dip or a marinade. Here are a few options:
Boondi: The most standard add-on for raita, boondi are little puffed balls made from chickpea flour that you can find at any Indian grocery store (or, in a pinch, on Amazon). They're like the sprinkles on an ice cream cone—little textural bursts that add a mild (in this case, nutty) flavor but are mostly just there for aesthetics.
Grated Cucumber: We all know the combination of cucumbers and yogurt is a match made in heaven, so naturally, cucumber raita is a very typical, super refreshing option. Just be sure to squeeze the excess water out of the cucumbers after you grate, to prevent a too-runny raita.
Grated Beets: Like grated cucumber, grated beets add a vegetal crunch but with a little extra sweetness—and they're even prettier. (Pink yogurt, people!)
Boiled Potato Pieces: Nothing balances out the pure starchiness of a potato like a bath of tart yogurt. Chopped potatoes do an exceptional job of soaking up all the other flavors in a raita and bringing extra body to the dish.
Boiled Butternut Squash Pieces: This is an unconventional—but genius—idea from my mom. Butternut squash works beautifully in raita. It's lightly sweet, it doesn't get soggy when submerged in the yogurt, and it gently offsets the boldness of the spices.
Pomegranate Seeds: Crunchy, jewel-like pomegranate seeds are a nice way to add pretty pops of tanginess, sweetness, and color to your raita.
If at any point in your raita journey you want to take it in a new direction, here are two suggestions to amp up the flavor of any of the above options.
Minced Green Chile: While red chile powder provides a subtle, creeping heat to raita, add a minced green chile (serranos are a great widely available option) for a zing that's a bit bolder and fresher.
Chopped Fresh Cilantro: Indians put cilantro in most things, and raita is no exception. Because what dish couldn't use a little extra brightness?
Whether it's filled with fiery chiles, swirled with savory mustard seed chhonk, or packed with cooling grated cucumber, the raita of your dreams is now ready to pair with any of your favorite Indian dishes. For something vegetable-focused, try Madhur Jaffrey's stuffed okra, filled with a fragrant mixture of spices, or her mushrooms with fennel and ginger, sautéed simply with tomatoes and turmeric. Take advantage of yogurt's cooling properties by eating the raita alongside an exceptionally spicy Goan pork vindaloo curry, or use it to round out a meal of of Hyderabadi-style chicken biryani and flaky paratha flatbreads.