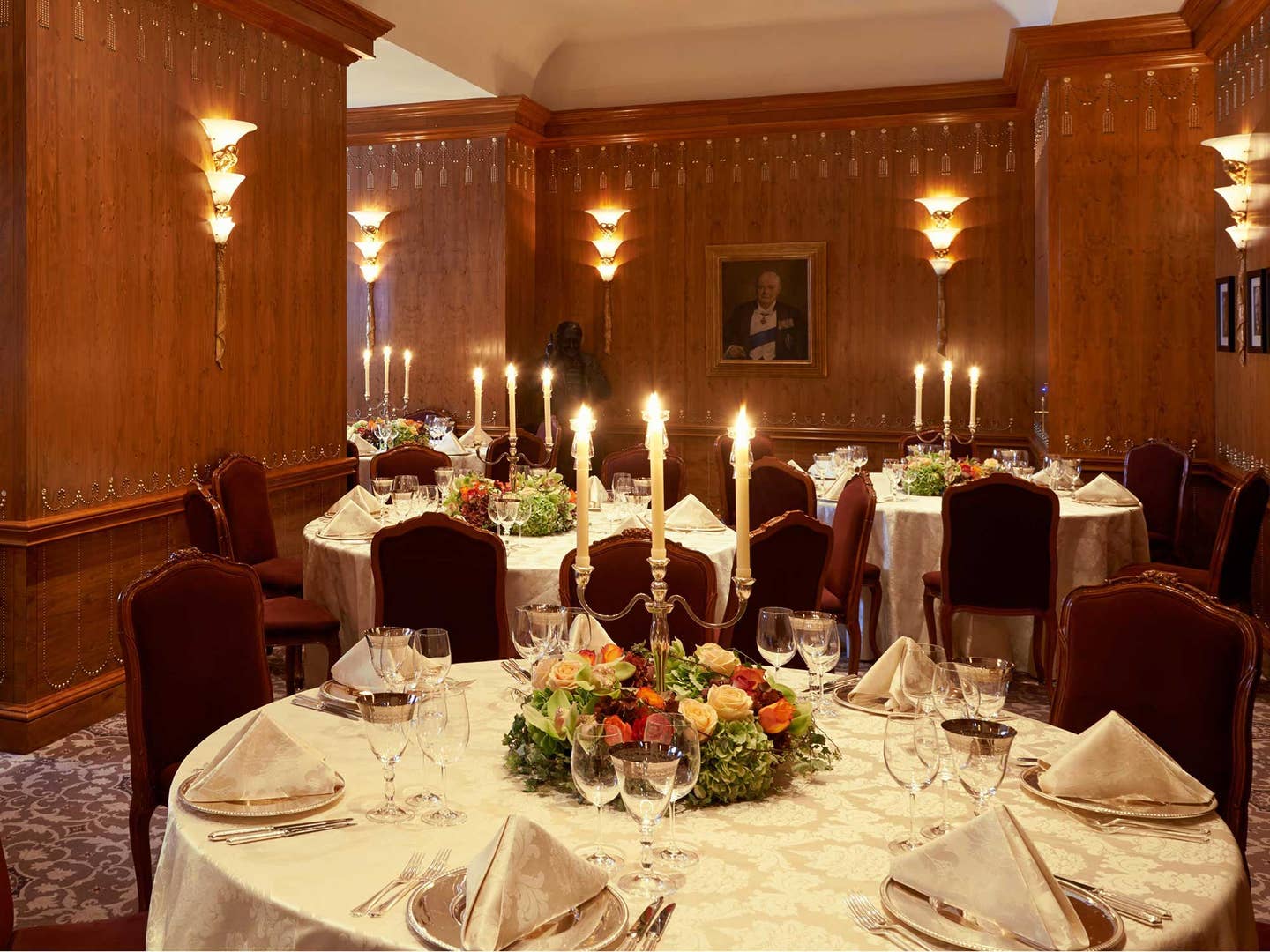 Travel
Behind the Scenes of Winston Churchill's Super-Secret Supper Club
At London's famed Savoy Hotel, The Other Club asks lawmakers to put aside politics for pot-au-feu
Looking at the particularly nasty political landscape of today, it might be tough to imagine politicians of opposing parties convening for a carefree evening of eating, drinking, and merriment. But it was not always the case that political discourse prevented civil, intelligent conversation off the floor. At London's famed Savoy Hotel, resident archivist Susan Scott tells SAVEUR that often times lawmakers who were enemies in Parliament may have been friends in private. Such was the premise of the non-partisan supper club founded just after Christmas 1910 by legendary British statesmen Winston Churchill along with his friend and fellow politician F.E. Smith, later known as Lord Birkenhead.
Dubbed "The Other Club"—Parliament's home at the Palace of Westminster being the club—the group convened for supper at the Savoy's private Pinafore Room every Thursday while Parliament was in session. At first, membership was exclusive to politicians so long as they followed a few simple rules, including "no speeches" and "no politics," and respected that the primary mission of the club was simply "to dine." In order to ensure an equilibrium of ideas, Churchill and Smith initially invited an equal number of lawmakers from the Liberal and Conservative parties. After World War I, membership opened up to include politicians from the rising Labour Party, and over time, it was also extended notable representatives from the fields of the art and science, barring only members of the Church.
Churchill continued to attend dinners with The Other Club through World War II, during which the government food rations affected even the meals served in the hotel. His final attendance, according to Scott, was on December 10, 1964, which is also believed to be the last time he left his Hyde Park Gate home before his passing on January 25, 1965 following years of gradually declining health. Today, a bronze bust of the former prime minister is housed in the room—watching over the meetings that continue there today.
Scott explains that though rich in history, most of the information on The Other Club remains a mystery, by the club's request, and that the Savoy offers only the closed-door location, service, and food—she also notes that it is not the only private supper club, nor the oldest, that convenes within its walls. The hotel declines to confirm who is and has been a member, except for a wall of photographs of British prime ministers who have elected to join, including Gordon Brown and Tony Blair (though it's known that invitations were later extended to women, noticeably absent is Margaret Thatcher, for unknown reasons). A list released in the 1997 issue of UK newspaper The Times also revealed a number of other members including Prince Charles, journalist Max Hastings, and Churchill's grandson Winston Spencer-Churchill.
So, what did such esteemed members of Britain's elite dine on? Scott explains that while there isn't any archival information on the menus, The Savoy Food and Drink book contains the below recipe for Churchill's favorite "Essence De Pot-au-Feu Churchill," suggesting it may have been one of the dishes served during his time there (he also had his own suite during World War II, where he came to find rest from his duties). Known for his hearty appetite, Churchill also loved fine cheeses—he had a particular affinity for the stinkier Stilton and Roquefort varieties—as well as Indian curry. It was likely a better menu than what you'll find at Bohemian Grove in Sonoma County, America's antecedent to the Other Club that was founded in 1872, where the main culinary attraction seems to be a full bar in every building.