The Strange History of Design Legend Cipe Pineles' Illustrated Cookbook
An interview with the unearthers and editors of Leave Me Alone with the Recipes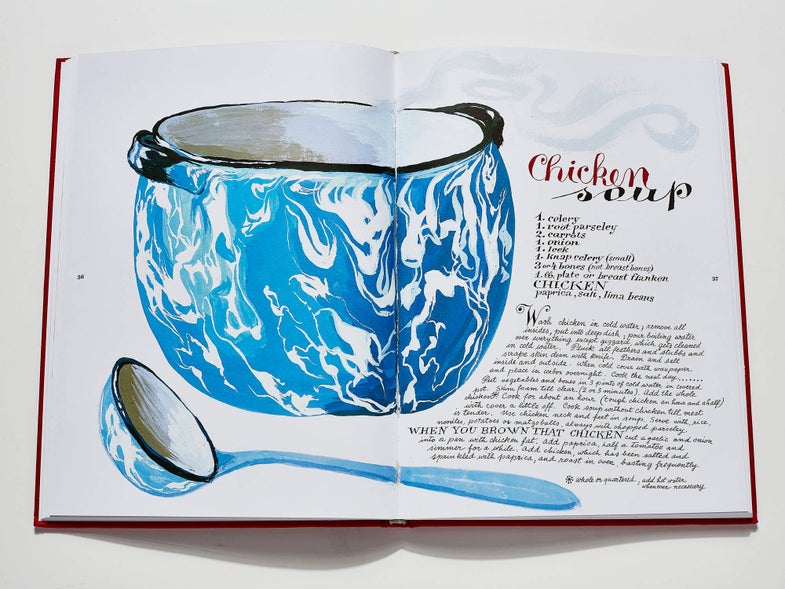 It began with the borscht, rendered in vibrant fuchsia paint with a mint-green scalloped bowl. Wendy MacNaughton spotted the illustrated pages in a glass case, tucked among the shelves of brittle, yellowing manuscripts at San Francisco's Antiquarian Book Fair. An illustrator herself, she examined the whimsical spread in front of her—the bowl of borscht, the hand-lettered recipe, two pink beets with roots crossed in a beckoning X. It was a sketchbook, each page filled with recipes and illustrations, the paint laid down with a practiced hand and the text lettered with masterful brushstrokes.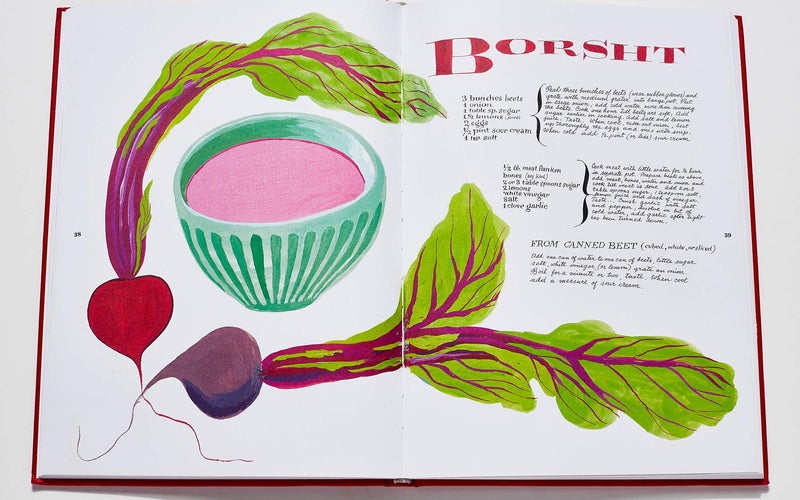 Later, when Wendy was recounting the discovery to me, she said, "it became immediately clear then that it was not a reproduction. It was an original gouache painting, and it was an immaculately painted gouache painting."
The chicken soup spread caught her eye next, portrayed in a giant swirling enamel bowl with matching ladle. "The cookware was so vintage, but also so contemporary," Wendy said, "and the painting immediately reminded me of Maira Kalman [author of The Principles of Uncertainty, and other illustrated books], but it also immediately reminded me of my own work."
Wendy's latest book, Salt Fat Acid Heat, which she collaborated on with Samin Nosrat, is an illustrated masterpiece in its own right, filled with watercolor renderings of recipes, techniques, and lettering, not dissimilar from the manuscript she'd just found.
When her friend, writer and food editor Sarah Rich, arrived, they devoured the manuscript, turning up recipes for stuffed cabbage, potted liver, potato soup—the unheralded dishes of an Eastern European Jewish upbringing. "It's the food of my family," Sarah says of the discovery, "and it doesn't tend to be portrayed as very exciting cuisine. It was amazing to see it rendered in this vibrant, celebratory way."
Sarah and Wendy asked the man behind the counter who had created this remarkable work, expecting to hear a familiar name—the design aesthetic was simply too apt, the recipes too relevant to both Sarah's and Wendy's personal work for it to be otherwise. "Cipe Pineles," the man said.
Cipe (pronounced like C.P.) Pineles, they discovered, was an Austrian emigrant of Orthodox Jewish heritage who, after years of being turned down for magazine jobs, finally broke into the industry when Condé Nast himself offered her a position after seeing her pattern designs in a window display. First the assistant to art director M.F. Agha at Vanity Fair and Vogue, in 1942 she became the first autonomous female art director to work at an American magazine. She shaped the artistic voice of Glamour and Charm, saying once in an interview that she appealed to "the attractiveness of reality, as opposed to the glitter of never-never land."
She used her progressive designs to present her magazines' female audience as bright and ambitious professional women, rather than frivolous trophy-wife material. She pioneered the still-present trend of hiring fine artists for magazine editorials, and after decades of design awards, matching and exceeding her male colleagues' accolades, she was the first woman to be inducted into New York's prestigious Art Directors Club.
The pair felt an immediate kinship to Cipe, and an urge to share her story. "I've worked in magazines for more than a decade," Sarah told me, "and I'd never even heard her name." And as Sarah went on to write in the introduction to their book: "She was the artist great-grandmother we never knew we had."
While a few recipes at the end of the sketchbook were left unfinished, the meticulous design layout suggested that Cipe had meant to publish it. But no such book existed. Thinking quickly, Sarah and Wendy called up their friends, writer Maria Popova and Design Matters podcast host Debbie Millman, to tell them about their find. They pooled their money and walked away with it that afternoon.
Their next mission: to get it printed. Wendy wrote to her agent, Charlotte Sheedy, saying, "We found this book we want to bring into the world. The author's name is Cipe Pineles." Ten minutes later, a phone call came from Charlotte: "Cipe Pineles? Oh, I knew Cipe," Charlotte said. "She was like a mentor to me."
Sarah and Wendy learned that Cipe had passed away in 1991 but had a daughter named Carol living in Toronto. They planned a visit. Carol, who had seen some of the images before in Cipe's annual holiday cards, had never seen the book in its entirety. As she looked through it, Carol said that the traditional recipes depicted weren't the dishes that Cipe would typically entertain with, but rather they were the family meals she would serve on Jewish holidays.
The trickiest part of publishing the book was updating the recipes for a modern audience. "They clearly hadn't been tested," Sarah says. "Most likely she was sitting with her mother in her kitchen, watching her cook, and writing it down from memory. When you follow exactly what she says, you don't always get quite what you thought you'd end up with." Notably, the kalacha, meant to be a form of meatloaf, looked more like bolognese.
"However," Sarah told me, "the chicken soup when I made it as she'd written the recipe was amazing. I had never made chicken soup using beef bones for the broth, and I used kosher meat, which is pre-salted, and likely what Cipe would have used. So there are those two ends of the spectrum," she went on to say, "I was pleasantly surprised by the chicken soup, but the meatloaf … was not meatloaf."
Sarah spent months cooking through Cipe's recipes, referencing those of her own grandmother when details seemed to be missing. She tweaked measurements and adjusted ingredients. Some recipes were vague, one simply calling for "bones," while others called for cuts of meat—like "flanken"—that would have been common at a kosher butcher in 1945 but are less widely available today. "I tried to stay true to the traditions," Sarah says, "but still make sure the recipes felt tempting."
Leave Me Alone with the Recipes was Cipe's original title for the book, perhaps a testament to her keen desire to immerse herself fully in the things she loved. The book was finally brought to life 72 years after she sat down to create it. "Cipe's is just one of so many untold stories," Sarah says, "and so many projects that never got all the way to completion."
"Her story is one of so many other women and people of color too, people who, because of the circumstances of their time, did not get their due credit," Wendy told me. "We felt like it was our duty," she adds, "to finally give Cipe the spotlight she deserves."
A gallery show of Cipe's original paintings and magazine designs is now on display at the Ildiko Butler Gallery at Fordham University at Lincoln Center, open through January 21, 2018.