Clams with Broccoli Rabe and Crispy Prosciutto in Tomato-Wine Sauce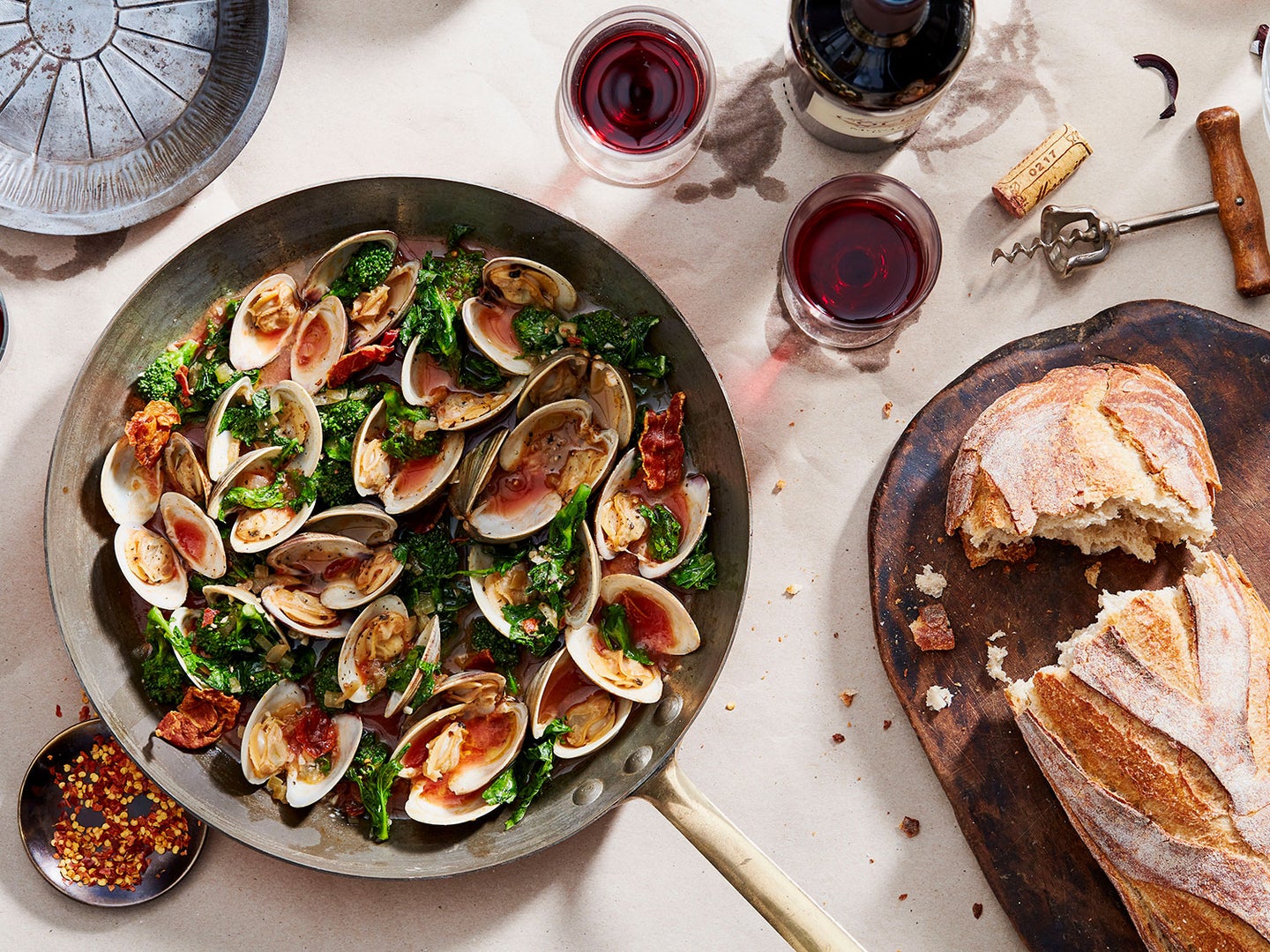 Fresh, juicy clams meet assertive, pleasantly bitter broccoli rabe in this quick one-pan dish from SAVEUR editor-in-chief Stacy Adimando's cookbook Piatti. Using only the broccoli rabe florets and little of their fibrous stems, and nestling the pieces in a little tomato sauce, white wine, and the salty brine from the clams tames some of the vegetable's pungency. The surprisingly delicious combination is best served straight out of the skillet, on the coffee table, with a bottle of good wine.
Reprinted from Piatti by Stacy Adimando with permission by Chronicle Books, 2019.
Equipment
Yield: serves 4
Time: 30 minutes
Ingredients
1 tsp. kosher salt
2 lb. littleneck clams or similar small clams, such as Manila, cleaned
¼ cup canned tomato purée
2 Tbsp. dry white wine
1 Tbsp. finely chopped garlic
¼ cup extra-virgin olive oil
4 thin slices prosciutto (about 1 oz.)
¼ medium yellow onion, chopped (packed ¼ cup)
3 packed cups broccoli rabe, a mix of florets and leaves (no thick stems) (about 3¾ oz.)
Freshly ground black pepper
Crushed red chile flakes, for serving
Crusty bread, for serving
Instructions
Purge the clams to remove any excess sand: Fill a large bowl halfway with cold water and stir in the salt. Add the clams (they should be fully submerged) and transfer to the refrigerator for at least 15 minutes and up to 40. Using a slotted spoon or your hands, transfer the clams to a strainer, leaving the sand behind in the bowl, and rinse with cool water.
Set a paper towel–lined plate by the stove. In a medium bowl, stir together the tomato purée, wine, and garlic. Set the bowl by the stove.
In a large skillet with a lid over medium-high heat, add the oil. Once the oil is hot, add the prosciutto and cook, turning occasionally with tongs, until lightly browned on both sides, 4 to 5 minutes. Quickly transfer the prosciutto to the prepared plate and lower the heat to medium.
Add the onion to the skillet and cook, stirring constantly, for 30 seconds. Stir in the tomato mixture, then stir in the clams. Cover the pan and cook, shaking the pan occasionally, until the clams open, 5 to 6 minutes. Add the broccoli rabe and a generous amount of black pepper. Stir to help nestle the broccoli rabe into the sauce. Cover the pan again and cook until the broccoli rabe florets are firm-tender and bright green, 3 to 4 minutes. Remove the lid and discard any clams that did not open.
Crumble the prosciutto over the top. Serve warm with chile flakes and bread.